Latest topics
»
Today's Harvest
by
brianj555
Today at 7:33 pm
»
Bug/Pest Identification....Help!
by
Scorpio Rising
Today at 7:12 pm
»
N&C Midwest - September 2017
by
trolleydriver
Today at 7:07 pm
»
New England September 2017
by
Scorpio Rising
Today at 7:02 pm
»
Cucumber Plants on the Ground! :-(
by
Scorpio Rising
Today at 6:55 pm
»
Fall Garden?
by
Scorpio Rising
Today at 6:52 pm
»
question about Garlic and winter
by
Scorpio Rising
Today at 6:38 pm
»
First red kidney bean harvest....now what?
by
BeetlesPerSqFt
Today at 5:58 pm
»
Ginger
by
has55
Today at 2:38 pm
»
CANADIAN REGION: What are you doing in September 2017
by
Kelejan
Today at 2:29 pm
»
How's the Weather Where You're At?
by
CapeCoddess
Today at 9:42 am
»
Senseless Banter...
by
AtlantaMarie
Today at 9:08 am
»
harvesting wood chips
by
Kelejan
Yesterday at 9:55 pm
»
Tomato Tuesday 2017
by
brianj555
Yesterday at 7:18 pm
»
leeks again
by
donnainzone5
Yesterday at 12:17 pm
»
WANTED: Pictures of Compost Bins
by
has55
Yesterday at 9:03 am
»
My SFG Journey:Returning to the Original Square Foot Garden Method
by
has55
Yesterday at 3:05 am
»
Monarch Supporter
by
CitizenKate
Yesterday at 1:43 am
»
Any Strange and Wonderful Visitors? Photos please!
by
trolleydriver
9/18/2017, 5:08 pm
»
Amaranth
by
trolleydriver
9/18/2017, 12:06 pm
»
Birds of the Garden
by
countrynaturals
9/18/2017, 11:29 am
»
Tomatoes in New England
by
Scorpio Rising
9/17/2017, 9:02 pm
»
Ground Cherries
by
Ginger Blue
9/17/2017, 5:39 pm
»
Butterfly Junction
by
countrynaturals
9/17/2017, 11:20 am
»
Skinny Cucumbers?
by
brianj555
9/17/2017, 11:15 am
»
Trellis
by
CapeCoddess
9/17/2017, 10:19 am
»
What are you eating from your garden today?
by
bigdogrock
9/17/2017, 8:43 am
»
Garden Videos 2017
by
brianj555
9/16/2017, 9:48 pm
»
What I learned this year
by
brianj555
9/16/2017, 9:19 pm
»
This sounds too simple: Aspirin and tomato plants
by
bigdogrock
9/16/2017, 3:02 pm
Last year we tried growing basil and parsley. The basil did fantastic but the parsley was overrun by the lima beans. We doubled the size of our sfg this winter and now I have plenty of room to add herbs and flowers to attract bees. I know from last year that the basil does well near the tomatoes and is easy to contain in my sfg, but I have heard that there are some herbs which might try to take over my beds. Since I live in Florida where we have such a long growing season, would I be better off to put my herbs in one 2'x6' bed? Or should I plant them in various squares among my other sfg beds? Which herbs tend to be like mint and try to take over? We are interested in growing the ones my hubby uses the most often when conducting his culinary experiments (which are usually fantastic, by the way!): oregano, basil, parsley, sage, marjoram, thyme, and cilantro.



Posts

: 76


Join date

: 2012-03-11


Age

: 51


Location

: Lake City, FL 8b



I dont know the answer & am curious myself. I know you didnt have it listed, but dill can be a take over plant. Im personally doing a separate herb bed along our patio. Since I let my dogs out the door that empties out to that area, I will be able to see and keep up on the herbs on a daily basis. If I can save space and plant some with some veggies Id love to know.

Anyway, great question.



Posts

: 288


Join date

: 2013-02-22


Age

: 34


Location

: London, OH -Zone 5B/ 6A



By all means, grow a lot of herbs. For the price, they are wonderful values in your garden.

Rosemary, sage, mint, horseradish (is that really an herb), thyme, lemon balm, and garlic chives have all tried to conduct a junta in our gardens at one time or another, but we have come to a detente with our tasty friends.

I suggest growing as many herbs as you can in containers. You can contain their growth, but more importantly, you can bring them inside in winter and continue to harvest if you provide adequate lighting and remember to water more often if you have heat on in your house.

We have one herb that we have allowed to become a Jolly Green Giant. We basically have a rosemary bush. It is more than four feet long and three feet wide, and it is close to 4 feet tall. We love rosemary and use it on so many different dishes.

We are also hoping our thyme grows like this. In my professional opinion as a nutritional counselor, thyme oil is a true miracle for our immune system. Oregano oil and lavender are tied for second (we grow both of these as well).

If you can grow enough herbs and get to the point where you know you will always have a large surplus, you can begin to recoup some of your investment by selling them to farm to fork restaurants, organic restaurants, or just local restaurants that want fresh herbs. You can also sell it at farmer's markets. We have an organic market that charges just $35 for a Saturday morning/afternoon booth, and you can easily sell enough to make it worth your while if your market is popular.

My suggestion is to get round up the most economically feasible containers and fill them with Mel's Mix. I always add Azomite and a combination of Bio-Tone Starter+ and Flower Tone to the mix. Every other watering, I now use liquid seaweed, but I used fish emulsion prior to this year.

The Cadillac of containers are the self-watering containers. I love these things and have become manic over them. You can make them yourself (10,000 videos on Youtube), or you can buy them. I cannot believe how easy it makes it to expand our garden footprint, when you only have to water these babies about once every 3-4 weeks. I know when it heats up and the crops grow they will need more frequent watering, but even then it will be much easier to quickly pour water down a PVC pipe at the speed of a Nascar pit crew.

Have fun. Herbs are very easy to grow. You almost have to purposely do them wrong to do them wrong.



Posts

: 92


Join date

: 2013-02-03


Location

: Nashville, TN



I have grown basil, thyme, rosemary and cilantro and none of those try to take over the garden. I am moving the rosemary out of the garden and into the beds in our front yard because it is so easy to grow I don't have to baby it in my SFG for it to grow. Basil will get big but will not be invasive. We like cilantro so I planted plenty our first year and it was great until it bolted. Cilantro is easily grow from putting some seeds in the ground so it is best to plant seeds every 2 or 3 weeks to keep your supply going. Cilantro is so spindley it doesn't take up much space and you can plant it in the corner of squares growing something else and not take up a square for cilantro.



Posts

: 288


Join date

: 2011-12-08


Location

: Houston, TX



Here is our aforementioned rosemary bush.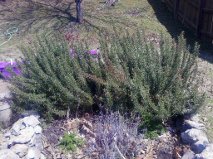 Posts

: 92


Join date

: 2013-02-03


Location

: Nashville, TN



---
Permissions in this forum:
You
cannot
reply to topics in this forum