We ran out of the normal things we use to keep the squirrels, chipmunks, and rabbits out of the garden. Well, we actually had it planned correctly, until I got the nerve to add yet another 20 SF to our garden and place our leftover transplants that were going to be euthanized to the compost.
I transplanted our leftover parsley and romaine lettuce this past Friday afternoon, and within minutes one of the "wascly wabbits" was hopping down from the woods. I went outside with a book and read for awhile to keep Bugs and friends away.
While walking over to deposit some herbal tea bags on the compost, I noticed a broken clay pot that due to apathy, I had not thrown away or used to cover the holes in other pots. There were several tiny pieces, almost all with sharp sides.
Eureka! I shouted (okay in my head and not out loud because Maryann next door was on her patio with some society friends). I took some of the sharp pieces and surrounded the lettuce and parsley like a fortress.
As of Monday afternoon, the little transplants are untouched. Because I am a huge klutz, I have an ample supply of broken clay pots.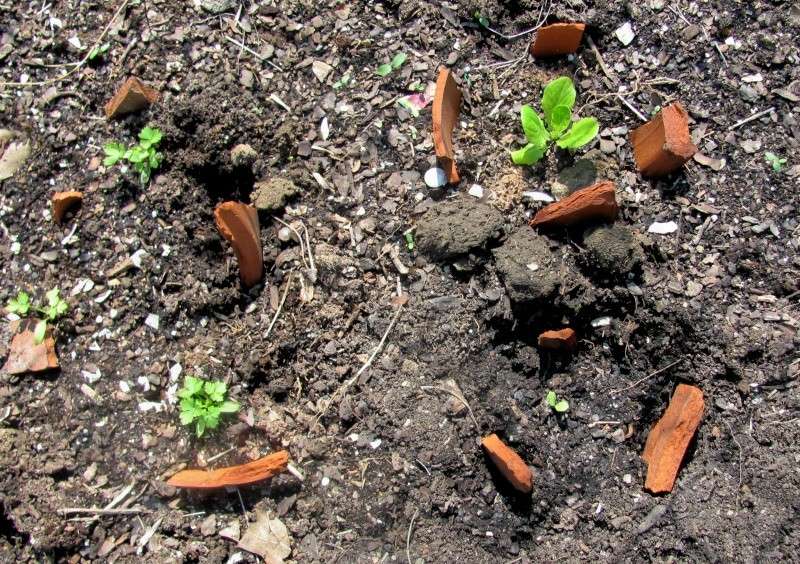 Posts

: 92


Join date

: 2013-02-03


Location

: Nashville, TN



:nono:
:nono:
What an inspired idea, and another use for those shards that I, too, have too many of.



Posts

: 210


Join date

: 2010-05-19


Location

: Central CT Zone 6a



---
Permissions in this forum:
You
cannot
reply to topics in this forum