Hi again folks!..As I've stated before, this is my first year SFG..I do have some experience with outdoor TOMs n peppers in containers...I have 3- 2x4x6" beds ATM and 1 empty one ready for Carrots, beets, or maybe transplanting some potted broc or the peas in question...Anyhow(sheesh finally

) I sowed some peas and they pretty much all sprouted and growing nicely(IMO)..Should I thin em out to the 8/per sq, as recommended, or leave em be? There's ~12-16 per square ATM as you can see from the pic(top)..String is tied to trellis(not shown)...TIA!!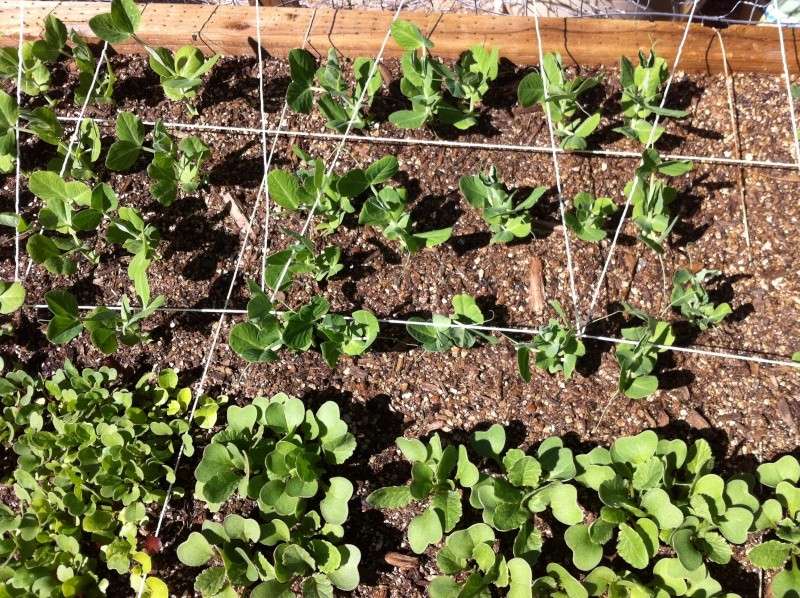 Posts

: 21


Join date

: 2012-11-30


Location

: High Desert CA (Zone 8b-9a)



No need to thin they look fantastic! some of those vines may fail and the planting is not terribly thick. I plant mine thicker, no problem.
Congratulations!

____________________________
41 years a gardener and going strong with SFG.
http://squarefoot.creatingforum.com/t3574-the-end-of-july-7-weeks-until-frost
There are certain pursuits which, if not wholly poetic and true, do at least suggest a nobler and finer relation to nature than we know. The keeping of bees, for instance. ~ Henry David Thoreau
http://squarefoot.creatingforum.com/t1306-other-gardening-books

Forum Moderator Certified SFG Teacher




Posts

: 14083


Join date

: 2010-03-06


Age

: 54


Location

: Keene, NH, USA ~ Zone 5a



I noticed where you are living and wanted to make a suggestion. I have a sister who lives in the Lancaster and I know it can get hot quick. If it does start getting hot for your peas, you can rig up something to give them some shade and keep them a bit cooler. Other people have posted what they use as shade cloth and you can do a search shade cloth and see what has been used. Your garden is beautiful!



Posts

: 1628


Join date

: 2010-06-04


Age

: 62


Location

: Northern Utah



Awesome camprn!..Great to hear that..I was actually hoping that I'd not have to thin em out..
Thanks!..

Oh, btw, you sfg guys n gals weren't kidding..this IS darn addicting.Can't wait to use/plant in my other empty bed..
Thanks TG..I do plan on giving em some shade when it's starts getting real hot here, if needed..Much appreciated..




Posts

: 21


Join date

: 2012-11-30


Location

: High Desert CA (Zone 8b-9a)



---
Permissions in this forum:
You
cannot
reply to topics in this forum