I just bought a bale of rice hulls yesterday and started mulching my beds and buckets (to help prevent evaporation mostly). I was just dumping it around the plants (beets, carrots, melons, greens, etc) as I've seen done in photos; but then later I started wondering, and read up on mulching and keep seeing to keep the mulch up to 3-4 inches away from the plant crowns.
That goes against stuff I see like this: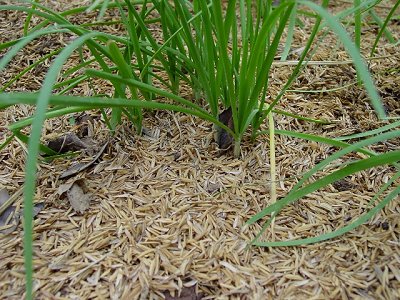 or this:
So any thoughts about this? I'd say the mulch is anywhere from 1/4" - 1/2" high on the beds and about an inch along the tops of the tomato buckets. I did all 4 of my SWC, and 1 of the 10 non-SWC. Obviously I don't want to kill any of my plants.




Posts

: 300


Join date

: 2012-04-30


Location

: Los Angeles foothills



According to http://www.ehow.com/info_8696217_should-plant-before-mulching-after.html you want to "Try to keep mulch from touching plant stems or tree trunks to avoid infection." Seedlings may only need 1 inch deep of mulch when trees can easily deal with 3 inches or deeper of mulch.
I would say if you are still having questions, for new transplants try a thin layer out to the drip-line of the plant/tree then as thick as you like. Mulch is great for water retention, root insulation and extra nutrients as our garden-friends break it down. Depending on how thick your mulch is layered, some of that will be 'in situ' composted and need to be replaced. If the roots are too dry, add mulch where needed then water.
How thick should the mulch be after a transplant is established? I suggest a tapered range from thick at drip-line to thin at the crown, similar to pressing a bowl down into the spot. Access to new sprout growth and soil/root wellness checks, plus excess water pooling visibility are good reasons to use a tapered bowl-shape around plants. http://www.oregonlive.com/hg/index.ssf/2008/05/headline_the_dirt_on_planting.html calls it a dam.
bowl = good
volcano = bad



Posts

: 70


Join date

: 2013-06-27


Age

: 48


Location

: Texas



Coelli, you did a good job. go ahead and go back to the garden and with your finger just draw a ring around each plant stalk, pulling that much mulch away. You will be good after that.

____________________________
41 years a gardener and going strong with SFG.
http://squarefoot.creatingforum.com/t3574-the-end-of-july-7-weeks-until-frost
There are certain pursuits which, if not wholly poetic and true, do at least suggest a nobler and finer relation to nature than we know. The keeping of bees, for instance. ~ Henry David Thoreau
http://squarefoot.creatingforum.com/t1306-other-gardening-books

Forum Moderator Certified SFG Teacher




Posts

: 14146


Join date

: 2010-03-06


Age

: 54


Location

: Keene, NH, USA ~ Zone 5a



---
Permissions in this forum:
You
cannot
reply to topics in this forum