I grew only one Siberian kale in my garden last year and at the end of season, did not remove it, just chopped off the top to toss in the compost pile.
Warning! When your kale is harvested for the season, remove that root right away. It obviously keeps on growing until it freezes in the winter.
I tugged and dug and pulled and pushed and I can't remove that big dickens. I guess I'm just not strong enough. The roots are sturdy like a tree. I think my son will have to do the deed.
Just thought I'd warn other gardeners.



Posts

: 4687


Join date

: 2010-03-21


Age

: 75


Location

: Southwestern Maine Zone 5A



Okra is the same way - they were like small trees. The biggest one must have been 3" in diameter and it took all I had to get it out, and I'm pretty strong for a small woman! I will never plant it in my raised beds again!



Posts

: 300


Join date

: 2012-04-30


Location

: Los Angeles foothills



Oh wow! Thanks for the warning! I would totally leave it in all winter here, with our winters being so mild. Hmmm... maybe I'll grow it in a dedicated 2'x3' cement tub that I can tip over and dump out when I'm ready to plant something different.

Certified SFG Instructor




Posts

: 1413


Join date

: 2011-05-10


Location

: Vancouver, WA



I could only find 1 Kale seed packet at the 2 Big Box stores , the L and the HD. I guess Kale is now the trendy vegetable. I had to order some seeds online for the fall/winter planting and look forward to making a Kale salad that includes cranberries, toasted almonds and apple cider vinegar, etc....



Posts

: 30


Join date

: 2013-02-16


Location

: San Antonio, TX



I had a similar trouble with some Brussels sprout plants. They had fabulous root systems from growing in the Mel's mix and I couldn't get them out when I was trying to pull them. As it turns out, the very bottom of the root system was still frozen in the mix and after a few more days of warmth they came right out.
____________________________
41 years a gardener and going strong with SFG.
http://squarefoot.creatingforum.com/t3574-the-end-of-july-7-weeks-until-frost
There are certain pursuits which, if not wholly poetic and true, do at least suggest a nobler and finer relation to nature than we know. The keeping of bees, for instance. ~ Henry David Thoreau
http://squarefoot.creatingforum.com/t1306-other-gardening-books

Forum Moderator Certified SFG Teacher




Posts

: 14165


Join date

: 2010-03-06


Age

: 54


Location

: Keene, NH, USA ~ Zone 5a



@camprn

wrote:As it turns out, the very bottom of the root system was still frozen in the mix and after a few more days of warmth they came right out.
One thing I find fascinating about this forum is reading about things that I will never experience. Frozen roots just sounds like something from another planet after living in Houston for the past decade +.



Posts

: 288


Join date

: 2011-12-08


Location

: Houston, TX



I read that Siberian Kale roots provide nutritional and medicinal properties. Has anyone ever used them?



Posts

: 1


Join date

: 2013-04-11


Location

: Kula, HI



I was looking for some forum information about kale when I came across this post I've resurrected.  I was looking for kale info because I want to know if anyone has had a good experience with
Lacinato Nero Toscano
kale.  I found some seeds on sale, but I don't want to bother if Lacinato is a bad buy for fall planting.  I noticed Kay likes Winterbor and I'm looking out for those seeds too.
I will again be planting some Siberian Kale because it tastes good and it's just so dog gone hardy.  The plant below (planted fall 2013) was stripped of leaves at the beginning of summer.  I left it in the ground assuming it would just die.  Well... it sprouted leaves.  I transplanted it to a semi-shady part of the garden and this is what it looks like now (I've posted this photo in an earlier post... but with quiltbee's post... I thought it was worth re-posting):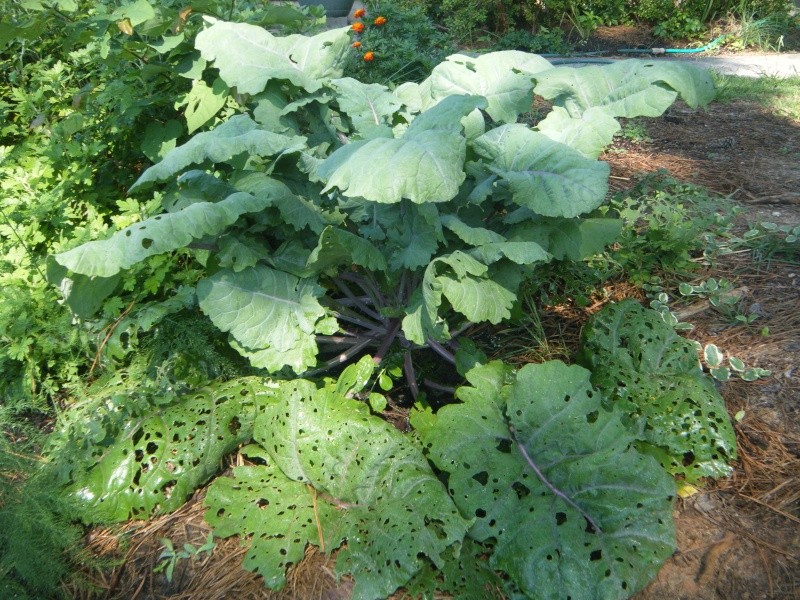 This plant truly seems to be reaching out for tree status.  My daughter made some kale chips with some of it the other day and they were quite tasty.
Just for some perspective, this is what it looked like shortly after I planted it Fall 2013: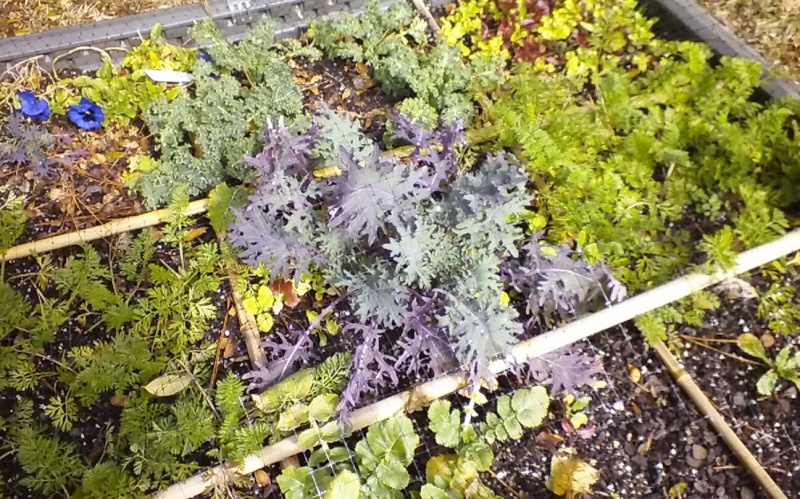 Anyway, any thoughts on Lacinato will be much appreciated.  Thanks!



Posts

: 1425


Join date

: 2013-02-26


Age

: 48


Location

: Fayetteville, GA - Zone 7B - 8A



---
Permissions in this forum:
You
cannot
reply to topics in this forum