Latest topics
»
has55's R & D Journey
by
trolleydriver
Today at 8:00 am
»
Julia Child's French Onion Soup
by
sanderson
Today at 2:54 am
»
Indoor Container Garden - City Living
by
countrynaturals
Yesterday at 11:20 pm
»
California's Drought
by
countrynaturals
Yesterday at 10:26 pm
»
What are you eating from your garden today?
by
Roseinarosecity
Yesterday at 10:03 pm
»
Air Fryer! HELP!
by
countrynaturals
Yesterday at 5:48 pm
»
Sweet Potatoes
by
No_Such_Reality
Yesterday at 5:36 pm
»
CANADIAN REGION: What are you doing in December 2017
by
sanderson
Yesterday at 3:12 pm
»
Areogardening
by
trolleydriver
Yesterday at 1:45 pm
»
1st Seed Catalog Arrived :)
by
countrynaturals
Yesterday at 11:55 am
»
What's Up? Yukon gold potatoes!
by
saganco
Yesterday at 11:11 am
»
N&C MW; Deep Winter December/January 2017-2018
by
Scorpio Rising
12/15/2017, 7:57 pm
»
Garden Clean-Up/Preparation
by
Scorpio Rising
12/15/2017, 7:53 pm
»
How's the Weather Where You're At?
by
CapeCoddess
12/15/2017, 1:50 pm
»
CarbSmart (tm) Potatoes
by
sanderson
12/15/2017, 1:41 pm
»
Third Year SFG in Canada
by
Kelejan
12/15/2017, 7:51 am
»
Happy Birthday!!
by
Scorpio Rising
12/14/2017, 10:42 pm
»
Spring Fever Anyone?
by
Robbomb116
12/14/2017, 4:03 pm
»
Butterfly Junction
by
countrynaturals
12/14/2017, 11:01 am
»
New England December 2017
by
AtlantaMarie
12/14/2017, 6:32 am
»
jalapeno variety question?
by
brianj555
12/13/2017, 6:03 pm
»
Sauerkraut & fermenting veggies
by
brianj555
12/13/2017, 5:28 pm
»
Tomato Questions
by
sanderson
12/13/2017, 3:04 pm
»
Mid-South: December 2017
by
AtlantaMarie
12/13/2017, 8:24 am
»
New Composter - Need Help Filling Correctly
by
saganco
12/12/2017, 9:10 pm
»
December Avatar: 'Tis The Season!
by
sanderson
12/12/2017, 2:29 pm
»
The Research Journey:cardboard covering of newly planted seeds
by
saganco
12/12/2017, 1:15 pm
»
2017 SFG in Brooks, Ga
by
Turan
12/11/2017, 6:39 pm
»
Winter Sowing vs. Winter Growing
by
countrynaturals
12/11/2017, 11:44 am
»
Mushroom in my lettuce!
by
Scorpio Rising
12/10/2017, 10:40 pm
First time ever doing a plan friends, so be gentle!

I'm still anxiously awaiting my ANSFG book in the mail, so the spacing amounts per square is just what growveg.com put there. If you have any comments in regards to spacing as well as placement, that would be appreciated. Or any suggestions as to what to do with my empty squares. If you can't tell, there is 4 walls made from cattle panel and one arch. Oh, Basil...I didn't include anywhere because from what I've read on this forum, I can just plant it under my tomato plants? We'll see!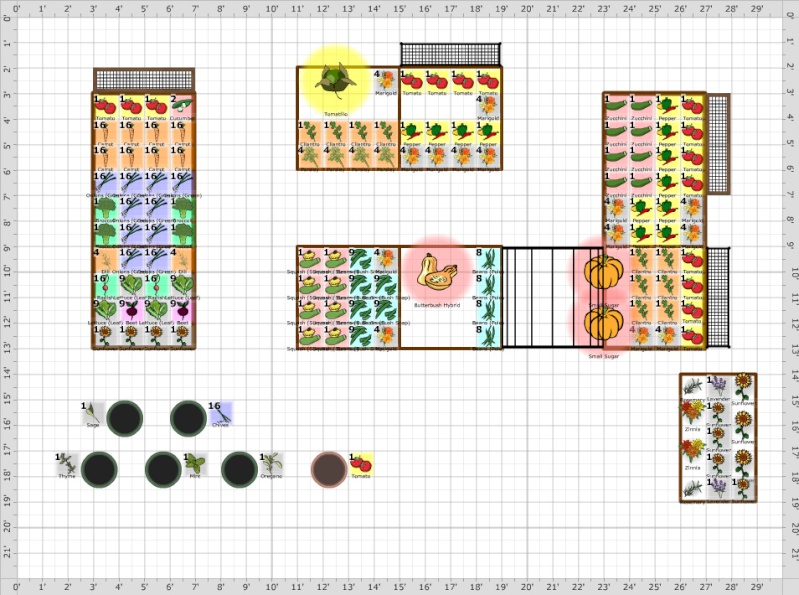 Looks really nice. I recommend putting weed cloth underneath the entire area including aisles

SFGF Instructor Specialist




Posts

: 150


Join date

: 2011-07-20


Location

: utah



I had wanted to try some cantaloupe too. I just wasn't sure it was a good idea to add more squash. I'm not a fan of pests!
I don't really have the experience to back much up, having just gotten back into gardening (and forgetting most anything I knew/was told from before) but...

Left boxes:
I'd plant the Broccoli to the middle and move the onions to the outside so that you don't have to reach over/around the broccoli to get to the onions.

Upper boxes:
Are the unplanted squares below the tomatoes intentional? I'd at least plant marigolds or other companion plants there.

Right boxes:
I'm not certain of this, but I think the spacing of your Zucchinis is too tight. Another thing I think I remember, but I've seen conflicting info on is the planting of tomatoes and peppers too closely is discouraged. (Anyone care to correct me?)

Overall, consider that you've got a few squares that will open up later in the season (the broccoli for instance). Are you planning to backfill with other veggies when that happens? At 1sqft/tomato, are you planning on pruning them? Also, what's the designation of lines in the pumpkin box?

(You're further along with your planning than I am. This reminds me I need to get on the ball!)




Posts

: 128


Join date

: 2012-03-18


Location

: Clemson SC, zone 7b-8a



Thanks!
This will be the first time I've tried Broccoli/green onions so I didn't think about having to reach. Good idea to move them around.
The unplanted squares I just wasn't sure what to do with until I finalized my plan. I will plant something there, I just wanted to make sure I wasn't crowding something else first though. Like you said, the tomatoes and zucchini may be too tight so I may need that empty space to give things more room. Hopefully some others can comment on this, As well as putting the peppers near the tomatoes.
I would like to fill up the spring crops with something else once they are finished! I've never done that before though, so it's new to me.
I just got my book in the mail last night, so I haven't had time to get all the way through it yet. For the spacing, I just went with what the computer program suggested. I am not sure the right spacing though.
The pumpkins I'm growing are baby sugar pie pumpkins, and the lines represent a cattle panel archway connecting the two beds. The pole beans will be climbing the other side of the arch.

Just a few other notes...The butternut squash is a "butterbush" variety, so I am guessing it will not vine. The tomatoes I'm growing are Supertasty (Semi-Det), Napa Grape, Jet Star, 4th of July, and Brandy Boy (all interdet.).
The right of the picture is North, left is south, top is west, bottom is east.
---
Permissions in this forum:
You
cannot
reply to topics in this forum