I am new to SFG this year. And I think I may have screwed up my Red Leaf lettuce. I read on a SFG planting chart that I got from a FB page that leaf lettuces could be planted 16/square (vs. 4 for a head lettuce) So, that's what I did.
Whoops.
Now I realize that perhaps it should have been much less than 16. I have hardened off, thriving, young red sails planted 16 in one square. They are very pretty in there, and seem to be doing fine. BUT! I fear they won't grow properly as the weeks go by because I have too many in one spot. (same for butterbibb leaf lettuce too, by the way). What are my options?
A) Leave them alone, see how it goes. Realize they may not grow big, but there are 16 of them.
B) Move some out to other pots? (which would require buying more materials for more MM)
C) Move some over to squares that will be hosting taller trellis plants where the lettuce can provide a little shade cover and get a little shade cover?
D) Take out half of the lettuces and throw them in the composter? (whatta waste)
What do you think? Please respond after you're done laughing at me.




Posts

: 72


Join date

: 2012-10-21


Age

: 43


Location

: Boise, ID



No laughing here

I actually like to sprinkle my squares with lettuce seed and pretty much let it go. I trim mine all to often to really worry about it being crowded, and it does just fine. I also like how my Red Sails and a green leafy type look intermingled.
I'm way to impatient with my lettuces to let them fully mature. Besides, I like the leaves smaller...
____________________________
I am my gardens worst enemy.

Forum Administrator




Posts

: 4242


Join date

: 2011-10-04


Location

: Colorado Front Range



I would transplant some of them around your brassicas; cabbages, broccoli, caulis, Brussels sprouts because by the time those large plants need the energy in the soil, the lettuce will be done.
Or you can just harvest a few as they get larger. Baby lettuce is so tasty.
Usually on leaf lettuces, you can harvest a few outer leaves from each plant and it'll regrow or you can trim down the whole plant to about an inch above the soil and it will also grow back.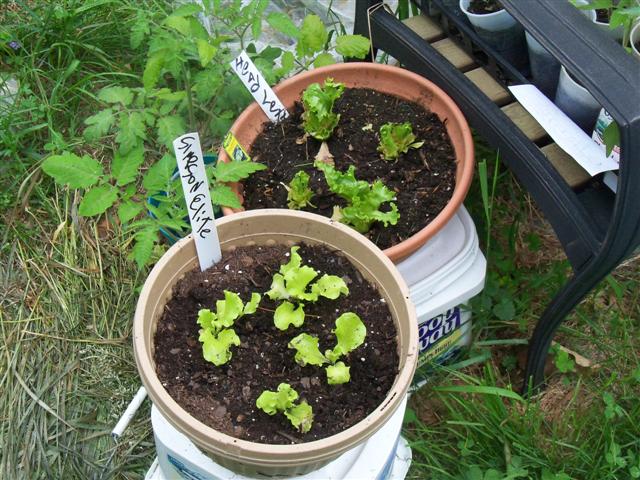 Above: I cut off all of these 4 lettuces in each pot on 5/28.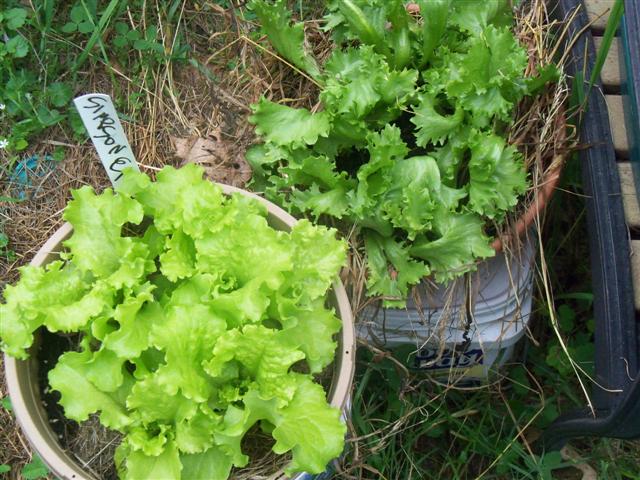 Above: See how they've grown back by 6/14. I cut these back 4 times for salads before they bolted. Being in pots, I was able to keep them in shady corners as needed so they lasted longer. It works the same with Red Sails.



Posts

: 4674


Join date

: 2010-03-21


Age

: 75


Location

: Southwestern Maine Zone 5A



I agree with Rooster. I over seed even when I try to space them but it doesn't seem to matter. Last summer I covered the lettuce with a 50% shade cloth and even with 100+ degrees it didn't bolt until late Aug..



Posts

: 644


Join date

: 2013-01-05


Age

: 72


Location

: high desert, Penrose CO



---
Permissions in this forum:
You
cannot
reply to topics in this forum