Can I plant summer squash (Zucchini) in the same 4x4 bed as Winter Squash (spaghetti)? How far apart should they be?



Posts

: 9


Join date

: 2013-04-18


Location

: York, PA zone 6



I wouldn't. Summer squash takes up 9 sq feet of space. Its a big plant, not vining, but big.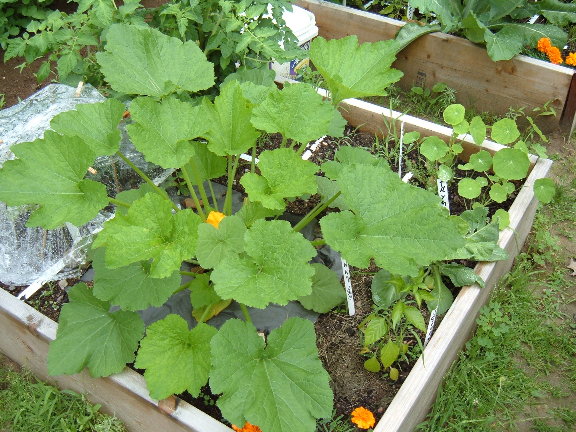 Above: This is a zuke but its the same for squash. They take up lots of space and this is still young.



Posts

: 4682


Join date

: 2010-03-21


Age

: 75


Location

: Southwestern Maine Zone 5A



oh I was more concerned about cross pollination? I don't know where I read they needed 4 squares each. Can one be in one bed, and the other in another bed about 5 feet away?



Posts

: 9


Join date

: 2013-04-18


Location

: York, PA zone 6



Both zukes and spag squash are C. pepo so I believe they can cross pollinate. I'm in a similar situation - I have 6 different types of squash, and 5 of them are C. pepo. My plan is that if I have more than one type of squash flowering, I'll manually pollinate the flowers and then tape them shut. No need to remove the tape - it will fall off with the flower. The ideal time to manually pollinate is the first morning that the female flower is open. Now for the disclaimer, this will be my first year trying this and it's based on internet research. (So, it might work...or it might be another one of those "lessons")

I can't remember recommended distance to prevent cross pollination but it seems like it was several hundred feet. I planted a zuke and a yellow crookneck about 6 feet apart two years ago. It produced one squash that was yellow on one end, green on the other. I'm assuming that was from cross pollination, but I really don't know.
There is a lot of info on the internet and youtube about manually pollinating squash. They also will help you identify the male vs female flowers.



Posts

: 82


Join date

: 2012-02-06


Location

: Cleburne, TX zone 8a



I've planted summer squash and zucchini in the same bed with no problems. jillintx, I wonder if that yellow & green squash was one that got into a seed pack by mistake- I have seen where you can order seeds for a squash that looks just like you described- 1/2 yellow, 1/2 light green.



Posts

: 76


Join date

: 2012-03-11


Age

: 50


Location

: Lake City, FL 8b



As a rule, cross pollination only affects NEXT year's crops if you save and use the seeds from the fruit. It shouldn't affect the current harvest. Squash will be their variety as planted, summer being summer and winter being winter.
jillintx......I've seen that squash that's two colors, also. Its named Zephyr with a yellow top (but the knob is green) and a green fatter bottom.



Posts

: 4682


Join date

: 2010-03-21


Age

: 75


Location

: Southwestern Maine Zone 5A



Maybe I did have a stray seed. It's hard to say because I only got one squash that year, so I can't say if others would have been the same. I also can't remember if it came from the zuke plant or the yellow squash plant. I just remember being disappointed by the whole squash process.

I am glad to know that I'll only need to do the manual pollination on the squash that I want to save seeds. Thanks for clearing that up.



Posts

: 82


Join date

: 2012-02-06


Location

: Cleburne, TX zone 8a



---
Permissions in this forum:
You
cannot
reply to topics in this forum