So I dont have the contruction pictures of my garden from last weekend that my daughter took, but I added lots of plants today and a bunch of seeds as well to accompany the lonely peas that went in last weekend, and I at least have today's pictures.
The first picture is the garden area as it looks today that we constructed last weekend. Two weeks ago this was not level and had some small bushes and saplings. Now it's the garden. Boxes are cedar. Top 6" of the boxes is the Mel's Mix. Below that is compost. Under the entire fenced garden area is hardware cloth and weed barrier. Waiting on good trellis netting from the foundation for the back trellisses that will be for tomatoes, cucumbers, and squash. I figured the cheaper Burpee stuff available locally would be ok for peas.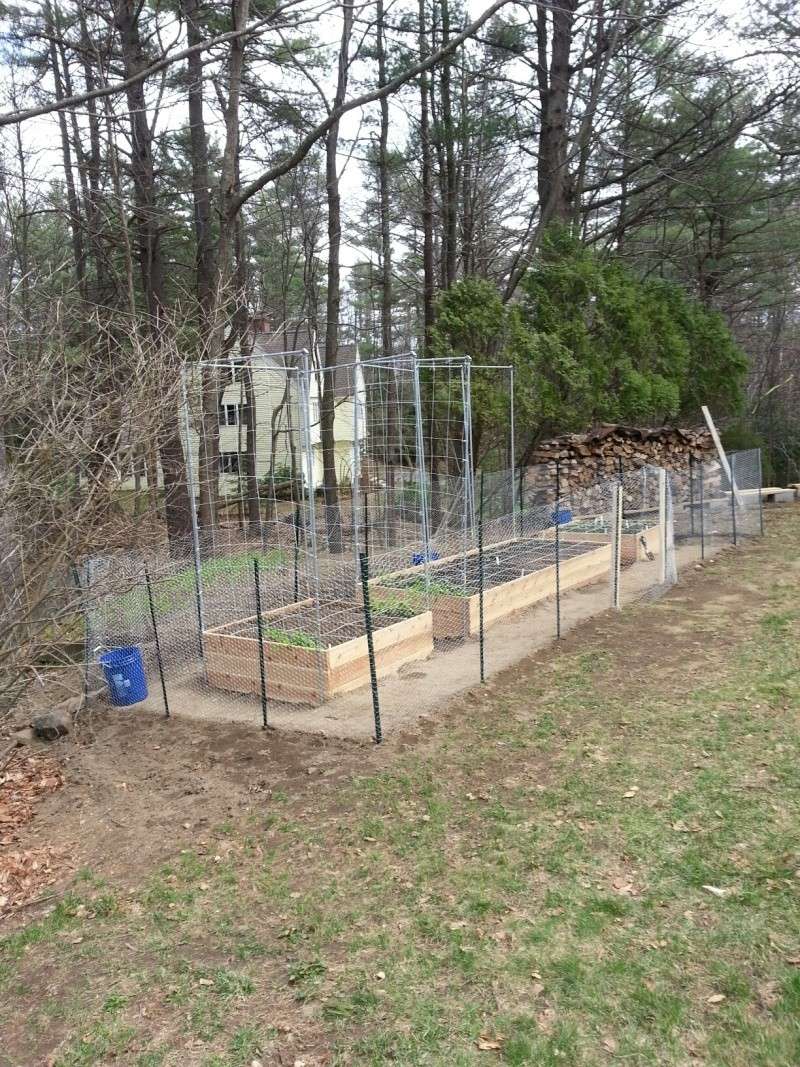 The next two pictures are of the peas. No matter how many times I gently drape the peas on the netting, they end up hanging down or sprawled across the mix. It has been a little windy all week, but maybe as it gts tall enough to weave in and out to the third netting level it might stay. Any tricks on training peas to the netting?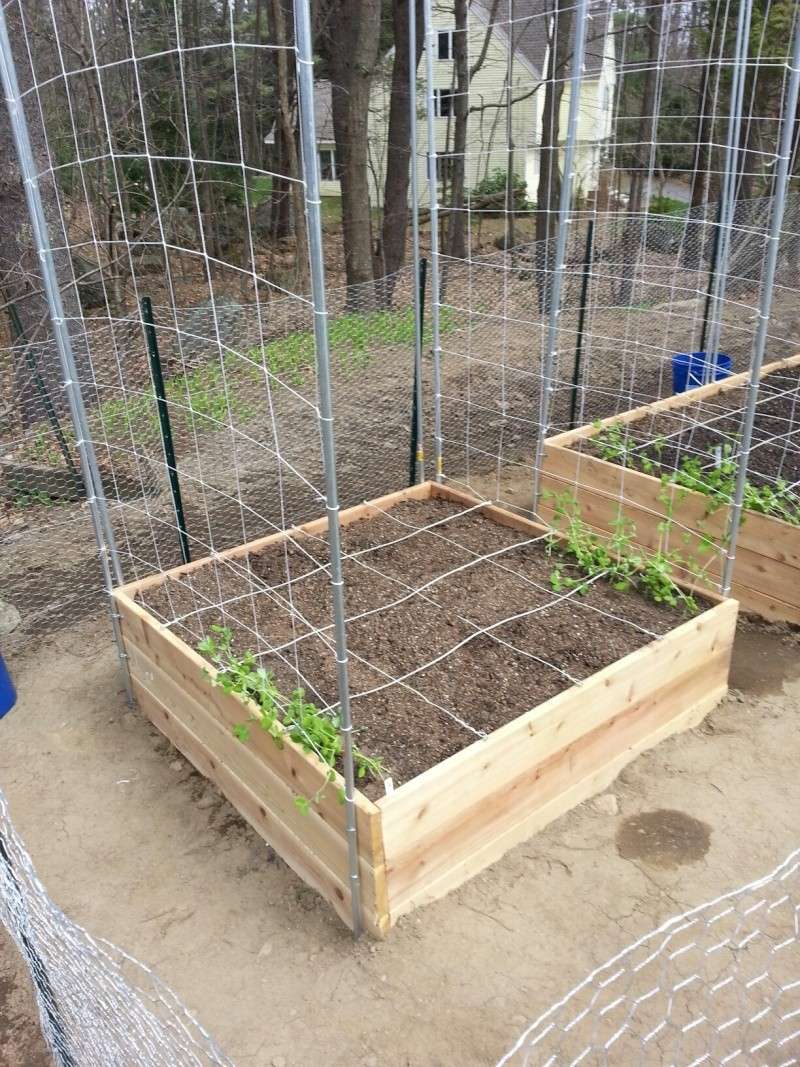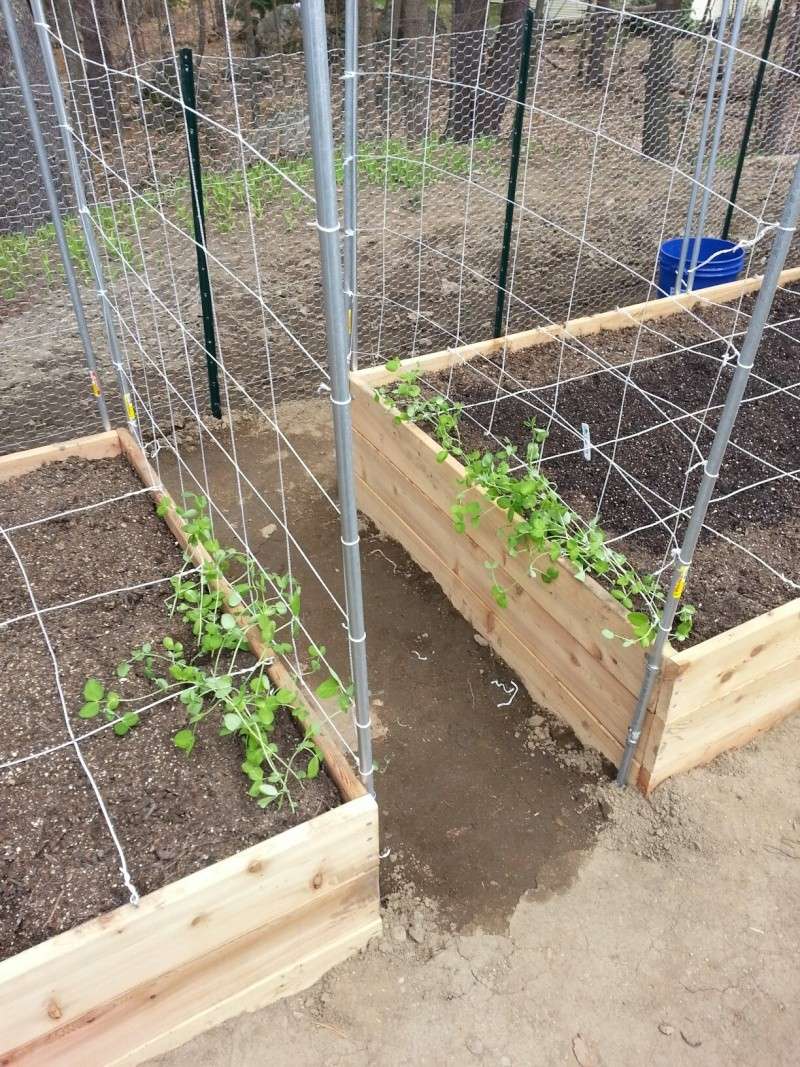 Next picture is the onions and green onions and lettuce. The lettuce is leaf lettuce that I plan to cut leaves from as it grows, so I did 9 per square. The onions and green onions layout is a mess because of the mistakes I made when starting and up-potting them. I at least managed to avoid mixing them up. Left column is green onions. Second column is Sturon onions.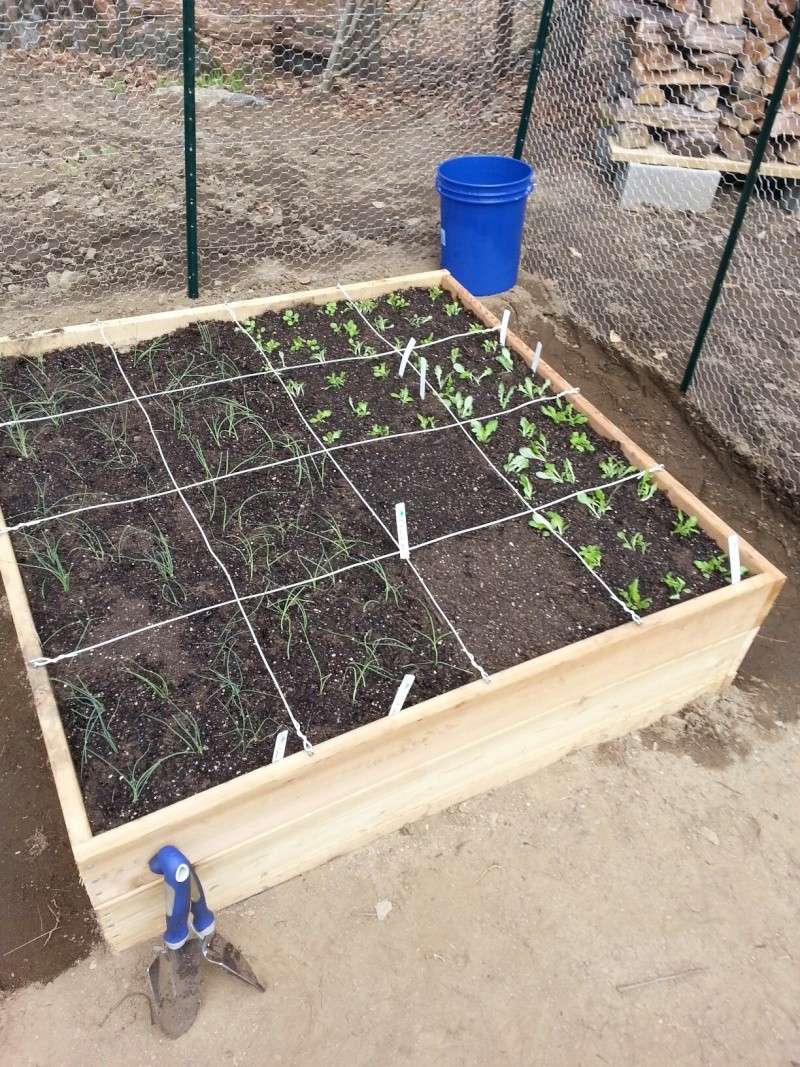 Last picture is more lettuce planted on the edges of squares that will later have tomatoes. I am hoping the lettuce hasn't bolted by the time the tomatoes can provide some shade and extend the lettuce longer.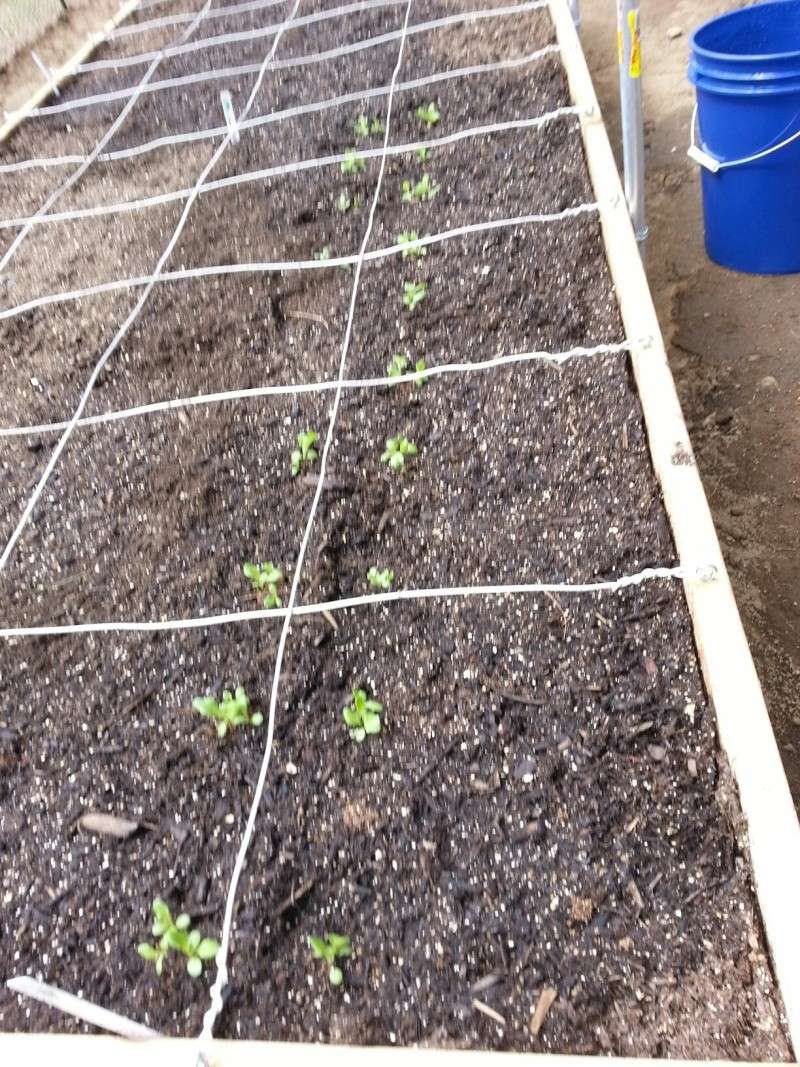 Not visible is that I planted radish seeds today in one of the two remaining squares of the box contaning lettuce and onions and I planted 36 spinach seeds and a square of carrot seeds in the long box. I am also in the process of hardening off spinach seedlings that will go in the garden Sunday.
Very happy right now.
-Ed
Beautiful! I like your wood pile, too!

Are you ready to cover in the even of freezing weather?

CC



Posts

: 6425


Join date

: 2012-05-20


Age

: 61


Location

: elbow of the Cape, MA, Zone 6b/7a



At what temperature should I plan to cover lettuce,onions, and peas? I thought they were all ok to have out a few weeks before the last frost. We aren't forecast here to go below freezing in the next 10 days, but I'm new at this so any advice is very much appreciated.

Thanks,

-Ed

Looks great! You can see all the hard work you put into it. I think when your peas get bigger they will be easier to train up the trellis.



Posts

: 288


Join date

: 2013-02-22


Age

: 34


Location

: London, OH -Zone 5B/ 6A



I get a little nervous about my lettuce in freezing temps. The onions and peas I don't worry about. I think they can handle being touched by frost, if that's all it is.

The only reason I mention it is because we're heading down into the 30's here on the Cape, and we're usually milder than the rest of New England.

Is this where you live?
http://classic.wunderground.com/cgi-bin/findweather/getForecast?query=%20Exeter,%20New%20Hampshire%20&wuSelect=WEATHER

CC



Posts

: 6425


Join date

: 2012-05-20


Age

: 61


Location

: elbow of the Cape, MA, Zone 6b/7a



edf.....I like what you've done so far.
Don't worry about the peas. They really don't have anything to grab with just yet. Mine do the same thing. I put them up against the trellis and they fall over. They'll get more 'fingers' when they get a little longer.



Posts

: 4690


Join date

: 2010-03-21


Age

: 75


Location

: Southwestern Maine Zone 5A



CC,

That's the place. They seem to have lowered the temp prediction for Sunday and Monday nights since I last checked on TWC. So sounds like I should put something over the lettuce. Since they are really short (below the level of the edges of the boxes, do you think it would be ok to just put a tarp over the portion of the boxes where the lettuce is for the nightime? (I can put something on the corners to hold it down. Or do I need to cover the whole box to avoid a lot of cold air going in sideways just above the mix level, in which case I will need to do something that is higher than the onions?

Thanks,

-Ed

---
Permissions in this forum:
You
cannot
reply to topics in this forum