I have 3 little boys and am trying to figure out the best way to approach composting with them around. They love their dirt, and my 2 year old has been known to have a taste for it. Any tips for keeping out large curious critters?



Posts

: 11


Join date

: 2013-04-12


Location

: CO



I told my boys they are free to urinate on my compost pile and they do when they are outside. Maybe that will keep them from wanting to play in the compost pile.



Posts

: 288


Join date

: 2011-12-08


Location

: Houston, TX



I keep a small bucket of finished compost near the big piles for my 3 year old daughter to "help" with.
Here's a pic from last fall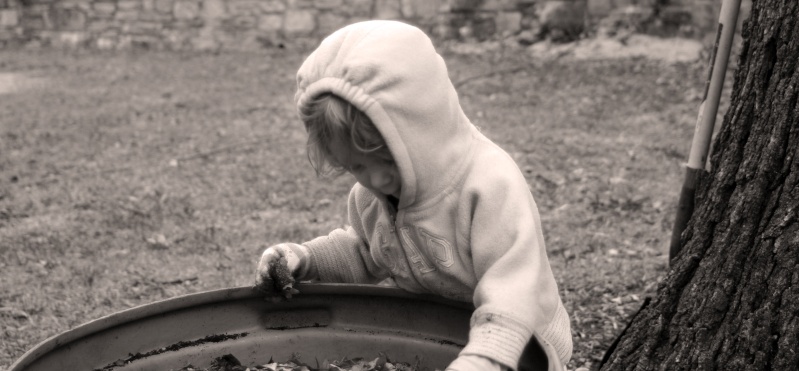 Now her official duties are to let me know when the squirrels and birds are in the garden...then help scare them away. Momma is not happy that she has learned a few choice words while scaring the squirrels away.



Posts

: 1144


Join date

: 2012-01-22


Location

: kansas city



We have a smallish plastic composter bin that my in-laws gave me. We've been using that bin strictly for kitchen scraps and garden trimmings. We keep a small tupperware bin in the kitchen to collect scraps, and my 5 year old boy likes to keep an eye on it and dump it into the compost bin when it's full. I think he just likes to be able to go outside by himself for a few minutes; it makes him feel grown up.

My two year old girl, on the other hand... she's all about planting and watering flowers. She is NOT interested in the compost! XD



Posts

: 131


Join date

: 2012-02-12


Age

: 44


Location

: Huntsville, AL



My 2 year old try to climb in my bin today when I was adding to it. I made mine out of pallets and put a latch on it so she cant get into it.



Posts

: 288


Join date

: 2013-02-22


Age

: 34


Location

: London, OH -Zone 5B/ 6A



Thanks all for the ideas. I think a solution will present itself once I get going. If I can inspire a respect for the stove and knives in the kitchen that keeps them safe, I think I can do the same in this less familiar setting.



Posts

: 11


Join date

: 2013-04-12


Location

: CO



---
Permissions in this forum:
You
cannot
reply to topics in this forum