I know there is a thread where this was mentioned, not very long ago, but I've used both search boxes, and cannot find it.
I was not trying to get my cabbage to form new heads. I just cut 1 head off the stalk, but did not pull stalk for I have 2 more plants right next to this one. I kept watering the other 2 heads. This is what happened in 2 weeks time.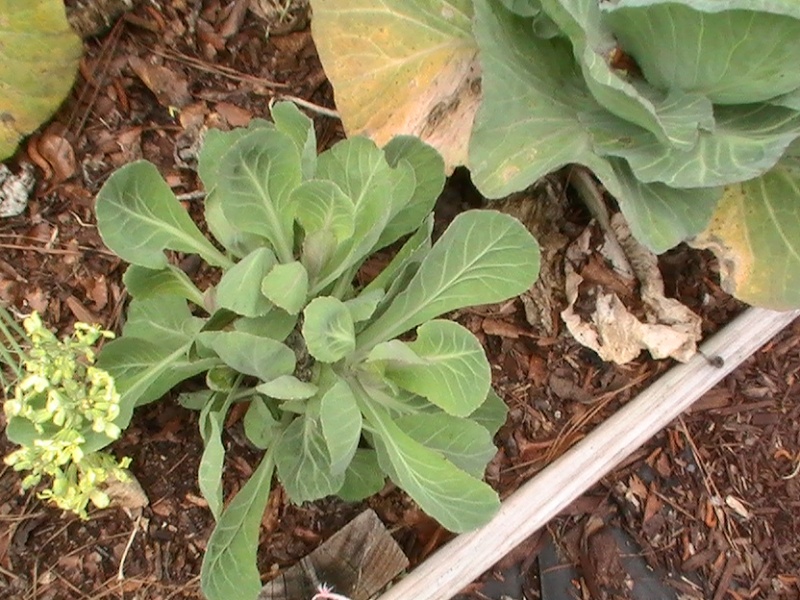 I left my two cabbage stubs growing after reading that same thread and have two sets of four mini cabbages going. They've been terribly attacked by aphids. I think I finally have things under control, but we'll see how they fared as they grow.

In fact it's the cabbages that are showing in my avatar picture, this was taken just before they were harvested a couple of months ago. I just remembered they were there.




Posts

: 1918


Join date

: 2012-12-07


Location

: Central Calif Mtns.






Posts

: 76


Join date

: 2012-03-11


Age

: 51


Location

: Lake City, FL 8b



Some cut stalks re grow better than others , try to leave the bottom set of leaves on the stalk when you cut the cabbage head .
Cross cut it to leave a leaf stem or growth nub in each quarter when you make the cross cut

Judi that cabbage is one of the better reformed heads what seed type was it please?




Posts

: 3736


Join date

: 2011-11-09


Age

: 66



Thanks for the thread. I didn't crosscut or leave any leafs, but I didn't disturb the roots because of the other plants. I just planted transplants from the store.
Jo
littlejo wrote:I just planted transplants from the store.
Jo
Jo, you mean they are cabbage stumplings? Or actual plants?
My cabbage stumpling in the kitchen window is growing. I should plant it out and see what happens.
CC



Posts

: 6455


Join date

: 2012-05-20


Age

: 61


Location

: elbow of the Cape, MA, Zone 6b/7a



No CC, they were plants. I was just stating this because I didn't start from seeds.

What is a stumpling? Tell us about this! Is it a baby cabbage of sorts?
Jo
Remember the thread on Never Buy Veggies Again (I just searched for it but can't find it) where they were posting about planting the leftover stumps from grocery store bought celery and such? I think it was Plantoid who coined the phrase 'stumpling'. Well I thought I'd try a cabbage stump. I kept it even tho it turned a bit black, and recently it sprouted!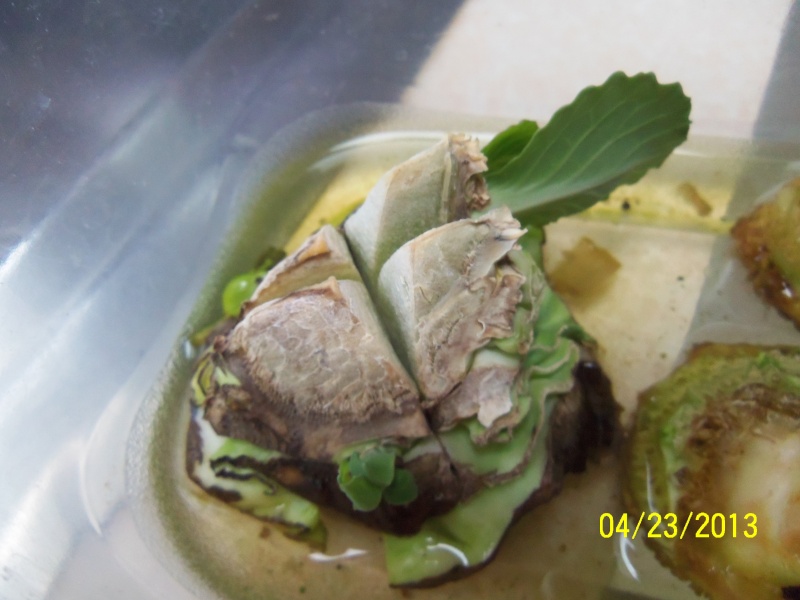 Here's my celery stumplings grown in the kitchen window over the winter and recently transplanted into the SFG:
Starting celery & cabbage stumplings is great here in the NE as planting from seed takes forever, plus I'm always buying them so have a constant supply.
Found the original thread:
http://squarefoot.creatingforum.com/t11811-garden-tip-never-buy-celery-again
CC



Posts

: 6455


Join date

: 2012-05-20


Age

: 61


Location

: elbow of the Cape, MA, Zone 6b/7a



---
Permissions in this forum:
You
cannot
reply to topics in this forum