Latest topics
»
Gardening in Central Pennsylvania
by
BeetlesPerSqFt
Today at 3:54 pm
»
My SFG on TV - Featuring Compost Product
by
sanderson
Today at 3:49 pm
»
New England January 2017
by
CapeCoddess
Today at 3:45 pm
»
Spring Fever Anyone?
by
Robbomb116
Today at 2:14 pm
»
Forum Poll: Social Media
by
countrynaturals
Today at 1:02 pm
»
Help - Building new raised beds
by
yolos
Today at 10:53 am
»
CANADIAN REGION: What are you doing January 2017
by
trolleydriver
Today at 9:40 am
»
3rd World Country Gardening
by
AtlantaMarie
Today at 8:42 am
»
Butterfly Junction
by
sanderson
Today at 4:09 am
»
To all my SFG pals and more.
by
sfg4uKim
Yesterday at 8:48 pm
»
Mid-South folks - please check in
by
yolos
Yesterday at 8:28 pm
»
What are you eating from your garden today?
by
BeetlesPerSqFt
Yesterday at 6:53 pm
»
Third Year SFG in Canada
by
trolleydriver
Yesterday at 5:29 pm
»
Green Juicing: Growing & Recipes Ideas
by
CapeCoddess
Yesterday at 1:36 pm
»
Seed starting station..
by
BeetlesPerSqFt
Yesterday at 8:54 am
»
2017 SFG in Brooks, Ga
by
sanderson
Yesterday at 5:40 am
»
Escarole in SFG
by
BeetlesPerSqFt
Yesterday at 12:55 am
»
N & C Midwest: January 2017!
by
Scorpio Rising
1/22/2017, 10:36 pm
»
Cauliflower
by
sanderson
1/22/2017, 7:37 pm
»
Sad News from Jimmy Cee
by
ralitaco
1/22/2017, 7:27 pm
»
Northern California & Coastal Valleys - What are you doing this month?
by
sanderson
1/22/2017, 5:30 pm
»
Grow Light Question
by
camprn
1/22/2017, 4:30 pm
»
Senseless Banter...
by
donnainzone5
1/22/2017, 4:24 pm
»
My Shreveport Garden 2017
by
countrynaturals
1/22/2017, 1:15 pm
»
2017 Burpee seeds are already on display at HD
by
yolos
1/22/2017, 12:49 am
»
EMT Clips
by
sanderson
1/21/2017, 6:51 pm
»
How's the Weather Where You're At?
by
sanderson
1/21/2017, 4:24 pm
»
Baker Creek's Seed Bank Store in Petaluma, CA
by
sanderson
1/21/2017, 4:18 pm
»
Making Smoothies
by
sanderson
1/21/2017, 12:45 am
»
Holy snow Batman!
by
AtlantaMarie
1/20/2017, 8:18 pm
One of my shallots is sending up a flower. Do I remove it? Does it mean time to harvest is here or near? I've had them in the ground here in Texas since the end of October.

Thanks!
How curious! Would you please post a photo. Very rare for shallots to set flower, at least that is my understanding. Also, what kind of shallots are these? Or are they multiplier onions, which are similar.
____________________________
41 years a gardener and going strong with SFG.
http://squarefoot.creatingforum.com/t3574-the-end-of-july-7-weeks-until-frost
There are certain pursuits which, if not wholly poetic and true, do at least suggest a nobler and finer relation to nature than we know. The keeping of bees, for instance. ~ Henry David Thoreau
http://squarefoot.creatingforum.com/t1306-other-gardening-books

Forum Moderator Certified SFG Teacher




Posts

: 14042


Join date

: 2010-03-06


Age

: 54


Location

: Keene, NH, USA ~ Zone 5a



I bought both French Red and Holland Red from Burpee last fall. I believe this is the bed of French Red. I'll get a picture of the shoot but my husband cut it. He told me that if we didn't, it would stop production of the bulbs. It is the only one so far that has done this but they were all planted the same day. Maybe another one will send up a shoot. As I am somewhat of a Luddite, I'll have him take the picture and upload it.
Hi, Camprn: Here is the photo of the cut shallot shoot. After looking at the plant more closely, I am fairly certain the shallot is a French Red. I can tell you that the shoot was quite delicious in our salad.

http://www.flickr.com/photos/93883804@N03/8685281252/in/set-72157633360904442/
iii, how did your h know that we are to cut the flowers off? Have you harvested them yet? If so, how'd they do?
These are my grocery store shallot flowers in front of the garlic and I'm not sure what to do if anything: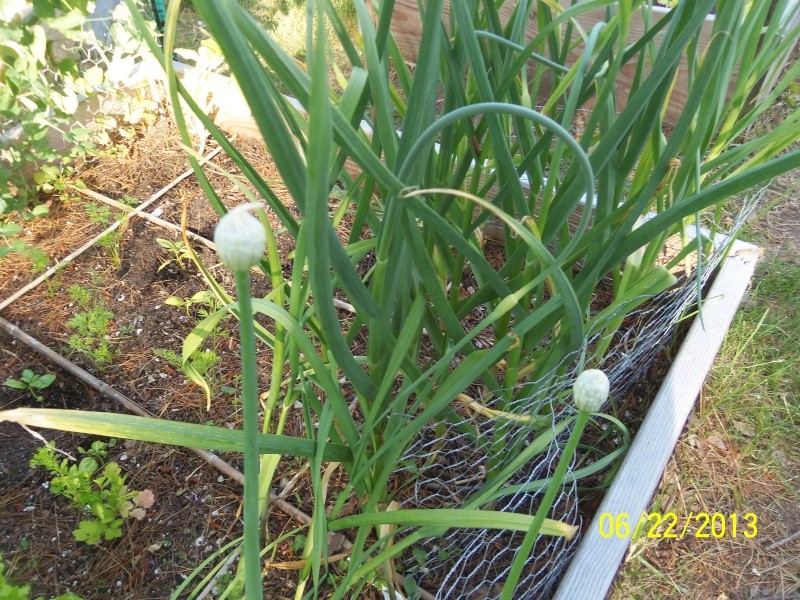 But I DO know I'll be heading out for those scapes shortly!

CC



Posts

: 5442


Join date

: 2012-05-20


Age

: 60


Location

: elbow of the Cape, MA, Zone 6b/7a



I did some reading on the flowers and pretty much everything said to cut them down and to note that the particular shallot sending up the flower stock should be used sooner rather than later as it would not necessarily keep. The same info said that when the flowers start appearing, you are about 3/4 of the way through the season. Only one of my shallots sent up flowers, but it sent up nine of them - one for each of the bulbs it was forming. I literally harvested that one today and will use it in my cooking in about a week after it has a little time to cure.

I had two beds of shallots, one planted in the fall and one planted in March. Half of the ones from March started dying back about a week ago and I harvested those. I got lots of small shallots (some as many as twenty in a bunch.) I am drying those currently. The rest of that bed is still not ready.

The ones planted in Fall are much bigger and are still, for the most part, not ready for harvest. Camprn told me to check to see if they were ready by giving a slight pull to the plant. If there was resistance, it wasn't ready. Today, four sets were ready and so I harvested those. Those bulbs range from medium to large and have less per set - anywhere from six to ten.

From the looks of your picture, I would say that the shallots are not ready yet. I found that as the bulbs really start creating bulbs, the green shoots push outward and downward toward the ground. You begin to see the bulb forming partially above the ground. When you do harvest, use a shovel or fork to get them - pulling seems like it would rip the shoots and leave the bulbs in the ground.

I also used some of the greens in place of scallions throughout the spring. I purposefully over planted to be able to use green shallots and green garlic.
Your h's instruction felt right to me so I took them off and ate them for supper tonite!

You sure must have planted alot of shallots, iii. I only planted 2 but from the looks of things I'll have about 12 coming if all goes according to plan. And it was so darn simple...altho I am still a bit confused about watering them as well as garlic & ball onions.
But they all seem to carry on with or without me. I like that.
CC



Posts

: 5442


Join date

: 2012-05-20


Age

: 60


Location

: elbow of the Cape, MA, Zone 6b/7a



---
Permissions in this forum:
You
cannot
reply to topics in this forum