Latest topics
»
Spring Fever Anyone?
by
Zmoore
Today at 9:35 am
»
Seed starting station..
by
BeetlesPerSqFt
Today at 8:54 am
»
2017 SFG in Brooks, Ga
by
sanderson
Today at 5:40 am
»
CANADIAN REGION: What are you doing January 2017
by
Kelejan
Today at 2:26 am
»
Third Year SFG in Canada
by
yolos
Today at 1:16 am
»
Escarole in SFG
by
BeetlesPerSqFt
Today at 12:55 am
»
N & C Midwest: January 2017!
by
Scorpio Rising
Yesterday at 10:36 pm
»
To all my SFG pals and more.
by
BeetlesPerSqFt
Yesterday at 9:11 pm
»
Cauliflower
by
sanderson
Yesterday at 7:37 pm
»
Sad News from Jimmy Cee
by
ralitaco
Yesterday at 7:27 pm
»
Northern California & Coastal Valleys - What are you doing this month?
by
sanderson
Yesterday at 5:30 pm
»
Grow Light Question
by
camprn
Yesterday at 4:30 pm
»
Senseless Banter...
by
donnainzone5
Yesterday at 4:24 pm
»
New England January 2017
by
CapeCoddess
Yesterday at 2:20 pm
»
My Shreveport Garden 2017
by
countrynaturals
Yesterday at 1:15 pm
»
Butterfly Junction
by
countrynaturals
Yesterday at 12:15 pm
»
Forum Poll: Social Media
by
countrynaturals
Yesterday at 12:07 pm
»
What are you eating from your garden today?
by
sanderson
Yesterday at 2:56 am
»
2017 Burpee seeds are already on display at HD
by
yolos
Yesterday at 12:49 am
»
EMT Clips
by
sanderson
1/21/2017, 6:51 pm
»
How's the Weather Where You're At?
by
sanderson
1/21/2017, 4:24 pm
»
Baker Creek's Seed Bank Store in Petaluma, CA
by
sanderson
1/21/2017, 4:18 pm
»
Making Smoothies
by
sanderson
1/21/2017, 12:45 am
»
Holy snow Batman!
by
AtlantaMarie
1/20/2017, 8:18 pm
»
Food Dehydrators
by
sanderson
1/20/2017, 1:21 pm
»
Green Ice Leaf Lettuce
by
MrBooker
1/20/2017, 4:46 am
»
Gardening Australia
by
Scorpio Rising
1/19/2017, 10:05 pm
»
New Forum Feature
by
Scorpio Rising
1/19/2017, 9:56 pm
»
Microgreens Gardening
by
yolos
1/19/2017, 9:45 pm
»
Hi from Acworth GA
by
AtlantaMarie
1/19/2017, 9:40 pm
Hi everyone! I am very very new to all of this. I purchased Mel's book yesterday and built my very first box today! Didn't even ask a man for help (with the exception of the home depot guy to cut the lumber). I wanted to share with you the first thing I have built myself: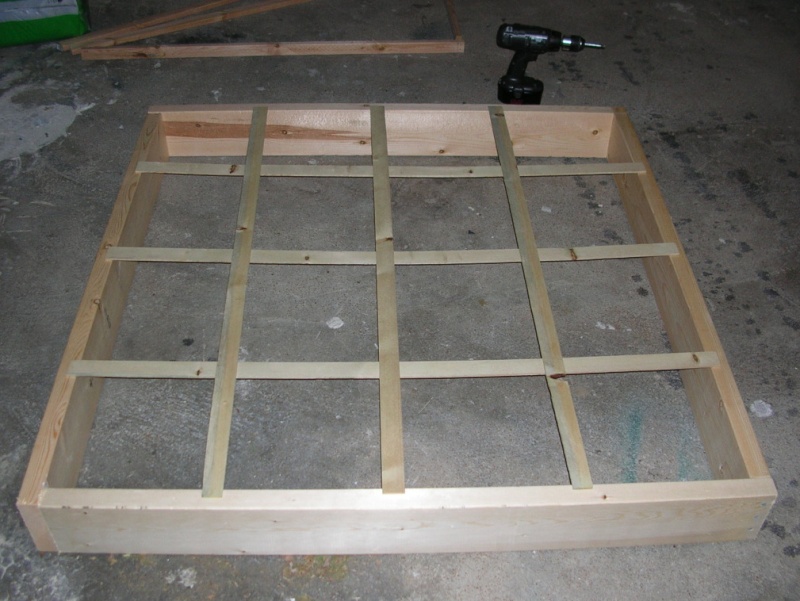 Now I live in St. Louis and I haven't started any seeds and I am confused as to if its to late or not. I did buy already started plants, two tomatoes, hot banana peppers, red bell pepper, yellow bell pepper and zuchinni. I am really confused about what gets planted and when. I know I need to do some more reading but does anyone have suggestions? I think I am a bit overwhelmed. Also, when you make a cage for the box, how does this work with the trellis? Do the tomatoes not need protection from pests after a certian height?
I have never had a garden before aside from a few flowerbeds where I have bought annuals to put in. Thanks for any support!
Congrats - that looks great!

As a first yr gardener, I was a little overwhelmed at first (some things are still fuzzy, but it'll come with experience), so I know how you feel.

Get the book back out. Starting on pg 252, there are some great charts that'll help you decide when to plant.
First look up your area's last frost date.
Write down all of the veggies you plan to grow.
Use Mel's handy charts to figure out what goes in the dirt and when!


I've found it really handy to use a small notebook to keep track of things.

You'll do fine! Good luck and have fun!!



Posts

: 215


Join date

: 2010-03-05


Age

: 42


Location

: southeast MN, zone 4a



Oh - I didn't answer some of your other questions.

I did build a cage, but only for my strawberry bed. We have lots of greedy birds and rabbits, so wether or not it was necessary.....well, I don't know, but I feel better with that cage sitting over them!

My veggie bed (4' x 4') will not be protected, so we'll see! I'm not too worried about my toms, but I could be wrong.

I think cages are a necessity only if you know there are creatures in your area that will destroy your beds.



Posts

: 215


Join date

: 2010-03-05


Age

: 42


Location

: southeast MN, zone 4a



Welcome. Great garden bed there. Unless you have digging critters in your area, I wouldn't worry about a cage covering the entire bed. I made some small cages that cover 3 squares -- they are about 8" high. For the tomatoes I make a circular wire cage 1' in diameter and 1' high that I pull off when the tomatoes are well established and ready for trellising. I have a severe cat problem here, but they won't dig up large plants -- only the babies need protection.

If you are talking about frost protection, then make a cage covered in plastic for the whole bed. By the time the tomatoes are large enough to be trellised you should be out of frost danger.

A really nifty tool for Spring planting can be downloaded from here:
http://littlehouseinthesuburbs.com/category/gardening

And if you are unsure of your last frost-free date, here's a good website for that:
http://www.garden.org/zipzone/

I hope you will post often, ask questions, and show us your progress.



Posts

: 904


Join date

: 2010-03-03


Location

: USA



Hello, fellow Missourian!

I'm always happy to welcome another Show-Me gardener to the group. I'm about three hours south of you, between Sikeston and Poplar Bluff, in growing area 6b.

It's a little early yet to plant your tender crops in the St. Louis area, such as tomatoes, peppers, and zucchini. You can still plant early crops, including lettuce, radishes, spinach, English peas, swiss chard, potatoes, onions, cabbage, broccoli, cauliflower, kohlrabi, carrots, celery, beets, mustard greens, and turnips. It's about time to plant corn, too. I'd wait at least another week for beans.

Tender crops - cucumbers, melons, squash, eggplants, peppers, sweet potatoes, and okra should hold off for another couple of weeks to be safe. Evening temperatures in the 30s are not good for them. Tomatoes will be okay transplanted now if you cover them on cold nights. Some seeds like okra need warmer soil before they will even germinate.

Most veggies can be direct-seeded right into the box. You don't have to start the plants first. Some varieties have a temporary stunt after transplanting so that you don't save a lot of time by setting out transplants, and they are more expensive to buy. I either start seed indoors, or buy transplants of tomatoes, peppers, celery root, sweet potatoes, onions, and eggplants. Pretty much everything else I direct seed right into the box following Mel's suggested spacing.

If you train your tomatoes to a trellis you won't need a tomato cage. Other types of cages can be fashioned if you have a problem with stray cats, for example, or if you want to use one as a framework for a temporary cold-night cover, but the typical tomato cages are not normally used in a sfg box if you trellis your plants. About the only pests we have on our tomatoes are the big green tomato hornworms - if they appear, just check your plants each morning and hand pick them off and smash them, - and sometimes in late summer if we've had stressing conditions in the area such as drought, we'll get a swarm of blister beetles. They are large, long beetles colored either black with gray edges, or cream with narrow brown stripes. Their juices are caustic, so use gloves when running them out of your garden in case you mash one.

Don't be intimidated by growing veggies. If you have grown flowers, you can grow veggies. The great thing about SFG, - if you make a mistake, just pull it out and plant something else!



Posts

: 1450


Join date

: 2010-03-16


Age

: 61


Location

: Southeastern Missouri (6b)



Thanks! If I know I have moles before I start my garden, what should I do to protect it?
Ander217~ thank you so much for all the information I know who to ask MO planting questions to now! I wanted a cover for my garden because I have a lot of bunnies about and I worry about them eating my garden up before it has a shot.
If you have moles, you can tack or staple a woven wire bottom on your box. Some people use hardware cloth, others use chicken or screen wire, some use tightly-woven fence wire - whatever you can scrounge or buy inexpensively.

I stapled weed barrier to the bottom of my boxes. I didn't add wire over that, but I set the boxes on top of a layer of cardboard or thick newspapers. So far the moles haven't been a problem.

Rabbits and groundhogs caused problems in my garden and we had to put a fence around it. If you only have a box or two, your cage should work fine at keeping out the bunnies. The critters mainly ate my lettuce, green beans, and fennel. They didn't bother tomato plants, but something would eat a ripe tomato now and then.



Posts

: 1450


Join date

: 2010-03-16


Age

: 61


Location

: Southeastern Missouri (6b)



Welcome illuminate1 -- Your SFG bed looks great! All I can say is more power to us "do it yourself" women. You go girl!

(Oh, and I had the guy for Home Depot cut my boards too! Why not?)



Posts

: 439


Join date

: 2010-03-19



---
Permissions in this forum:
You
cannot
reply to topics in this forum