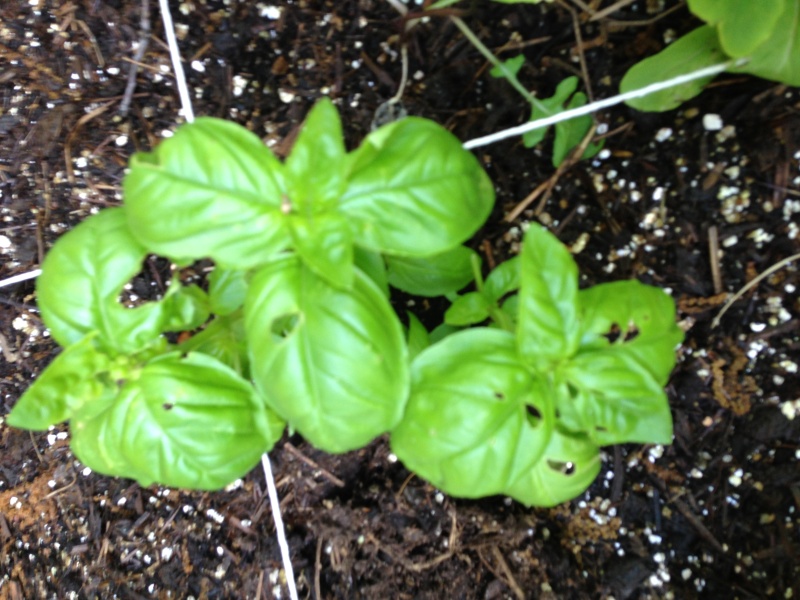 Note the holes in the leaves. It seems like something may be eating it. What can I do to prevent this? I am so new to all of this that I have no idea. Someone mentioned a mixture including cyanne pepper.
Last edited by sevendustweb on Tue 30 Apr 2013 - 8:09; edited 1 time in total (Reason for editing : Corrected image URL)



Posts

: 1


Join date

: 2013-04-30


Location

: Spartanburg, SC



Hmmm...looks possibly like slug damage but could also be beetles of some sort. If it's slugs, try sprinkling some epsom salt and used coffee grounds around the base for a short acting deterrent and then it's time to attack those buggers. Might be good to cover the plant with some screen, mesh or tulle to prevent either pests....but at least the plant itself looks healthy!




Posts

: 192


Join date

: 2010-10-24


Age

: 34


Location

: Georgetown, KY Zone 6a



I had similar damage. I suspect either snail / slugs, or sow bugs [roly-poly]. This may sound terrible, but I go out at night with a flashlight to hunt for snails and slugs in and around my boxes and pots and permanently dispatch them. I usually find 1-5 a night. Last night I found a dozen sow bugs in my lettuces! I didn't know they were so destructive! And fast! I had a hard time catching them for dispatch. Don't want to put insecticides around the boxes because of my cat.

Forum Moderator Certified SFG Teacher




Posts

: 15390


Join date

: 2013-04-21


Age

: 69


Location

: Fresno CA Zone 8-9



It's hard to tell in the picture, but if you see a silvery shiny trail on or around the holes, it was slugs or snails that did the damage. I'm getting attacked too already, and I haven't even had my brassica outside a whole week yet. I have two methods that work pretty well against slugs. The first is to sprinkle sluggo or a similar product down around my boxes. That usually works in the spring. But when the slug population starts booming around harvest time, I have to go out with scissors and cut the little beasts in half. I go out and kill probably a couple dozen a day for the first week, then 6-12 every day after that. It's not pretty work, but if I don't do it, they'll eat my plants right to the ground.



Posts

: 826


Join date

: 2010-04-08


Age

: 33


Location

: Jamestown, NY (Zone 5a)



Snails and slugs like beer, right? Put out a tray of beer and they will drown, supposedly.



Posts

: 596


Join date

: 2013-03-12


Location

: Savannah, GA



I'm getting hit hard w/ slugs myself....I think they're taking up residence between the liners of my wicking beds. I hunted down at least 100 in and around the beds last night and I swear that picking up those creepy, slimy things is the most disgusting thing ever!

I put out yeast traps last night and saw a few slugs in them before I hit the sack, and there were still only a few in them when I dumped them this morning.

Sounds like I'm off to see who carries Slug-Go around here. BTW- I recently read an article (can't remember where) about using cornmeal to kill slugs??? Said they couldn't digest it and it kills them right off. I've heard this for ants only but anyone try this for slugs?
Something I've learned about the slugs....they LOVE clover and dandelions and I find tons more of them on my weeds than in the garden. However, since we are wanting to start fighting the weeds, then the only thing left for the slugs will be my garden.

So, I'm determined to dwindle their population before taking that project on.




Posts

: 192


Join date

: 2010-10-24


Age

: 34


Location

: Georgetown, KY Zone 6a



Try this slug trap: Water the MM. Place a small board down on the MM. Go out the next day and turn the board over, there should be slugs under there. It wont get rid of the entire slug population, but it makes hunting them easier.

____________________________
41 years a gardener and going strong with SFG.
http://squarefoot.creatingforum.com/t3574-the-end-of-july-7-weeks-until-frost
There are certain pursuits which, if not wholly poetic and true, do at least suggest a nobler and finer relation to nature than we know. The keeping of bees, for instance. ~ Henry David Thoreau
http://squarefoot.creatingforum.com/t1306-other-gardening-books

Forum Moderator Certified SFG Teacher




Posts

: 14165


Join date

: 2010-03-06


Age

: 55


Location

: Keene, NH, USA ~ Zone 5a




---
Permissions in this forum:
You
cannot
reply to topics in this forum