Last year I managed to get by with only covering things with tulle over some flexible PVC. Rabbits nibbled a little, but no major losses.

A few days ago I discovered all 5 of my brassicas (the only thing in yet besides the peas that haven't germinated yet) we're eaten down to the ground! So mad. So even though I don't have the time, it looks like I will need to build some cages to protect my plants before I can put anything else in. I plan to build something like Mel shows in ANSFG with the chicken wire, but my beds have a trellis on one side and I'm not sure how best to deal with it. I though someone may have already figured it out.

The box that will have my brassicas also has peas. So soon the peas will need to climb up the trellis, so I can't just put the cage over them. The only thing I could figure was just to make a cage 2 x 6 (my bed is 3 x 6) and then try to cover the peas with tulle from the cage to the trellis and on the other side from the trellis to the side of the box somehow. Ideas?




Posts

: 168


Join date

: 2012-02-11


Age

: 52


Location

: Demotte, Indiana - zone 5b



I've never had a problem with anything chewing on my broccoli, cauliflower, etc., but something goes for the tops of my pepper plants each year...and squirrels dug up any new seedlings...I took a somewhat redenck approach and protected plants through the night with anything I could find. The most attractive is the mini-tomato cage that fits right into individual squares through my grid...it is easy and fast to make but is some additional $$$.



Posts

: 1142


Join date

: 2012-01-22


Location

: kansas city




Certified SFG Instructor




Posts

: 4822


Join date

: 2010-08-20


Age

: 60


Location

: Central Ohio zone 6a



That's such a bummer. You can't be mad at the animals; afterall, they just want to eat good food, too. But of course you get mad anyway, lol, or at least I do. Even though I live in the city, we have a bad deer problem. My first year, my whole garden was eaten down to the ground. Then in following years, they ate all the leaves off my bean vines. Every single leaf. Twice! It was that year that I decided to do something about it.
I decided the most practical thing to do was to build a fence around the whole garden, with about three feet all around so I have easy access to all my squares. I put extra pots in the corners, and I have a long 1x16 foot garden box along one side. It works perfectly!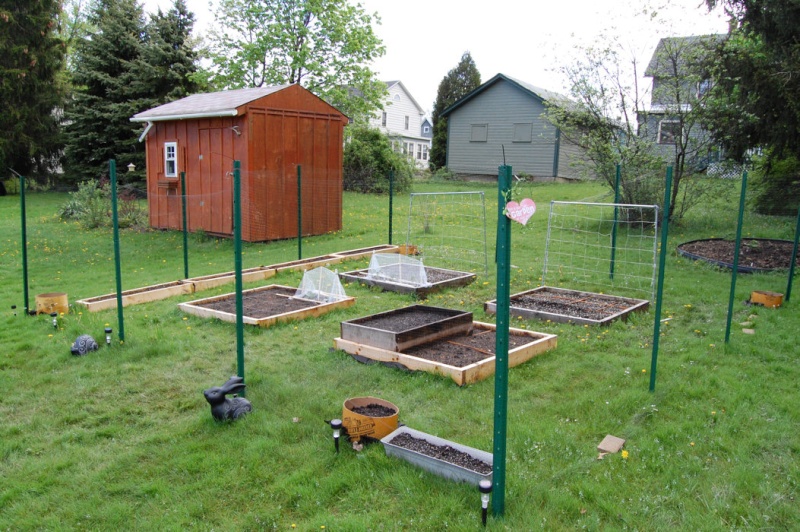 Posts

: 826


Join date

: 2010-04-08


Age

: 32


Location

: Jamestown, NY (Zone 5a)



---
Permissions in this forum:
You
cannot
reply to topics in this forum