Hello everyone,
Something had been chomping big holes in my squares of mesclun mix, but I hadn't seen anything that could be responsible... until today! Caught him in the act!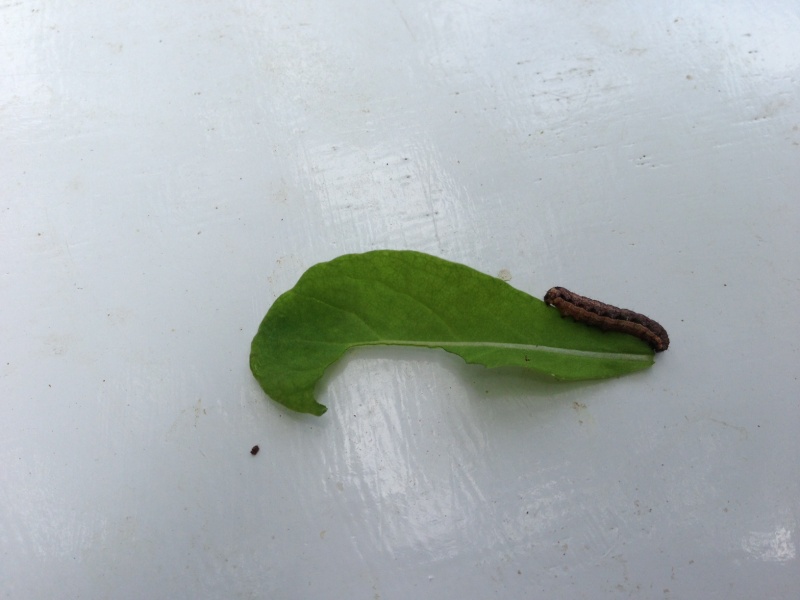 I think it's some kind of armyworm... which causes some alarm, as Wikipedia says, "Its name is derived from its feeding habits. They will eat everything in an area and once the food supply is exhausted the entire "army" will move to the next available food source."



I've also discovered a veritable infestation of gnats in the leaves of my bibb lettuce. They don't seem to be doing any harm... and one of the heads has a ladybug that's gorging on them... but there are just so many!!! Anyone had experience with this?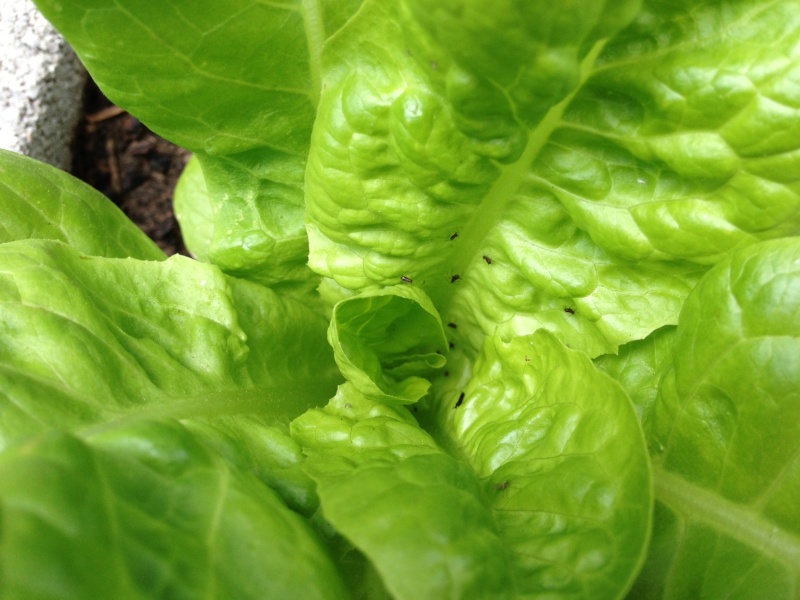 My plan is to give everything a great big dousing of neem (a few tablespoons in a spray bottle of water, with a drop of soap to help it mix). Any reasons why I shouldn't do that, or suggestions of what might be most effective?
Many thanks,
JJ
Last edited by jjlonsdale on 5/5/2013, 2:34 pm; edited 1 time in total (Reason for editing : fixed picture)



Posts

: 49


Join date

: 2013-04-04


Location

: Dallas, TX



I'm going to be following this topic, for sure! Have you tried a dish soap and water spray, first? Before you go to neem oil? Something is eating my beet tops. I have 2 varieties, one known for the beet root and one known for the greens. I don't mind neem oil on root plants but hesitate on greens. Of course, I planted them in alternating rows (16/sq ft) so I can't spray separately. I think it's called "first year learning curve!"

Let us know how things turn out. P. S. good photos

Forum Moderator Certified SFG Teacher




Posts

: 13529


Join date

: 2013-04-21


Age

: 68


Location

: Fresno CA Zone 8-9



Good job JJ finding that army worm and the gnats! Too bad you don't have a mini vacuum to vacuum them up! I hope that you don't have a ton of army worms to deal with, then you would really have to get into battle mode with them!



Posts

: 1628


Join date

: 2010-06-04


Age

: 62


Location

: Northern Utah



From what I understand, neem oil can harm bees if applied during times that they're active.

Certified SFG Instructor




Posts

: 2067


Join date

: 2010-03-02


Age

: 69


Location

: Bend, OR (Zone 5-6)



BT(Bacillus thuringiensis) is a safe, effective method of eliminating your garden or field of the armyworm & other caterpillers such as the tomato hornworm without environmental concerns.
There are several brands - Thuricide & Safer brand are two. I just got the Safer Brand at Lowes.



Posts

: 777


Join date

: 2011-01-23


Location

: Bloomington, CA



---
Permissions in this forum:
You
cannot
reply to topics in this forum