Page 2 of 2 •

1, 2
@GWN

wrote:Hey there Jimmie, those veggies look good enough to eat...  you could be making some fine soup with them veggies.

I too have thought about getting veggies from local stores to feel my worms....
HIi GWN
I agree, these sure look tempting, however a grocery store isn't tossing out produce that's still good.
I had a talk with the produce man, he told me any items outdated or bad must go, severe penalties are imposed if this policy isn't adhered to.
Makes me feel bad for the waste, along with the revenue loss, however I shop at this store, and I am happy to hear about their policy and how they stick with it.
Many years ago, 1 major shopping chain sold us a pork roast, when we went to cook it, wife found 2 labels, 1 over the other.
Yep, the 1 underneath was outdated, a newer label was stuck on over the old one.
All heck was raised about that,

Certified SFG Instructor




Posts

: 1916


Join date

: 2013-02-16


Age

: 81


Location

: Indiana PA....zone 5



At least you are putting that produce to good use Jimmy, it's unfortunate how much is thrown away!



Posts

: 2037


Join date

: 2012-03-21


Location

: Custer, SD



On UK TV this morning there was a large supermarket chain ( TESCO ) telling us that they scrap some thing like 45 % of their bakery lines . 50 % of the apples and 60% or so of the bagged prepared salad stuffs . ( I don't think they dared to mention all the other produce waste as it is fantastically high )

 Had they the sense to make the produce very cheap I think it would fly off the shelves and there would also be a sales increase over all in the store .
We have Lidel and Aldi stores  over here  , their produce is far cheaper and of a high quality too .

 Mind if you buy the fruit and veg in Tesco store you can see why the waste rate is so high ..most of it would fail as pigswill by about day three or four after buying it due to the bruising developing and the decay  making  bacteria starting to come back to life once the chiller cold seeps away . .

 I'd love to get a couple of trailers full of the fruit and veg waste as it will be weed free but like most of you know they have daily  deep land fill waste disposal contracts , people like me will never get a look in ..so sad and so wasteful.

 I've also noticed that their  apples tend to rot from the centre out .. which makes me wonder if they have been irradiated and long term stored .. Even when purchased  , on the same day most varieties seem to taste like sweet musty soggy sponges and also tend to smell musty



Posts

: 3716


Join date

: 2011-11-09


Age

: 66



ah yes jimmie at least it is not going into a land fill..... well a ... different sort of land fill.
I have been on a holiday for a month to France and we bought all our veggies at markets and I felt SOOOOO terrible just throwing the peelings etc in the garbage. I was tempted to find a park to bury our "compost"
However I was thinking that that is what most people do with their waste.
Personally when I am peeling potatoes etc and cut too much off the potato I always think.. well either I get it this year, OR in next years crops.




Posts

: 2804


Join date

: 2012-01-14


Age

: 61


Location

: british columbia zone 5a



Boy, I know that guilty, sad feeling :-)!

I screened my Berkeley Method Hot Compost today, on the 18th day, and have a large wheelbarrow full of finely screen compost. About 1/3 was thrown back into the new pile that we chipped over the weekend. That pile wasn't quite large enough and we didn't have a lot gathered to chip to complete it so I decided to finish off the old pile.

It's the first time I got to use the 1/4" hardware cloth screen my hubby made me. It fits across the wheelbarrow and worked perfectly. A little too much sawdust made it's way through so I think I'm going to mix 1/4th composted manure in with the compost to make sure the nitrogen is good enough to handle it.



Posts

: 1916


Join date

: 2012-12-07


Location

: Central Calif Mtns.



I just covered 1 pile to keep the rain off.
I want it to dry a bit before screening...so many worms, it's hard to believe.
I picked up a clump to screen, it was a full handful of wigglers, very gently laid it into pile # 2.
Next year I'm planning to upgrade my compost pits, posts buried into the ground with stable sides would please me more.
George Washington Carver stated   "a compost pile should be covered"
I'm with George, of course this is complete and needs to dry some.
I first laid cover directly on top, then thought thats not good, raised it a bit and happy now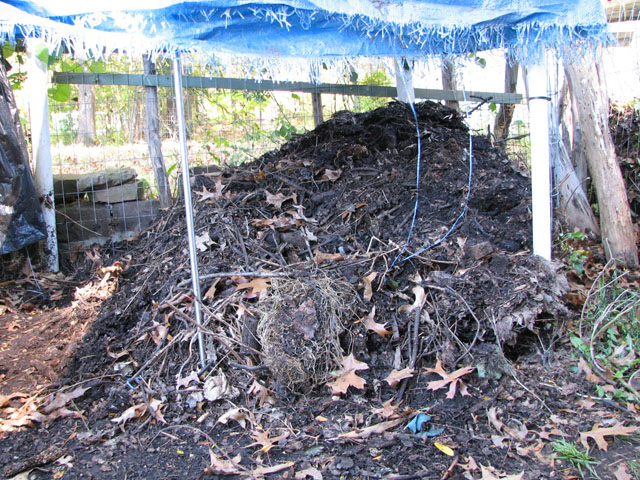 Certified SFG Instructor




Posts

: 1916


Join date

: 2013-02-16


Age

: 81


Location

: Indiana PA....zone 5



that looks very nice Jimmie.
Last year I just laid a tarp over the pile, but I can see that the way you have done this is better. More air gets to the pile.
audrey.jeanne.roberts... I feel like I have it all, EVerything I need, EXCEPT, and this is a big except.. I do not have a screen for my compost. Definately a priority item. we do already have the 1/4 inch metal screening, all we have to do is create a frame for it...
Definately before next compost is ready



Posts

: 2804


Join date

: 2012-01-14


Age

: 61


Location

: british columbia zone 5a



Three years later I'm ready to try another Berkely style fast cooking compost heap.  Had a helper build the pile this time, saving my back. Today is three days later and the pile went right to 130 degrees every where I poked in the compost thermometer. 
This style of composting is called a hospital heap from the book, The Complete Compost Gardening Guide.  Today I was able to give the heap its first turnover going very slow and very small forks of material at a time.  Hard to tell from the picture I suppose but it is at least waist high and about 3-1/2 to 4 feet diameter.  Felt great to spend time outside again! And yes that's an empty spare box dedicated to Fall plantings.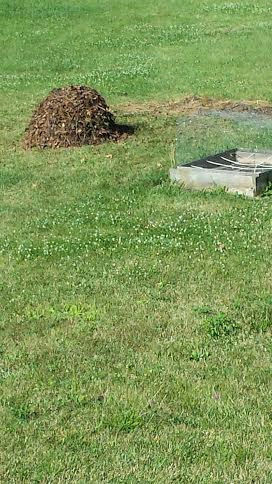 Certified SFG Instructor




Posts

: 4838


Join date

: 2010-08-20


Age

: 60


Location

: Central Ohio zone 6a



Just take care when you turn. Will you be turning every other day?

Forum Moderator Certified SFG Teacher




Posts

: 14362


Join date

: 2013-04-21


Age

: 68


Location

: Fresno CA Zone 8-9



@sanderson

wrote:Just take care when you turn.  Will you  be turning every other day?
The book directions said to turn the pile every two to three days for about 2-3 weeks.
Yes being very careful and turning slowly with small forkfuls.  
The volume shouldn't decrease much with this method, maybe lose about 20% like last time.  Def. going easy with this back and hip thing going on. Feel ok this morning.

Certified SFG Instructor




Posts

: 4838


Join date

: 2010-08-20


Age

: 60


Location

: Central Ohio zone 6a



Page 2 of 2 •

1, 2
---
Permissions in this forum:
You
cannot
reply to topics in this forum