Latest topics
»
Second Year SFG in Canada
by
BeetlesPerSqFt
Today at 7:24 pm
»
Garbanzo (Chickpeas, Cicer arietinum) and Kidney Beans
by
BeetlesPerSqFt
Today at 7:08 pm
»
CANADIAN REGION: What are you doing December 2016
by
trolleydriver
Today at 5:28 pm
»
CHALLENGE - Smallest possible footprint
by
Kelejan
Today at 5:19 pm
»
TrolleyDriver's Compost Thermometer
by
trolleydriver
Today at 4:51 pm
»
GF Collard Greens, Kale Recipes
by
BeetlesPerSqFt
Today at 12:49 pm
»
Butterfly Junction
by
countrynaturals
Today at 11:49 am
»
2016 SFG in Brooks, Ga
by
sanderson
Today at 11:48 am
»
N&C Midwest: December 2016
by
landarch
Today at 9:29 am
»
What are you eating from your garden today?
by
llama momma
Today at 5:10 am
»
Holy snow Batman!
by
llama momma
Yesterday at 4:52 pm
»
Tomato Tuesday 2016
by
llama momma
Yesterday at 4:35 pm
»
New England, December 2016
by
CapeCoddess
Yesterday at 3:27 pm
»
Bon fires on the Levee
by
Cajun Cappy
Yesterday at 12:17 pm
»
Mid-South: December 2016
by
Scorpio Rising
12/5/2016, 10:26 pm
»
Mid-Atl - Dec 2016 - Seed Catalog ?
by
Scorpio Rising
12/5/2016, 10:24 pm
»
Gardening in Central Pennsylvania
by
Scorpio Rising
12/5/2016, 10:21 pm
»
1st Seed Catalog Arrived :)
by
Scorpio Rising
12/5/2016, 10:15 pm
»
Amaranth
by
countrynaturals
12/5/2016, 12:06 pm
»
Northern California & Coastal Valleys - What are you doing this month?
by
countrynaturals
12/5/2016, 12:03 pm
»
Garlic: Freeze, thaw, and heave
by
donnainzone5
12/5/2016, 11:14 am
»
Live and learn
by
jimmy cee
12/5/2016, 9:08 am
»
AtlantaMarie's Garden
by
countrynaturals
12/4/2016, 2:04 pm
»
Mychorrhizae Fungi
by
audrey.jeanne.roberts
12/4/2016, 1:28 pm
»
December 2016 Avatar: Show your Winter Season Colors!
by
Scorpio Rising
12/3/2016, 11:17 pm
»
SFG not giving the results I expected
by
No_Such_Reality
12/3/2016, 7:21 pm
»
New Member
by
trolleydriver
12/3/2016, 4:14 pm
»
First season SFG results / lessons learned
by
countrynaturals
12/3/2016, 10:36 am
»
Eat Broccoli Leaves? Brussels Sprouts? Cauliflower?
by
sanderson
12/3/2016, 2:55 am
»
Winter's Coming!
by
sanderson
12/3/2016, 2:53 am
I've been researching on the forum that this is a great way to keep ants and other insects out of the garden. I just got some and am wondering how often and the best method of application is for this. When I search for it on the internet, it comes up with a million ways to get rid of bed bugs with it. All I want to know is how often to use it for my plants.

I just dusted my whole garden but if it rains later this afternoon will I need to reapply it to get rid of the ants and other pests? This could get expensive if I have to keep this up all summer. I don't mind doing it, but just wonder if there is an economical application for this product.
Thanks,
Linda



Posts

: 28


Join date

: 2013-04-06


Location

: Cincinnati, OH



Regarding the question in the title of this thread... what does the package label say>?
____________________________
40 years a gardener and going strong with SFG.
http://squarefoot.creatingforum.com/t3574-the-end-of-july-7-weeks-until-frost
There are certain pursuits which, if not wholly poetic and true, do at least suggest a nobler and finer relation to nature than we know. The keeping of bees, for instance. ~ Henry David Thoreau
http://squarefoot.creatingforum.com/t1306-other-gardening-books
Outlander is outstanding!

Forum Moderator Certified SFG Teacher




Posts

: 13983


Join date

: 2010-03-06


Age

: 54


Location

: Keene, NH, USA ~ Zone 5a



It doesn't really have any directions pertaining to gardens.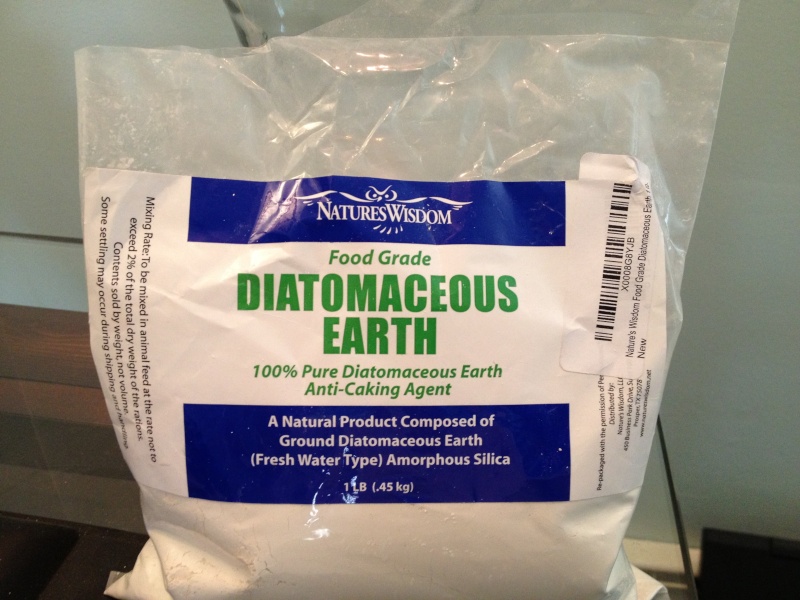 Posts

: 28


Join date

: 2013-04-06


Location

: Cincinnati, OH



Diatomacious earth will wash off in the rain and no longer be effective.

But, like all pesticides, care is needed in use. It should be reserved to spot treatments in cases of genuine need.

There are many beneficial insects that are (or should be) in your garden. If the garden is balanced, they should pretty much take care of pest insects. But pesticides kill off the good guys, too.

The bad guys can almost always reproduce faster than the good guys, so the bad guys can quickly take over. If you use a pesticide as a broad blanket early in the season, you probably are committing yourself to continuous pesticide use for the rest of the season. It's a treadmill that the pesticide companies just love.

And you may also have to hand pollinate your veggies, because pesticides, yes, even "organic" DE can also kill off your pollinators.

So use it with great care, only in extreme cases, as a spot treatment.



Posts

: 444


Join date

: 2012-06-23


Location

: Coastal SC



I had a ton of aphids earlier in the season, so I used DE to get rid of the ants that were farming them. (Ladybugs were still larvae so I wasn't too worried about killing them off.) My SFG is edged with cinder blocks and the ants were loving all the cracks between them.

I did two applications of DE, a few days apart, each time shaking it liberally in the cracks between cinder blocks and then a light dusting over the garden (which was just little baby plants at the time.) Ants were totally gone for about a month!!!

They're back now -- just noticed them a couple of days ago -- but they seem to be eating the little weird gnat-things I have in the crevices of my lettuce heads, so I might let them stay for a while. Also at this point the DE would kill the ladybugs too, and I have lots of them and I definitely don't want that to happen. I did, however, give everything a big dousing of NEEM solution last night. That may or may not do anything to the ants (results are mixed), but it should help with the caterpillars I've seen and help prevent powdery mildew.

I'm in love with NEEM -- it affects the bad guys that eat the leaves, but not the good guys that eat the bad guys.

Having tons of fun trying to manage my little backyard mini-ecosystem!!!!



Posts

: 49


Join date

: 2013-04-04


Location

: Dallas, TX



I find that it is ineffective when it gets wet but is still very useful when needed (and organic!). I mostly use it 2 ways: 1) put it in a recycled shaker canister (Parmesan cheese or large spice containers work well) and shake it on plants where you see bad bugs (works great on cabbage loopers). 2) I mix it up w/ cornmeal and a few crushed iron tablets, put 1-2Tbs in a glass jar and tip it on it's side (keeps the bait mostly dry for a few days)....this seems to attract and kill ants, slugs, pill bugs and some centipedes.
Overall, I think you are right that this would be a huge investment when using as your only source of pest prevention...but is less costly when paired with a natural, homemade spray and especially with infestations. It will kill your beneficial bugs too.




Posts

: 192


Join date

: 2010-10-24


Age

: 33


Location

: Georgetown, KY Zone 6a



Glad to hear you are finding success with diatomaceous earth. You are right about having to re-apply after a rain storm. When you apply DE to your garden, you can actually wet the plants first and then apply the DE. This helps the DE to adhere to the plants. However, after a rain, it may wash away some of the DE. But each time the DE dries, it will become effective again.

You can apply DE to your garden as often as you need. If you are in a rainy area, I would suggest applying it every month. (This is assuming it rains every month).

Best of luck to you.



Posts

: 1


Join date

: 2013-06-04


Location

: Eastern Idaho



---
Permissions in this forum:
You
cannot
reply to topics in this forum