I've started pumpkins in half of a sawn-in-two rain barrel (we left it out in the winter and it cracked, so now it's planters!) but I've never grown them before and don't know how to support them. I've seen the trellises that many people put next to the SFGs, and I'm wondering how these can be strong enough? Wouldn't pumpkins be too heavy for them? Any suggestions for a trellis for pumpkins?



Posts

: 11


Join date

: 2013-05-20


Location

: London, Ontario



I have grown pumpkins up on a trellis for a few years now and the amazing thing is that the plant grows the vine thicker and stronger to support the weight of the pumpkins. I have grown the Jack be Little pumpkin: 2 plants we got about 20 pumpkins, carving jack-o-lantern pumpkins we got 2-3 from two plant. I did hand pollinate to insure that we got a least one pumpkin. My son loves pumpkins and insist each year that we grow them and I love them being up in the air so that they don't take up that much space. Good luck to you and post pictures please!!



Posts

: 598


Join date

: 2012-03-12


Age

: 31


Location

: Hampton, Georgia



Here is what I use....it's a cattle panel arched between two wicking boxes. I grow a pumpkin plant up each side and they climb all the way over and even wrap back up. I do the smaller, sugar pie, variety and they do well. I also am able to fit green beans and melons into this setup with the pumpkins.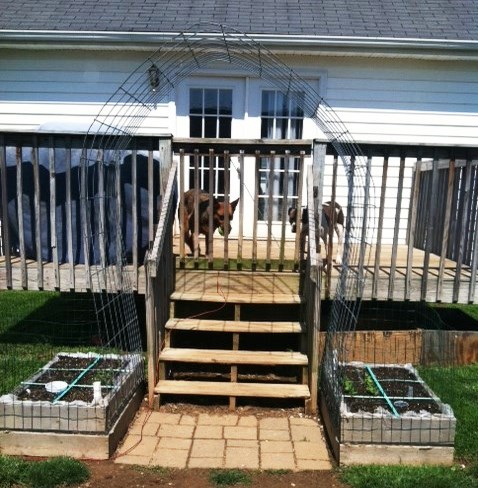 I have seen others who cut the cattle panel in half and use it as a stand alone trellis on one side of the bed. It would still be strong enough, but pumpkin and squash vines can easily get 12+feet and really take over.




Posts

: 192


Join date

: 2010-10-24


Age

: 34


Location

: Georgetown, KY Zone 6a



Ooooo. I like the cattle panel! I may build something for next year, but as I've not done them before I want to try out something temporary, to see what works and how big I would need to make it.

Thanks!



Posts

: 11


Join date

: 2013-05-20


Location

: London, Ontario



---
Permissions in this forum:
You
cannot
reply to topics in this forum