Page 5 of 5 •

1, 2, 3, 4, 5
Thanks
sanderson
and
Gwen
....I will let hubby know how well his trellis is liked

 the trellis in the pic above was built last year for our back garden area....we have 3 grapevines growing on it.... the trellis also is coming in very handy for the two tomato plants we have growing single stemmed

 hubby is almost complete with our new front yard fence with the same type of trellis on it....not sure what we are going to grow on it just yet...
Gwen
your Tom's look great

 maybe your Tom's are Det??....some of our cherry tomato's are Det and they are just about done....just a few green ones to go...but no more flowers or growth.....for quite some time now.....
happy gardening
rose
Some Tom's are going strong and some are finishing up

Froze a gallon size bag this week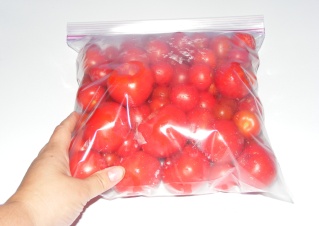 happy gardening
rose
well the *ugliest* side of gardening has hit our family garden Tom's

don't want to whimper to much about it....because we have had such a wonderful dry summer

 and we are so thankful for that......but...we were hit with some heavy rains the last few days along with warm and humid.....the ugly part of gardening sets in....
We have been filling the freezer with lots of cherry size toms ....along with a few bigger ones.....so thankful that
Debs
mentioned she just tosses her toms into the freezer as she gets them.....this way of preserving has made it so much easier for us this year

 ....doesn't matter how big or small of a harvest we get for the day....we just wash them and toss them into a gal size freezer bag to use later.....so far we have 3 gal size bags filled up in the freezer so far!
the larger Tom's are starting to ripen.....lots of green ones still on the vines and it looks like some blight has started as well.....
Super Bush
.....there are 2 plants in this 4 teir SFG box out front...which is also housing 4 Acorn squash plants on all four corners....I noticed today that some of the leaves were looking a bit iffy and there is dark spots on some stems as well....still hoping the toms will ripen....there sure is a lot of nice looking ones on this plant ...the vines are so heavy with fruit that they have all fallen over....despite us trying to tie them up.....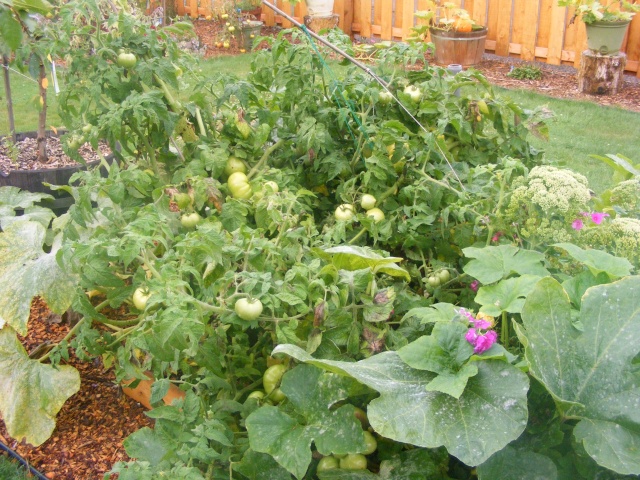 so disappointing to find these over ripe guys in the middle of the mess of tom's....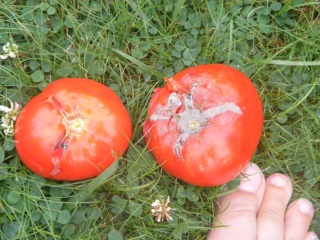 our potted toms are all ugly now too....
WA cherry
....taste was ok....did give us lots of fruit....its a weird tom as it wanted to lay its stem's down no matter how much we gave it support.....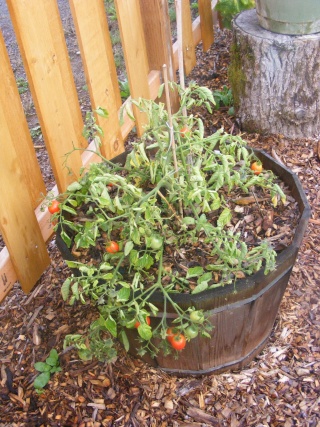 2nd WA cherry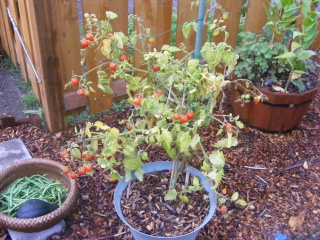 Bush Beef
.....taste is ok....but the plant has had very poor health....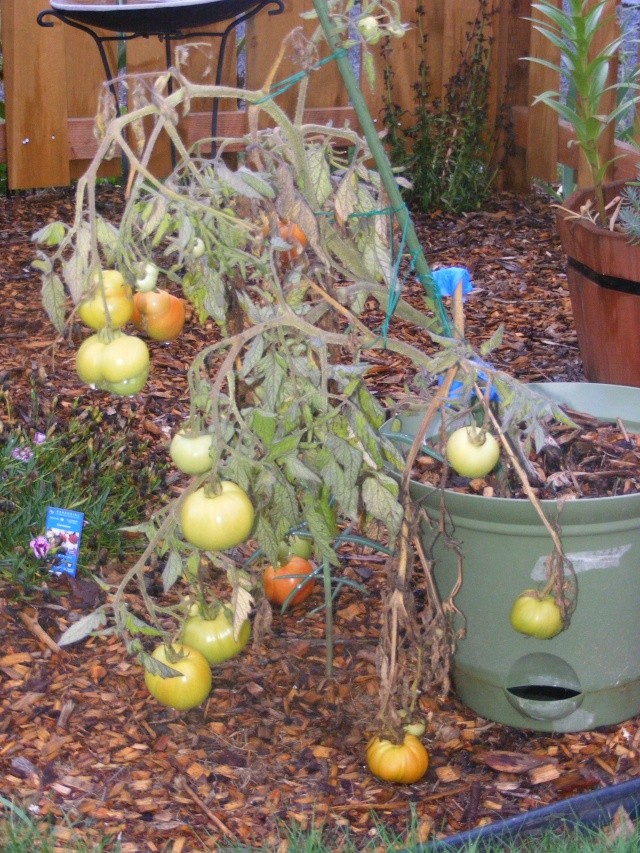 Red Robin
......love the flavor and gave us lots of fruit...will for sure grow this again next year....its size makes it perfect for hanging baskets....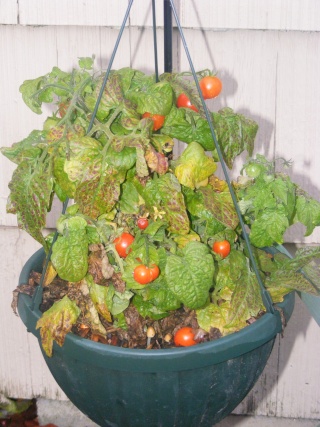 SFG box #1
.....the toms to the left are from the
Oregon Spring
and the ones to the right is from a
bush beef
.....Oregon spring has done pretty good with lots of med size fruit that taste good and its a smaller type of plant......the bush beef is ok....but we prefer the super bush tom over it...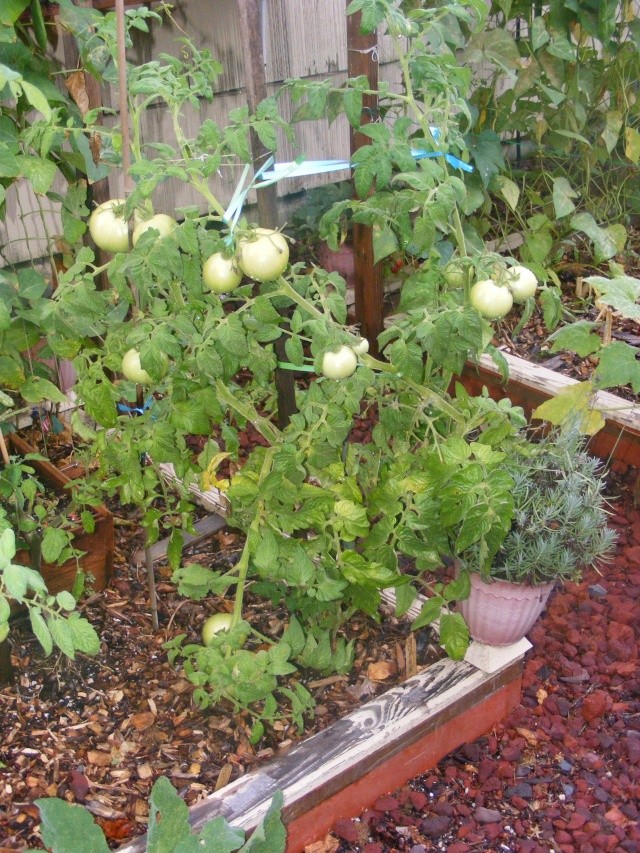 Thai Pink Egg
....in-ground planted.....
LOVE it
!.....TON's of fruit....the fruit is yummy, med size, meaty and the over all health of this plant is amazing.....the plant is loaded and are just now turning a pretty pink color....so excited about this one.....

 ...for sure this is a keeper!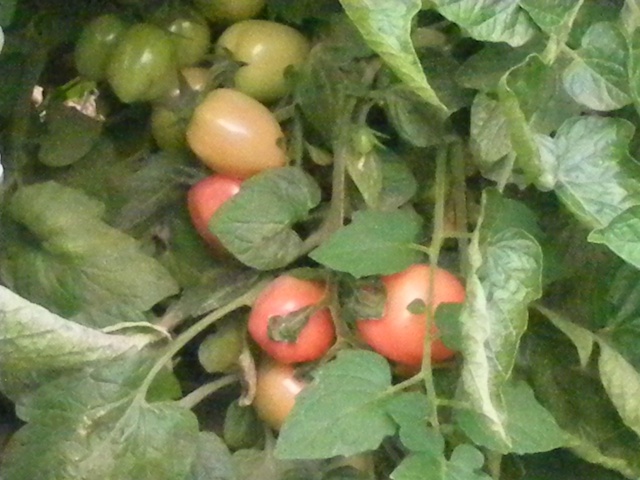 Boone Dock
....came from free seeds....LARGE fruit....its grown well over 9ft tall....we will grow this one next year as a single stem....great taste....meaty...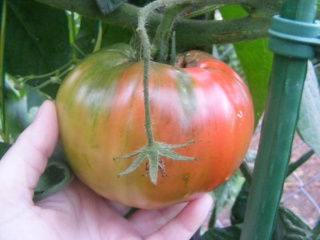 Super Italian paste
in-ground....is doing good as a single stem...so far no BER...will grow this one again next year...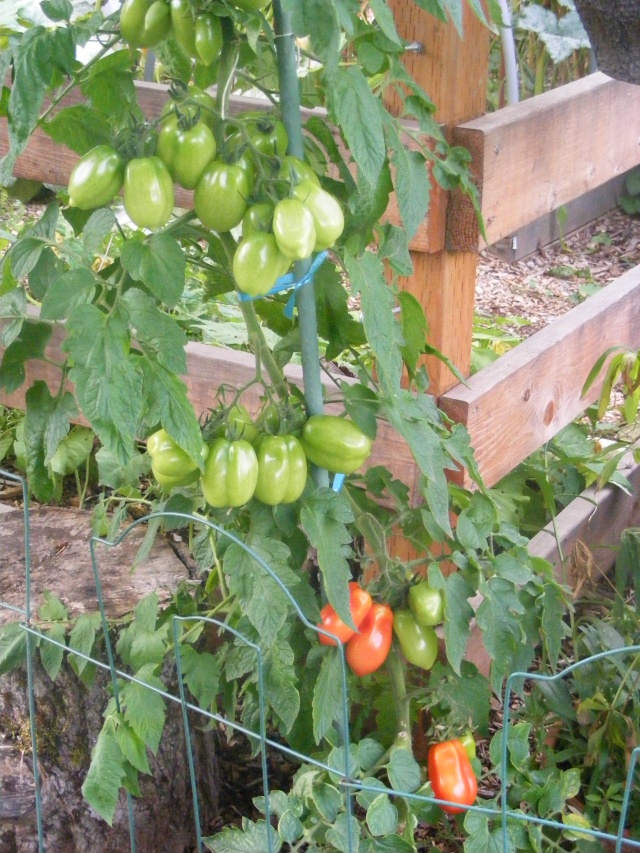 Gold nugget
in-ground.....produced a lot but was blah on flavor....
No ripe fruit yet on the
Jubilee
....in ground...second year of growing
No ripe fruit yet on the
Marglobe
...in ground....second year of growing
Maskotka
....grown in a pot....lots of fruit...good taste...but hate the thick skin...
next year Tomato plants we are going to plant again.....in order of favorites.....

1. Thai Pink Egg
2. Sweetie Cherry
3. Red Robin
4. Super Bush
5. Oregon Spring
6. Super Italian Paste
7. Boone Dock
??...Jubilee ....want to try again next year planted in a different area... ....loved it last year...this year is not growing as well....plant is healthy ....with only a few fruit...
would love updates with what you all tried this year??.....any keepers?
happy gardening
rose
Rose, we've been hit by the same kind of late blight.  I'm furiously eliminating any branch that looks droopy (burning it), and hope the main plants will be saved.  Two potted Bloody Butcher plants in front of the house are total losses and will be burned today (their tomatoes were mostly ripe anyway).  Roasting all the red toms I can find, picking the light red ones to further ripen, and will can what we salvage.  So far, the four Dagma's Perfection (first generation from seed saved last year) plants look okay--fingers crossed). 

Anyone else out there with this "blight", and has anyone suggestions for control?  Nonna
Nonna
, in another thread you mentioned having PM last year; I didn't have any.  You said it's not bad for you this year, but more than half of my squash have it this year.  I wonder if it came my way on the strong southern winds I get every winter?  (I'm sorta kidding!) 
I don't have any health issues with my tomatoes this year, other than the one variety that got off to a bad start early on.   I hope your tom problems don't come my way this winter!
Rose
, I've got healthy tomato plants and a nice size harvest of red fruit, but they
all
taste bleh!  

  Brandywine, Mortgage Lifter, Bloody Butcher, and a couple other varieties of slicers, all have poor flavor and are a little mealy and watery.  If I hadn't grown them before and known how good they can be, I wouldn't try growing them again.  Same greenhouse environment as last year, and re-plenished with the same compost as last year, yet totally different results.  Beats me!  I'm disappointed, but they still are better than store bought.
I planted 2 Brandywines outside, and intentionally neglected them, other than water.  (no pruning or help to stay on the trellis)  The vines are intertwined with pole beans, laying on top of an artichoke plant, laying on the ground, stuck in the perimeter deer fence, and making friends with a cucumber plant in a TT.  They're growing like weeds, and are loaded with 1+ pound fruit.  But there's only 2 red tomatoes that aren't quite ready to pick yet, and they're running out of time.  

   Weather-wise, it's been a great growing season, but I guess it didn't get hot enough for red tomatoes outdoors at my house.  
For next year, I'm going to re-do a couple trellises in my greenhouse so I can let a few Brandywines run wild, with no pruning, just to see what happens.



Posts

: 7392


Join date

: 2010-02-26


Age

: 64


Location

: yelm, wa, usa



Funny you should mention taste differences between this and last year, Boffer.  We've noticed something similar.  Last year the Dagma's Perfection (huge sweet yellow tomatoes) this year are mediocre in taste.  Too early?  Different climate?  Can't be the Mel's Mix, which is the same as those planted in last year that excelled.  And early this summer it seemed to be leading up to a banner tomato year!  NOT.  Having said that, I have four Dagma's Perfection, started from seed set last year, and just now starting to turn pink-suffused yellow ripeness.  Shall look for echo of last-year's flavor.  We also planted Bloody Butcher this year again.  Like last year, it is a very generous producer of medium-size tomatoes, but the skins are much tougher this year.  Did you notice this, too?  They do, however, roast down to a mighty-fine sauce.  Always a silver lining, right?  Nonna
@boffer

wrote:

Nonna

For next year, I'm going to re-do a couple trellises in my greenhouse so I can let a few Brandywines run wild, with no pruning, just to see what happens.
I got some good brandywines, I think mostly through perhaps even over-dosing them with steer manure compost tea watered in at ground level every few days. My uber-picky mother picked them out as her favorite of three gardens and more than 30 plants worth of various tomatoes, so that's saying something. I thought I had pruned somewhat reasonably, but there was so much growth that stems and suckers flew out too quick for me to keep track of, and eventually some of my brandywines became huge bushes full of leaves. (And some of the multiple stems came-with; the nursery I got my transplants from never prunes stems.)
My theory? All those leaves producing sugars day by day may have contributed to the growth and flavor of the tomatoes. By the standards of regular tomato plants, there were more than enough leaves to feed the fruit growth. And those leaves were probably created by my over-fertilizing with nitrogen via too-raw steer manure.\
I was kinda trying to build in early vigorous green growth to support fruiting later, and maybe it worked. Only my first year, and just a notion, but the plants are still very vigorous, and I wouldn't be surprised if there was a connection between the strong foundation of all that greenery and the strong fruiting (and flavor?) it later enabled.
I don't keep a running tally, but I'm confident that for every garden disappointment, I get at least two unexpected pleasant surprises.  Isn't that what keeps us going?!
@Marc Iverson

wrote:...I wouldn't be surprised if there was a connection between the strong foundation of all that greenery and the strong fruiting (and flavor?) it later enabled.
In my own limited experience, I haven't seen the correlation.  Last year, with the same growing variables other than weather, including ruthless pruning, I had very good tasting fruit.
The two outdoor Brandywines, that I let run wild, have finally produced a few red tomatoes that are as disappointing as my greenhouse tomatoes.
I've seen several small-scale commercial tomato growers who heavily prune their plants.  I've never tasted their tomatoes, but I would guess they wouldn't prune so much if it impacted flavor.  (Only a guess,though.)
It must be my lucky year.  I'm still not experiencing the disease problems that Nonna and Rose posted about.  Fingers crossed that my luck continues.



Posts

: 7392


Join date

: 2010-02-26


Age

: 64


Location

: yelm, wa, usa



I wonder if pruning after the plant is well-established might help a whole lot. If the plant is growing very well upstairs, perhaps it is developing a strong root system too? Then when you prune, you have a comparatively large root system built up to feed all that green growth spending its energy on what has become a comparatively smaller plant.

That wouldn't address the idea of more leaves producing more sugar for the fruits, but is it reasonable that a root system that is outsize for its plant could produce better tomatoes?

I was reading the other day that pruning can help tomato plants ripen their fruit faster. I got hit with blight and did a lot of pruning, and at any rate it sure made my tomato plants spring back to life. The brandywines set more fruit, but I haven't tasted it yet, and the cherry tomatoes are finally especially flavorful (they went back and forth between good and too dull and/or tart for most of the summer).
Wow, Marc, your ideas really started my thinking process on the tomato taste issue.  Thanks for posting.  We've had lots of rain the last two days, so some top-side pruning may be in order to stave off production of flowers which may produce fruit that will not have time to ripen up.  Wonder if the extra moisture will dilute the flavor, hmmm.   Nonna
Kind of fun to think about, huh? I'm really looking forward to getting through questions like this that could perhaps make a big difference in a season's results.

Another note re water and tomato taste -- I think it was chef Alice Waters who said the best tomato she ever ate was an Early Girl that was dry-grown, the deal where they don't water the plant all season and it produces only very few, but especially rich-tasting tomatoes. And Early Girls are not known to be especially tasty.
Page 5 of 5 •

1, 2, 3, 4, 5
---
Permissions in this forum:
You
cannot
reply to topics in this forum