I am looking for stakes larger than 6 foot at a reasonable price. They are required for my tomatoes and also zucchini. The local nursery wants $3.99 for an 8' bamboo pole which considering I require 36 is a bit price prohibitive. Any ideas as to where I could find them cheaper or alternatives? I am in the Okanagan, B.C.
Regards
Rebar? Comes in 20' lengths. The longer length of Electrical conduit? I don't know of anything that will get much below $4 for the lengths you need. If you find something, I'm sure we will all be interested.

Forum Moderator Certified SFG Teacher




Posts

: 13971


Join date

: 2013-04-21


Age

: 68


Location

: Fresno CA Zone 8-9



Ok have found some bamboo at fairly reasonable price (considering what the nursery wanted). I am getting 3/4" x 8' lengths for about $2 a piece. Only thing is that I have to buy a hundred. Anyone in the Kelowna area want some of them? I can't see using a hundred but am willing to let them go for the same price I got them. ($199 plus taxes for 100 - so whatever that works out to - I will need 50 so there are 50 up for grabs....
I buy the 10 foot metal electrical conduit for $2 US.
____________________________
41 years a gardener and going strong with SFG.
http://squarefoot.creatingforum.com/t3574-the-end-of-july-7-weeks-until-frost
There are certain pursuits which, if not wholly poetic and true, do at least suggest a nobler and finer relation to nature than we know. The keeping of bees, for instance. ~ Henry David Thoreau
http://squarefoot.creatingforum.com/t1306-other-gardening-books

Forum Moderator Certified SFG Teacher




Posts

: 14165


Join date

: 2010-03-06


Age

: 54


Location

: Keene, NH, USA ~ Zone 5a



I got a bundle of 10ft bamboo poles at Ace Hardware store for about $10. I'm going to use it to make a trellis for my pumpkins, peas, and tomatoes.



Posts

: 598


Join date

: 2012-03-12


Age

: 31


Location

: Hampton, Georgia



Hey Guys, great suggestions, however being in Canada we usually pay more (the electrical conduit is $5 per 10' pole) and the hardware stores here don't go above 6' for bamboo poles. Was hoping there was someone close to me in BC to share the cost on it or who knows a better deal around the Okanagan Valley
What about a look in your wooded area ?
Nice straight small trees make great stakes.
I made my fence around the garden out of larger but manageable trees.
When your done, remove from the ground, keep in the air and they last quite a while.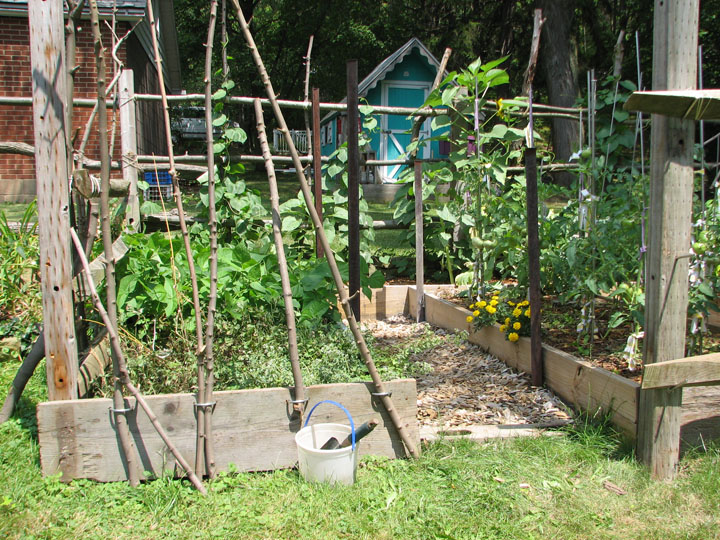 Certified SFG Instructor




Posts

: 1911


Join date

: 2013-02-16


Age

: 81


Location

: Indiana PA....zone 5



I have some Gardener's Blue Ribbon 7 ft. Heavy Duty Sturdy Stakes--think I got them for about $3 a piece...so still not cheap, but I've been using them for about 5 years now. I use them for staking tomato and tomatillo plants--supporting the cages further and something to stake a few vines to as they out grow their cages.



Posts

: 253


Join date

: 2012-04-15


Age

: 35


Location

: S. WI



ok guys - found some at Buckerfields for $1.29 each - thanks for all the ideas though!

---
Permissions in this forum:
You
cannot
reply to topics in this forum