Last year we used Jute string, I guess out of a disposition to use something more or less natural. Here is a shot from mid season:
Worked wonderfully....until we got a violent rain with wind. A couple of the verticals snapped. Miraculously the tomato plants wernt broken and we quickly "double" what was their with nylon string and the rest of the season was uneventful.
This year I'm not sure what to use. The nylon would certainly be strong enough but its quite "slick" so I wonder if pants will get enough purchase. I also wonder about the plants picking up chemicals from being in contact with it all summer. The only alternative I have is sisal. Its definitely stronger than jute, I have no idea if it will break down as the summer goes on....
Thoughts?



Posts

: 54


Join date

: 2012-05-19


Location

: Atlantic Canada



I use the sisal twine. I also put a few horizontal thread through the vertical lines to space them and as additional insurance in case of vertical string failure. It has yet to let me down and it's compostable.

There are several previous threads about trellising that you may find using the search feature.

____________________________
41 years a gardener and going strong with SFG.
http://squarefoot.creatingforum.com/t3574-the-end-of-july-7-weeks-until-frost
There are certain pursuits which, if not wholly poetic and true, do at least suggest a nobler and finer relation to nature than we know. The keeping of bees, for instance. ~ Henry David Thoreau
http://squarefoot.creatingforum.com/t1306-other-gardening-books

Forum Moderator Certified SFG Teacher




Posts

: 14083


Join date

: 2010-03-06


Age

: 54


Location

: Keene, NH, USA ~ Zone 5a



I've tried both sisal (too rough when it frays) and green garden twine (too weak, broke and had to double it and it still broke) so now I use the white nylon tomato string from johnnyseeds and it worked just fine for me last year. I also use it as my grid lines. It didn't hurt the growing tomatoes at all and lasted the whole season.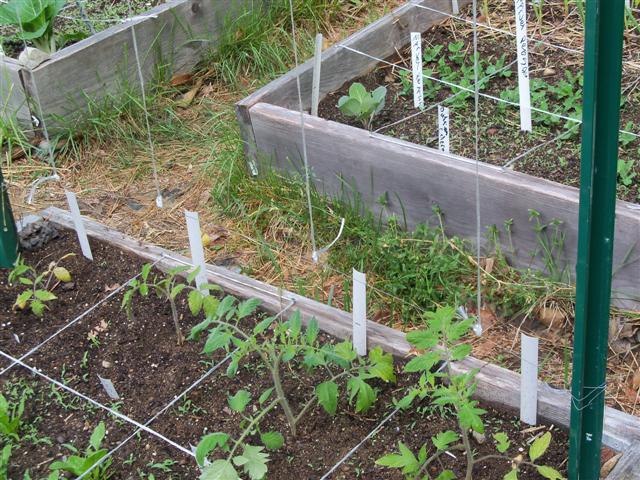 Tomato strings for both tomatoes and grid lines.



Posts

: 4625


Join date

: 2010-03-21


Age

: 74


Location

: Southwestern Maine Zone 5A



This is what I have been using; although, I don't have much growing up it at this point (yet). What I like about is that it seems to have quite a bit of give to it, you can stretch it and it holds pretty tight. Also comes in the five foot width, so you have plenty of vertical growing area. It's also made in the USA!

5 ft. x 30 ft. Dalen Products Nylon Trellis Netting
http://www.homedepot.com/p/5-ft-x-30-ft-Dalen-Products-Nylon-Trellis-Netting-TP-30C/202801173#.UaOOMZwzwng





Posts

: 185


Join date

: 2013-01-15


Location

: Shawnee, KS



Slim Bolen, good link. HD only had the 5' x 8' size but I could do 2 short trellises from each (for the 4' boxes). Hooked it over the corners and used small zip ties to secure tops and sides. Threaded a 4'+ bamboo at bottom and used cup hooks and zip ties to stretch them down to the boxes. And, yes, a lot of perlite floated to the top. Found vermiculite after this box. Also, the scrap PVC was connected at the top with a tie through drilled holes. Wanted a little support in case the trellis started leaning forward or backward.
Sides and tops (3-18-13)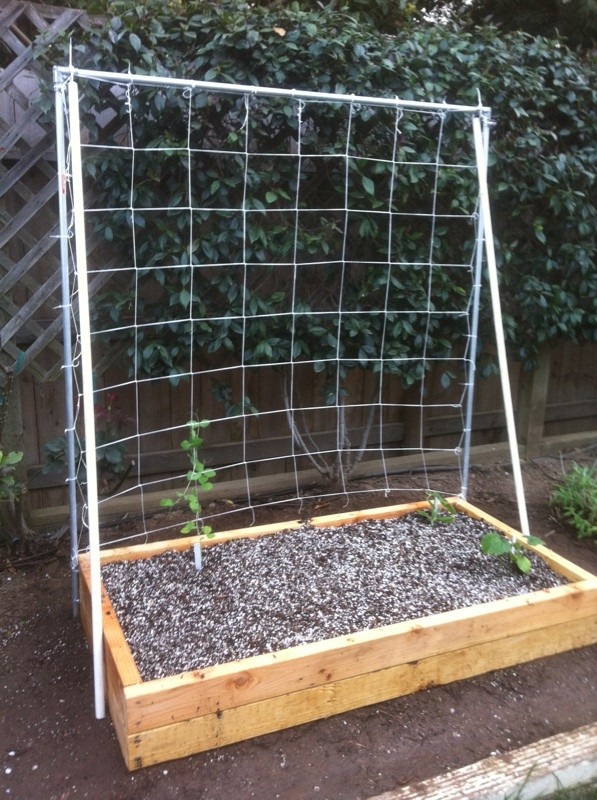 After securing the bottom (4-27-13)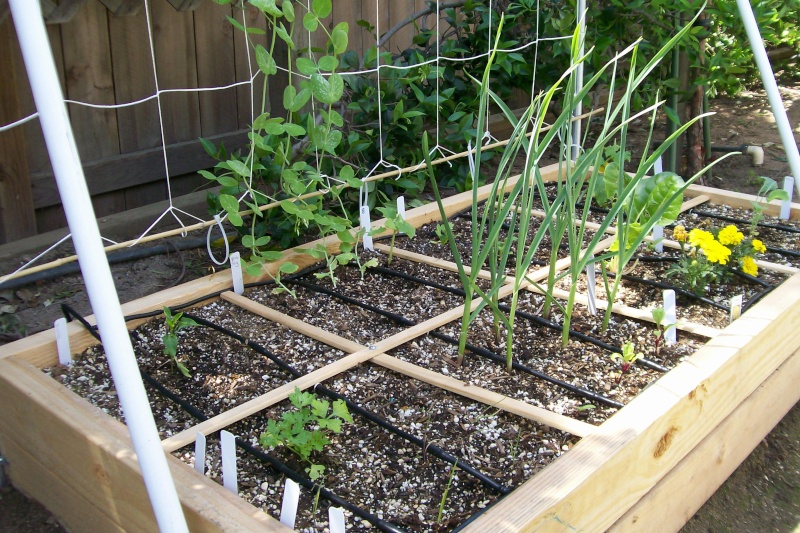 Forum Moderator Certified SFG Teacher




Posts

: 13180


Join date

: 2013-04-21


Age

: 68


Location

: Fresno CA Zone 8-9



I was just going to look up this very question, thanks for saving me the time!!!!



Posts

: 582


Join date

: 2012-03-12


Age

: 31


Location

: Mother-In-Laws (Newnan, GA)



I would suggest not using that biodegradable green dyed jute string that garden centers stock. I tried it and it will hold reliably up for more than one season. It also will have weak portions that will not bear the weight of a 6-8 foot trellised tomato. I tried it the second season on some cucumbers and spent a lot of time patching and rehanging vines. (Snapped off a few vines in the process, dag nabbit!)
----
Dave



Posts

: 277


Join date

: 2012-01-19


Age

: 66


Location

: Carmel Valley, Ca.



I used masons twine, it is nylon. I used the 8 lb for my bean trellis.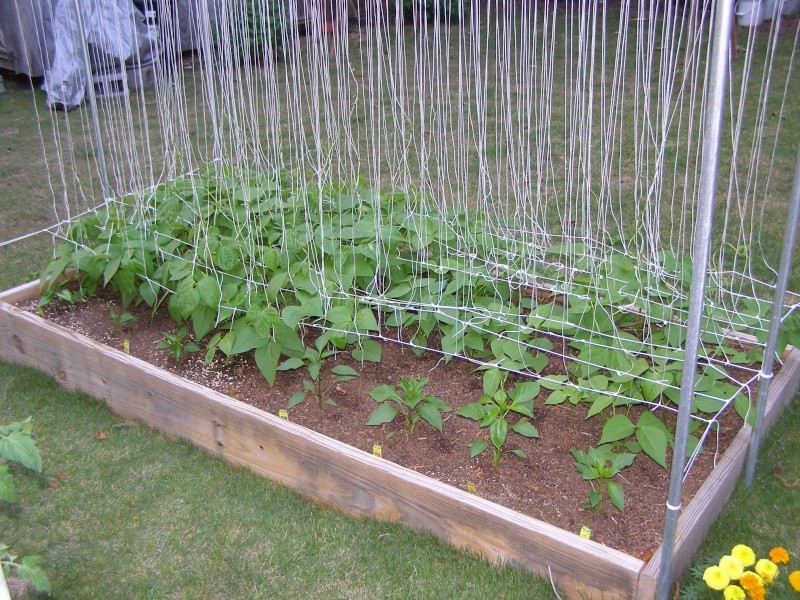 the 15 lb doubled for the tomatoes.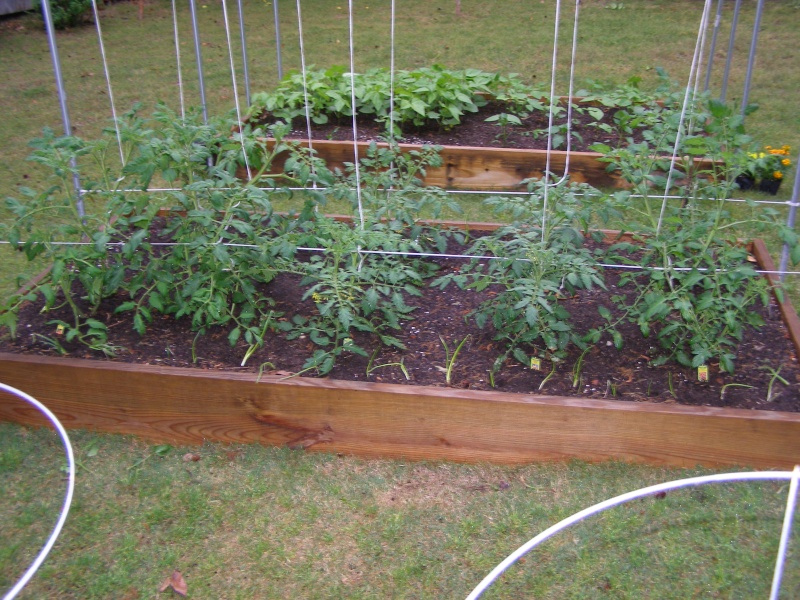 Posts

: 564


Join date

: 2012-03-04


Location

: Columbus, Ga



---
Permissions in this forum:
You
cannot
reply to topics in this forum