This is my first year with a cold frame and have been enjoying the spinach since February,(that was planted in the fall), but alas

It has now gone to seed.
I am now trying to figure out what best should go in there now.
I have planted some basil with the thoughts that a month from now I will leave the lid open for the remainder of the summer, ....other ideas??
Green Beans

I started 8 squares of brown seeded (early) beans back when we had about 10 days of banana belt weather in the PNW. Now, when it is wet and cold, I've moved both the kitty cover and the cold frame over the beans. Burrr

Debs.... May 27, Everett, Wa



Posts

: 2054


Join date

: 2010-03-03


Age

: 60


Location

: Everett, WA USA



I have planted green beans in my regular SFG, and they do not look happy, I keep asking them WHY ARE YOU UNHAPPY?....
Have I not fed you enough? Have I not watered you enough? OR is it too cold? I think DEBS you hit the nail on the head....
STILL too cold at night
I planted half my beans at the beginning of the hot week we had. They are about 4 inches tall and stagnant due to the cold. I planted the other half at the end of the hot week, and they've yet to make an appearance. I may very well have to re-plant them.
You could plant some beans in your cold frame if you could provide them a trellis. Or, plant more greens to give them a head start. Depending on the weather, the extra warmth could propel their growth past your existing greens planted outside.
Truth is, I have one cold frame sitting empty 'cause I don't know what to do with it either!




Posts

: 7392


Join date

: 2010-02-26


Age

: 64


Location

: yelm, wa, usa



I am still harvesting lettuce from my cold frame.  It amazes me because the temperature is reaching 90 outside the frame.  I have the lid propped open and water it well.   I planted determinate paste tomatoes in the lettuce a month and a half ago.  Now the lettuce is like a growing mulch under the tomatoes.

The other cold frame has peppers and eggplant deeply mulched with leaves.  So far those plants are behind the potted ones in the greenhouse.



Posts

: 2229


Join date

: 2012-03-29


Location

: Gallatin Valley, Montana, Intermountain zone 4



Turan, maybe the mulch is too deep, as you know both peppers and eggplant like it hot.

____________________________
41 years a gardener and going strong with SFG.
http://squarefoot.creatingforum.com/t3574-the-end-of-july-7-weeks-until-frost
There are certain pursuits which, if not wholly poetic and true, do at least suggest a nobler and finer relation to nature than we know. The keeping of bees, for instance. ~ Henry David Thoreau
http://squarefoot.creatingforum.com/t1306-other-gardening-books

Forum Moderator Certified SFG Teacher




Posts

: 14165


Join date

: 2010-03-06


Age

: 54


Location

: Keene, NH, USA ~ Zone 5a



I have the last of some leaf lettuce in mine.  The romaine bolted a week ago.  I also transplanted some eggplants and a pepper that lost their name tags.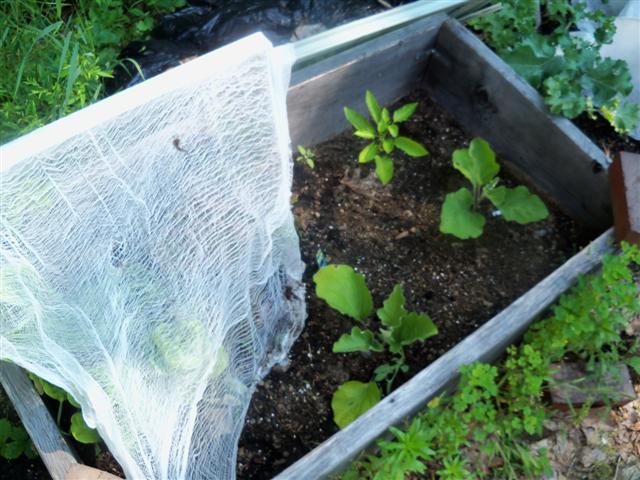 I have cheesecloth over the lettuces.



Posts

: 4683


Join date

: 2010-03-21


Age

: 75


Location

: Southwestern Maine Zone 5A



I am thinking of starting fall spinach in mine, but wondering if perhaps it is still a little too early. Mine has been totally open for a few months now. My mesclun is just now starting to bolt.
---
Permissions in this forum:
You
cannot
reply to topics in this forum