I have Fava beans growing in a couple of square and they have pods, but I've never grown them before and have no idea how I can tell when to harvest them. Needless to say, I could use some help.

Thanks,
June
June
....here is a good thread on Fava beans.....Lav Debs even posted some video's there on what they look like and how she was using them in a dish....

http://squarefoot.creatingforum.com/t14719-fava-broad-beans
happy gardening
rose



Posts

: 2424


Join date

: 2011-05-10


Location

: Western WA



Thanks to the forum help I figured out that I could harvest some of the fava beans. What puzzled me was the difference in the size of the plants in the 3 squares I planted. I planted 9 in each square, since I couldn't find definitive planting instructions for them. My soil is very rich and I used a high quality organic fertilizer. Some plants were full, and had beans on them. Others had no beans and the plants were smaller. So I'm guessing that 9 plants was too many for one square; but why did some get big and have beans and others not. Puzzling.

In any case, by the time I got them shelled, boiled a minute and out of the outer shells I only got a few tablespoons. Are they cooked after that one minute boil, or do I have to cook them again?

With only 2 4x8 foot raised beds for growing my vegetables, I don't think it's worth giving them 3 squares for so little harvest. My limited space can be better used by planting more bush or pole beans; but it was a fun experiment.

June
That is interesting. I plant 4 to a square. I THINK that the beans I harvested for the video came from two squares. Did you know..... pods are ready to harvest when they start to droop? They go from pointing to the sky to a horizontal position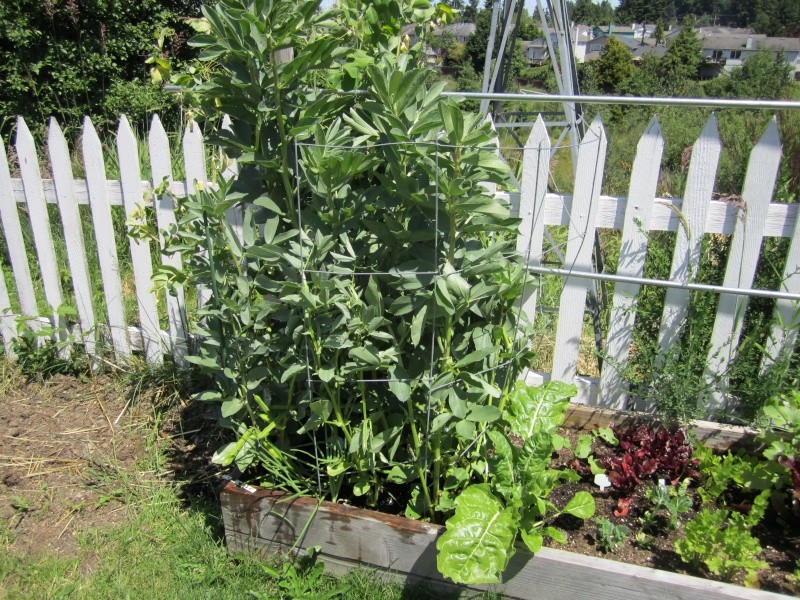 That is a folding tomato cage being used to keep the heavy vines from falling on everything else. Did you know that fava are jack's magic beans?



Posts

: 2054


Join date

: 2010-03-03


Age

: 60


Location

: Everett, WA USA



Thanks! No, I didn't know about the drooping; but I saw some beans for sale at the store the other day and checked mine when I got home and they were basically the same size as the ones in the store. I think I probably could have left a couple of the smaller ones on the plant because the beans were way too small. Maybe I'll try them again next year with only 4 to a square or a big pot and see if there's a big difference in the yield.

Do they keep producing, or do you just get one picking?

June

---
Permissions in this forum:
You
cannot
reply to topics in this forum