I have been coddling my raspberries a long for a year now with huge hopes for a huge harvest and just yesterday noticed something attacking the leaves.... the leaves appear curled over and when you look inside there is a long greenish little ??catepillar ? With a sort of cocoon. It seems to totally destroy the leaf and any buds it can get in its cocoon. This picture is actually from a plum, but we have them on the raspberries as well. Any thoughts as to what it is, and what to do about them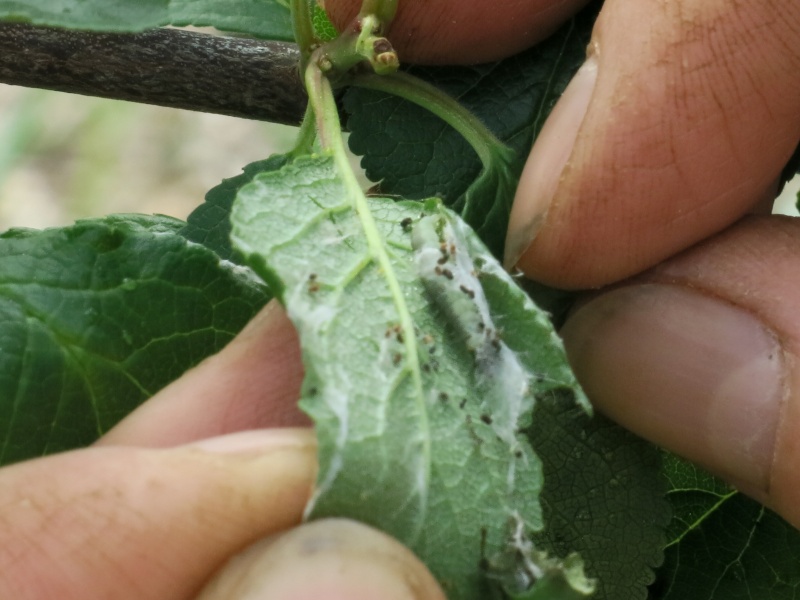 I also have leaf curl on my nectarine and apple trees
I have read a bit about it, but cannot find anything to do about it now, only end of year and begining of year.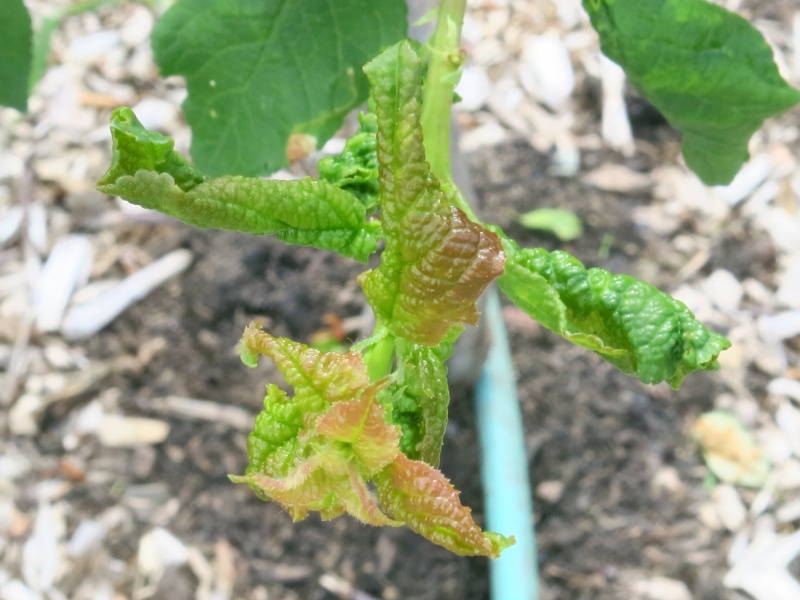 I do not know what that grub is. I find them on the occasional apple leaf. I pick off the leaf and drop it on the hot BBQ BUT I only find the occasional tented leaf. Do you have an infestation? Yikes!

Oh dear, I have never seen leaf curl on an apple tree.



Posts

: 2054


Join date

: 2010-03-03


Age

: 60


Location

: Everett, WA USA



My nectarine tree is completely destroyed, ALL of the leaves on the tree have curled.
I have read that it is fungal, and that you can spray them at the end of the year.
I found this......we too have noticed holes in our leaves this year....which maybe a different insect problem then what you are having but wanted to share this link with you.....
does this sound like what you are seeing on your leaf?
Potato leafhopper

Adults and nymphs are bright green, narrow wedge shaped insects. Adults are winged and quickly fly away when disturbed. Nymphs are soft-bodied and in the same size range as aphids. Leafhopper nymphs are found on the leaf underside and have the unique ability to move sideways when prodded
....*more at link*
http://omafra.gov.on.ca/english/crops/hort/news/allontario/ao0210a1.htm
there is other info there on insects that like to attack raspberries.....with some pictures as well
hope it helps

hugs
rose



Posts

: 2424


Join date

: 2011-05-10


Location

: Western WA



Dear GWN, You can experiment by cutting a few of the leaves with cocoons and putting in an unused aquarium, jar with tulle top, etc. Keep in the shade and see what emerges! Then you will have your identification.

Forum Moderator Certified SFG Teacher




Posts

: 13790


Join date

: 2013-04-21


Age

: 68


Location

: Fresno CA Zone 8-9



LEAF ROLLER CATEPILLAR
FG... after going through that site you posted THANKS.... I think that this bug is the culpert... great site....
We have been trapping the wasps perhaps we have given this bug an opportunity to survive.....

good idea Sanderson, ... kind of gives me the creeps though... but would be good to know
GNW, Opps! Didn't think of it as creepy. I'm sorry.

I am a retired health inspector. Nuisance and health "insects" in food facilities, poultry and other livestock / ag facilities, and housing became kind of my special area. I built a collection at work to help new employees learn identification. Oh, the dinner time stories I told my kids!

But I knew nothing about veggie garden insects and I have had to learn the hard way as this is my first year. Thank goodness for this forum.

Forum Moderator Certified SFG Teacher




Posts

: 13790


Join date

: 2013-04-21


Age

: 68


Location

: Fresno CA Zone 8-9



---
Permissions in this forum:
You
cannot
reply to topics in this forum