Page 3 of 3 •

1, 2, 3
Also your garden&plants are so huge (compared to someone I know) it's a Joy... to watch. Good job! Keep it up!! and enjoy all your goodies




Posts

: 370


Join date

: 2011-07-21


Location

: PNWet 7 B



nurzemjd
your garden looks awesome!!...congrats on sharing with the neighbor and getting some yummy fish in return

not sure what to think about the off color of some of your squash plants ??....we too will have some plants get weird looking leaves ....as long as the new growth is looking green and the plant seems to be growing...we just let them do their thing....
as far as your tomato plant not getting fruit yet....some of our tom's haven't fruited yet either.....I would trim off all of the leaves that look yellow like the ones you posted....are all of your tom's looking yellow ?....is their new growth looking green?
happy gardening
rose



Posts

: 2424


Join date

: 2011-05-10


Location

: Western WA



@nurzemjd

wrote:Flowers  ...

I lost the tag for this flower.  Do you know what it is?
Yes, it looks just like a Verbena

I have 5 of the "estrella voodoo Star" (let's leave the voodoo out) the Estrella-kind is the largest-flowered Verbena grown. A mounding, semi-trailing habit, untroubled by powdery mildew, it blooms all summer even in humid and rainy climates!
My star-shaped blooms are Red striped with cream. Out of bloom, Estrella is just 6 inches high. Add the blooms, & the plant reaches a foot tall, spreading 20 inches wide quickly. They are soo pretty!
http://plants.westwoodgardens.com/12170002/Plant/Print/13173



Posts

: 370


Join date

: 2011-07-21


Location

: PNWet 7 B



I find it a little odd that you posted the "what would you do" thread, when here in this thread you've proven that you've already done so much!  You've got tons growing!  More than me, that's for sure.

Leaves can be tricky to diagnose.  I'm like Rose, if one randomly turns, but the plant is putting out new growth and otherwise seems fine, I just prune off the weird ones and don't worry about it.  Happens indoors on my houseplants all the time.

Check again with Lowes - perhaps they were just out of stock?  It's unlikely they would just stop carrying cement mixing tubs.  The Home Depot ones are made with the wrong type of plastic for food containment.

LittleGardener nailed it on the flowers - Verbena.  That's what my guess is anyway.

I don't think you're being a pest at all.  The PNW forum can be so dead, it's been wonderful having a new frequent poster show up!  Keep up the good work and happy gardening!

Certified SFG Instructor




Posts

: 1413


Join date

: 2011-05-11


Location

: Vancouver, WA



Thanks for the composting suggestions!  Pile started, he hasn't found it yet, snicker, snicker; when he does all tell him what you said

Yes, I knew y'all would know!!  After seeing the name, now I remember, it is Verbena.
Poor squashes, lol every couple of weeks I get to where I can't stand to look at the non-pretty leaves and cut them off.  Scares me to think how big they would be with all of the growth I have cut off.  The new growth at the centers are all nice and green, so then I won't worry about it for now.  
Rose, only some of the tomato leaves are looking like that.  I will just trim them, as you suggested, and try to be patient for the fruit to appear.
Gwen, I will check at the store.  I was looking at the web site.

Thank you all for the encouragement!!  

***  Some new questions for you. ***
1. Are row covers, shade cloth, and netting about the same thing?
2. I've been looking at this thread,
Gravity Feed Irrigation Grid
, are there better systems somewhere here on the forum?
3. I am planning my additions to my current garden.  Trying to make sure I have all of the elements right this time, lol.  I would like to incorporate an irrigation/PVC grid into the plan.
Boffer, do you think a base made of 4x4 corners with 2x4 support beams would safely hold the weight of a 4 x 4 SFG?  Like this rough idea ....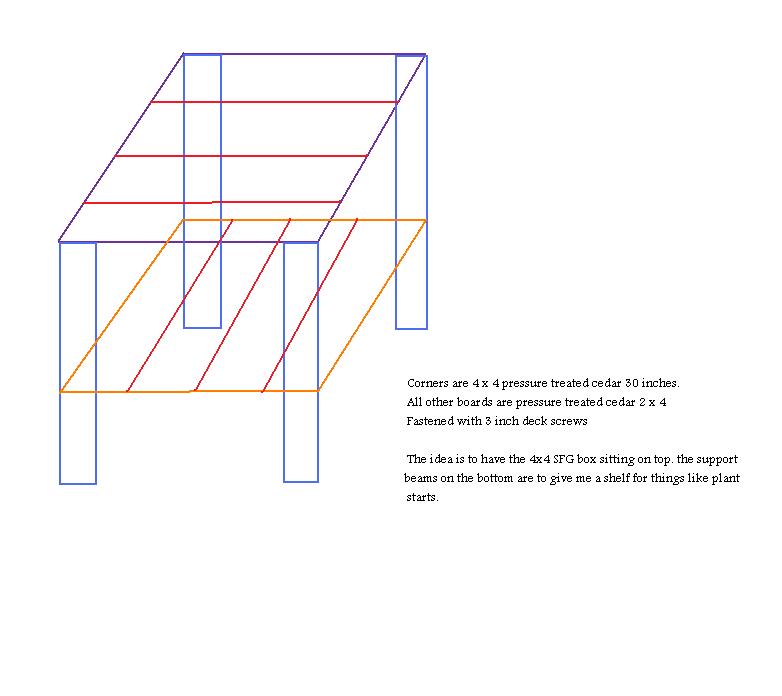 Also, the 2 x 4's ... the outer square on both top and bottom can be cut to 48 inches. Do I need to cut the 3 cross beams 44 inches then to allow for the 2 x 4 on each end?
I would then put the hoops in the box and attach the trellis to the box and the 4 x 4 legs. Make sense, lol. Looks good in my head :scratch:



Posts

: 72


Join date

: 2013-06-04


Location

: Tacoma, WA



Page 3 of 3 •

1, 2, 3
---
Permissions in this forum:
You
cannot
reply to topics in this forum