Latest topics
»
Total lunar / solar eclipse
by
sanderson
Today at 3:34 am
»
Cutting back on my SFG about 75%
by
Kelejan
Today at 12:35 am
»
How's the Weather Where You're At?
by
Kelejan
Today at 12:32 am
»
Is a natural breed hybrid GMO parent plants, GMO or not?
by
Kelejan
Today at 12:30 am
»
CANADIAN REGION: What are you doing in August 2017? 2017
by
Kelejan
Today at 12:23 am
»
Anyone growing fall peas in zone 7 TN
by
BeetlesPerSqFt
Yesterday at 9:40 pm
»
N & C Midwest: August is here!!! 2017
by
Scorpio Rising
Yesterday at 9:17 pm
»
Any Strange and Wonderful Visitors? Photos please!
by
BeetlesPerSqFt
Yesterday at 9:08 pm
»
New England August 2017
by
Scorpio Rising
Yesterday at 9:03 pm
»
What to do with fallen unripe tomatoes?
by
ColleenW
Yesterday at 8:14 pm
»
2017 corn pictures
by
Fiz
Yesterday at 7:41 pm
»
Composting Particle Board?
by
BeetlesPerSqFt
Yesterday at 4:18 pm
»
What are you eating from your garden today?
by
hammock gal
Yesterday at 4:13 pm
»
Hello gardener's
by
sanderson
Yesterday at 1:58 pm
»
The Best Steps for Storing Tomatillos
by
donnainzone5
Yesterday at 11:36 am
»
Eggplant - (Japanese) Millionaire
by
countrynaturals
Yesterday at 11:10 am
»
What I've learned this year
by
countrynaturals
8/20/2017, 9:17 pm
»
Plumeria ?
by
sanderson
8/20/2017, 6:07 pm
»
How Many Square Feet Do You Have?
by
llama momma
8/20/2017, 1:58 pm
»
Baba Ghanoush
by
sanderson
8/20/2017, 12:04 pm
»
Beets; Don't be intimidated!
by
BeetlesPerSqFt
8/20/2017, 11:05 am
»
Third Year SFG in Canada
by
sanderson
8/20/2017, 10:30 am
»
Happy Birthday!!
by
sanderson
8/20/2017, 10:09 am
»
Caterpillars -Armyworm?
by
BeetlesPerSqFt
8/19/2017, 8:58 pm
»
Oregon City Newbie
by
trolleydriver
8/19/2017, 1:04 pm
»
Newbie Oldbie
by
sanderson
8/19/2017, 12:53 pm
»
who has chickens
by
llama momma
8/18/2017, 1:40 pm
»
Tips for compost tumbler
by
trolleydriver
8/18/2017, 12:10 pm
»
Franken-mato!!!
by
hammock gal
8/18/2017, 7:48 am
»
Mid-Atl - Aug 2017 - Planning/Planting Fall/Winter Garden
by
BeetlesPerSqFt
8/17/2017, 11:05 pm
I feel like a kid, so excited to see my seeds start to pop through the soil...My radishes are coming up like champs (planted 2 different type in one square -Early Scarlet Globes & Radish Giant of Sicily).  Saw the Dragon Tongue and Blue Lake Bush beans coming through...The Beets are starting to show as well as some sunflowers I threw in for some fun!  Also, I think a carrot might be coming up too....I think something was digging in my onions... but they were kind of old (from last year) so if I don't get any, I will plant something else there.... This was probably not the best planned garden, and the timing not great, but I am super excited about everything.
 I have never grown anything from seed before... This is way exciting for me... I love my SFG!!!!
Radishes: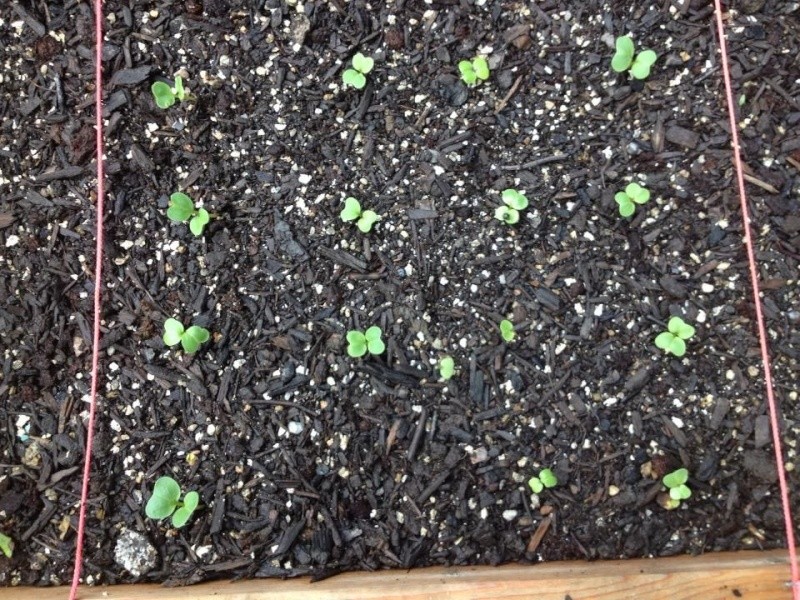 Beets: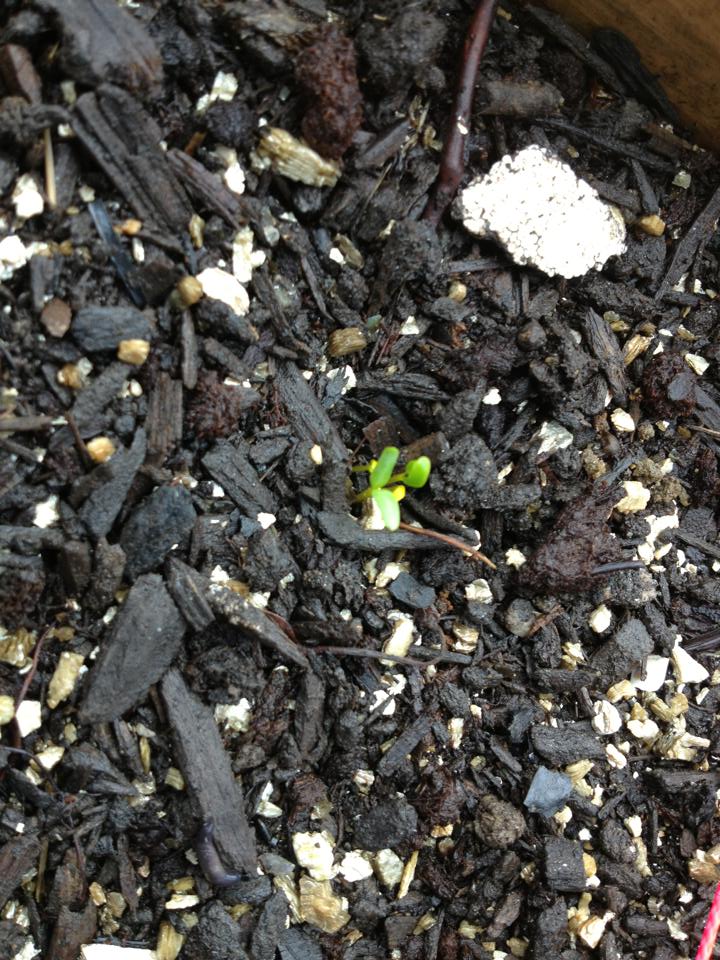 Dragon Tongue Beans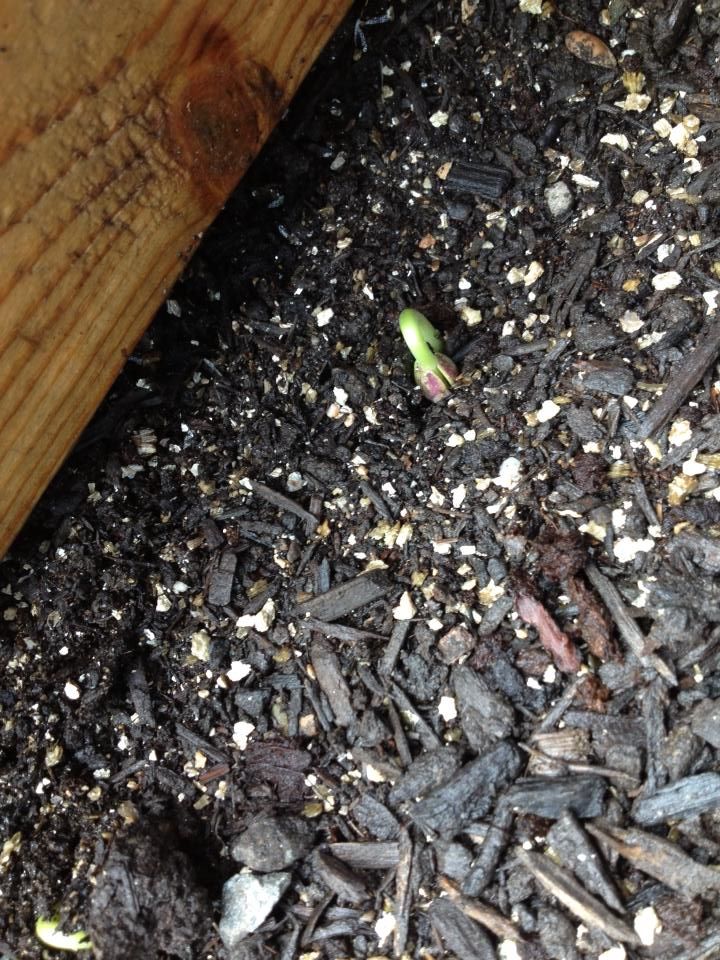 So, now I am trying to figure out how / when to start the fall bed.  I'm going to start the broccoli from seed by month end.  Tried to read the frost information for my area on here and referred to page 259  in the book, so I am still trying to work out all the details / calculatioins... when is everyone else starting the fall planting?  I want to try and plan this one a bit better... and I think I will also know what to expect when spring comes around next year...
This is my second year and so I am learning as I go. Your local county extension office will have good information for you. I am in SC so I use the Clemson University Extension for information on frost dates and when to plant. They are always helpful and teach gardening classes (which I haven't had time for yet). I have emailed photos to them and they respond fairly quickly with suggestions.

You can post questions here and get advice too.

People who have always planted row gardens will be doubters until they see your results - and they find out that you don't hoe or weed.  Good luck.



Posts

: 91


Join date

: 2012-01-28


Location

: Darlington SC



Radishes are so much fun! They grow so FAST!

Watch those sunflower plants...they'll sprout, and poke along, then they hit like, critical surface area or something and they TAKE OFF. I put my one seed in the ground two months and four days ago, and now I can look the top of it in the eye...and I'm pretty sure it could take me in a fair fight...and it hasn't even bloomed yet!

It looks like you have a lot of wood in your mix...let me guess, you bought compost from a big box store, right? And maybe some of it was Kellogg's brand? Because that's exactly what I did, and there was definitely a hidden price - nitrogen deficiency.

Rotting wood steals nitrogen from the mix, which is precisely what your plants need to grow fast and green...so be prepared for some yellowish plants (like the beans...I hope you have so much more luck with yours than I did!), and be prepared to help them out with a nitrogen source.

You may also notice some visiting little mushrooms at night, if you check around with a flashlight. Nothing to worry about there, they "die" in the light of day, and they're actually a fair indicator that the wood IS breaking down, which at the end of the day is a good thing.




Posts

: 463


Join date

: 2013-02-26


Age

: 41


Location

: Las Vegas, NV



I transplant my broccoli to the garden on or about Sept 1.  I am in Georgia so I don't know whether it is the same for you.  Where is New Castle, Kentucky????



Posts

: 3248


Join date

: 2011-11-20


Age

: 67


Location

: Brooks, Ga Zone 7B/8A



Yolos, I am actually in Delaware..LOL.... just updated my profile to show my state. I think I will be transplanting a little earlier - getting ready to start my seeds now. being a newbie, I am probably making all the typical mistakes, but having fun and the garden is growing, so I can't complain!
Garden is coming along, trellis in for the zucchini and cucumbers (not sure if it will work), poles on in for the tomatoes and a make shift fence is up to try to keep those bunnies from eating my goodies!  :dancelock:
We plan on adding more beds (you can see they are already made in the background of one of the pics below).  Since we are not done, we don't have our permanent fencing and everything done.  I think this is a 2 year plan for us.  We will add a second 4x8 bed in the fall, then try 2 - 4x4 beds next year (corn and blackberries).  Will this be enough?  Not too sure, like everyone says, this is addictive and I want to add more already!  
Seems like these Dragon Tongues tripled in size in less than 24 hours!!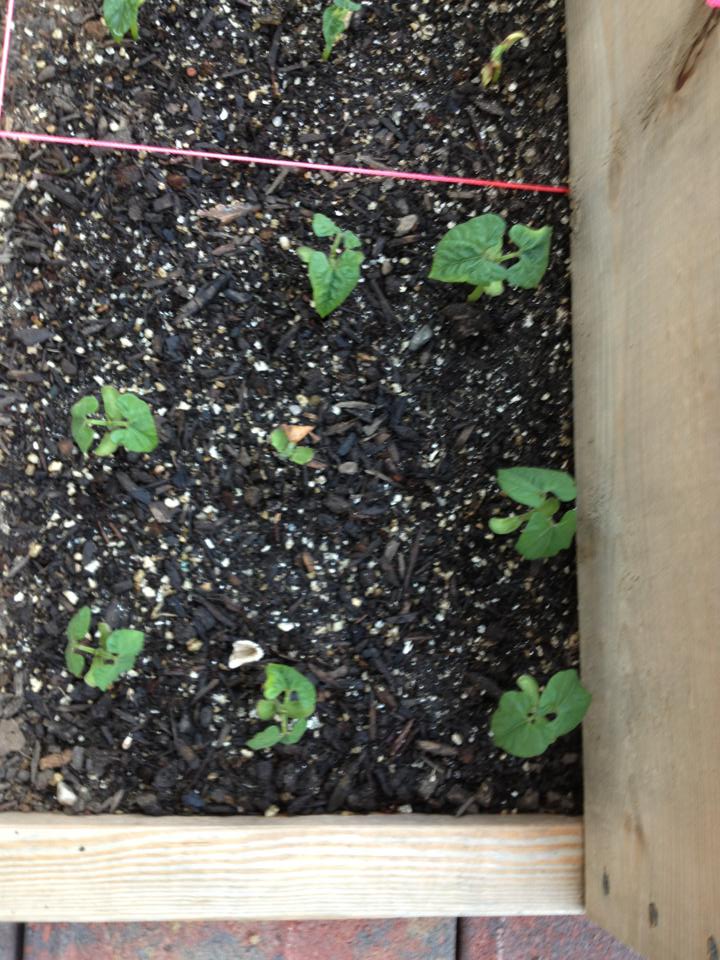 ---
Permissions in this forum:
You
cannot
reply to topics in this forum