Page 2 of 2 •

1, 2
I solved the problem  of setting the fence forward of the recognised boundary line by putting down a once foot wide by six inches deep run of heavily re barred concrete with H section reinforced posts on my side then cast my 3 foot wide paths on my side of the new fence line .
The concrete is so finished that it slopes both ways like a capping stone from the centre of the new fence line ... a 1 " slope over one foot towards the next door and a 1 " slope over 36 inches drainage slope from the fence to the edge of my pathways .
I have slide in preservative treated larch hit and miss  panels that let most of the wind pass through but fully restrict the nosey neighbours from looking through . The fence panels are raised up at the edges and in the middle in impervious engineering brick blocks of 3 inches thickness to allow wind to blow under the fence panels to stop the bottoms rotting & the wind breaking the panels because of not having a relief route past the fence . Any creeping weeds/ plants  that came in from next door were given a dose of double strength round up from my side at the base of the fence .

They have tried to grow tomatoes etc.  in pots up against the fence on the sloped reinforced path but the wind just keeps blowing the plants over .

The cold frame they tried to set up using the path blew apart when the wind blew hard from my side ( the east) .
They appear to have given up on their garden and now only cut the grass when their dogs muck on their scalped lawn area starts to smell or it makes it a game of hopscotch to go and peg out the washing.  .



Posts

: 3692


Join date

: 2011-11-09


Age

: 66



Reality,  the Good Neighbor fence is 6' high with 6" (5 1/2") cedar boards.  Being on the corner, I can just see over as the lot grading is a foot higher than the side walk. But the spacing between the boards allows viewing of our back yard. Believe me, people are allows commenting on how nice the front yard is and how nice the star jasmine are. Then I see their outline as they tried to peak through the boards to see what we have done with the backyard. I don't mind showing people the back yard, when I am dressed and morphed into a human being, but I like my coffee and privacy in my jammies.

I just took some photos that I will try to post tonight.  We had to replace all 3 sides in the past 4 years.  The back neighbor split the cost and even though he lost his job, paid it in installments.  The side neighbor did not split the cost, and of course we had to pay for the sidewalk side ourselves.

Forum Moderator Certified SFG Teacher




Posts

: 13787


Join date

: 2013-04-21


Age

: 68


Location

: Fresno CA Zone 8-9



@plantoid

wrote:

@sfg4uKim

wrote:TREE & ROOT LAW

You have every right to trim any tree limbs or roots that come over onto your property so long as you don't kill the tree.

We have the same sort of law in the UK but we can do it without out the owners permission so long as we do not cut beyond the fence line  . What we must do is return all branches and leaves etc. back to the owner so as not to be accused of stealing .

 Can you visualize a four foot pile of that rubbish on her front door step or drive way when she comes back from shopping ?
*snicker* This gets my vote.



Posts

: 596


Join date

: 2013-03-12


Location

: Savannah, GA



Sanderson -- back in the early '80s, CA wrote some laws to protect solar collectors -- you should check into your rights to prevent overshadowing.



Posts

: 138


Join date

: 2013-05-01


Age

: 60


Location

: Timonium, MD



WriterCPA, Unfortunately, the laws restrict trees planted AFTER the solar system is installed. My neighbor planted her tree BEFORE we went solar. We re up a creek on this issue. We will offer to trim some of the thickness out of the top, maybe bring the height down 3-4 feet. But it's a delicate balance with this neighbor.

Forum Moderator Certified SFG Teacher




Posts

: 13787


Join date

: 2013-04-21


Age

: 68


Location

: Fresno CA Zone 8-9



Reality,  Here are the photos I took today showing the cedar good-neighbor fence and the "retaining wall/fence" my husband built.  The jasmine redwood lattices are attached to treated 4x4 posts on the privacy wall/fence.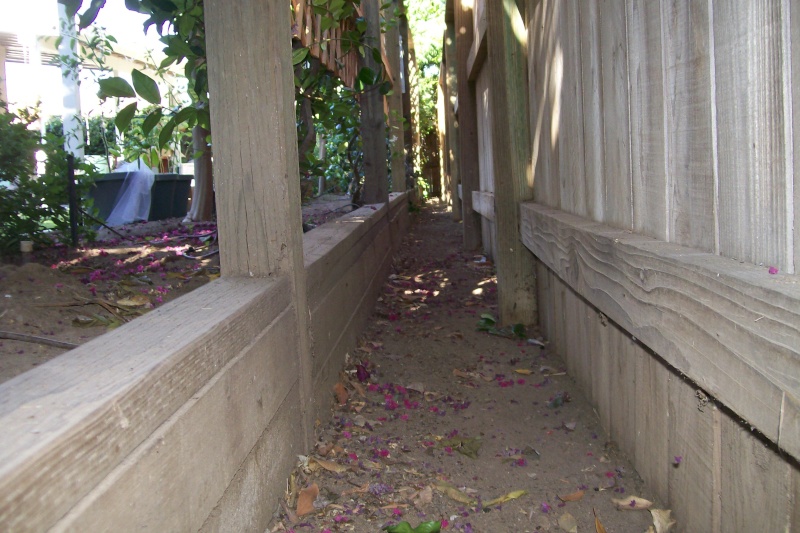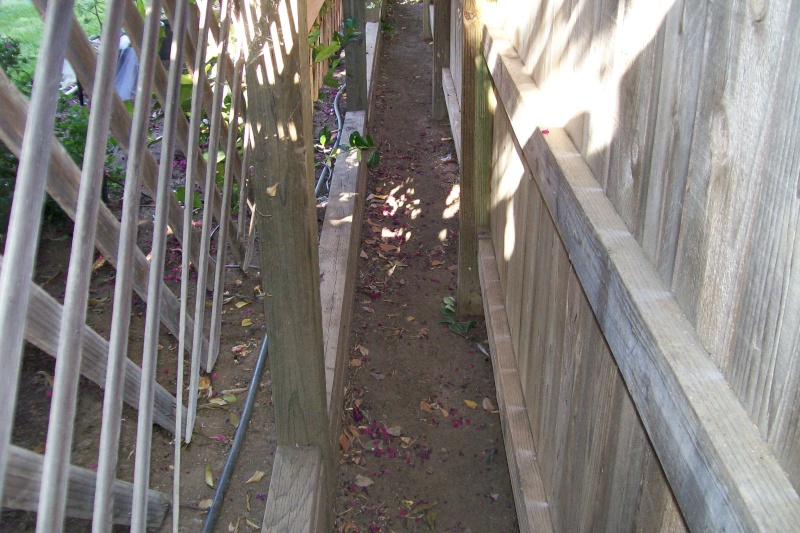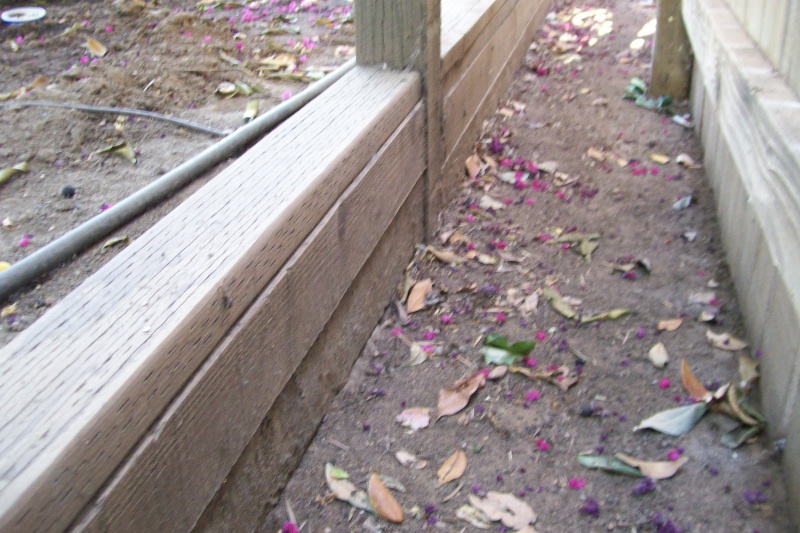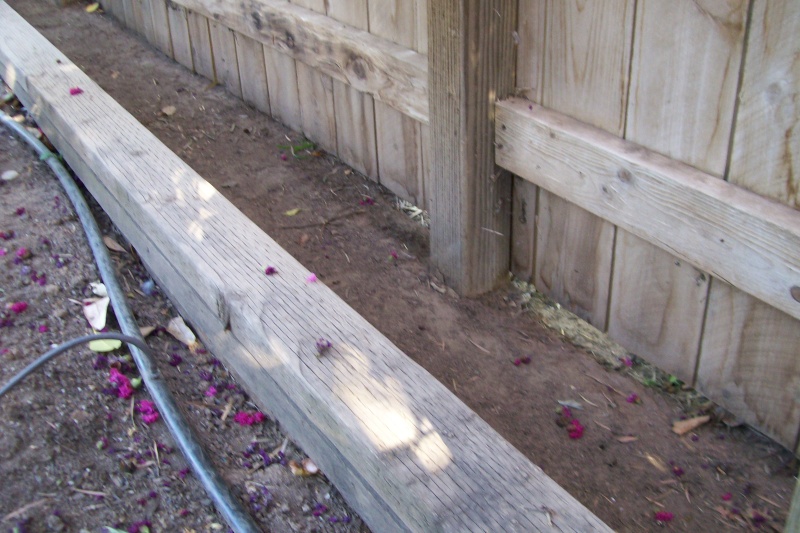 Forum Moderator Certified SFG Teacher




Posts

: 13787


Join date

: 2013-04-21


Age

: 68


Location

: Fresno CA Zone 8-9



Sanderson you sure have been through a lot and have worked so hard on what you have accomplished! Any Court dealings in California are grueling, let along a conservatorship! I hope you can work out the solar panel/tree situation!

Plantoid and Jazzycat a four foot pile of something! I wouldn't do branches or "something else" but it is fun to think of. I'm sure it would just escalate things, ah darn!

Plantoid you have a beautiful yard from the photos I have seen! I would love to see a photo of what you have done if you get a chance!



Posts

: 1628


Join date

: 2010-06-04


Age

: 62


Location

: Northern Utah



Thanks Sanderson, that's not what I was visualizing. The angle on your original photos almost look like the lattice was on what no obviously the outside fence.

I'm surprised people are seeing through that fence. It looks really solid, with few if any gaps between the boards.

We have solar panels on our house, and as previously noted, the law is for tress after. Our neighbor also has a giant pine tree. It's easily 50 foot high. During winter, it casts a shadow starting barely past lunch.



Posts

: 461


Join date

: 2011-04-22


Location

: Orange County, CA aka Disneyland or Sunset zone 22



I can see through the fences into my neighbors' yards. Spaces between the boards contract and expand according to the weather. Walking along it's like an old fashion movie. I had specific incidences that made me uncomfortable and the star jasmine trellises my husband built eventually solved the problems. No more said.

Forum Moderator Certified SFG Teacher




Posts

: 13787


Join date

: 2013-04-21


Age

: 68


Location

: Fresno CA Zone 8-9



NoSuchReality no sun after noon just sounds terrible! I want to get more trees in my back yard so I can have a tranquil shady area but I also know the neighbors behind me have tiny yards and I don't want to shade them like what is happening to you.

Sanderson I can identify with your fence and spaces between the slats! It's awkward not feeling like you have the privacy you want to have.



Posts

: 1628


Join date

: 2010-06-04


Age

: 62


Location

: Northern Utah



Page 2 of 2 •

1, 2
---
Permissions in this forum:
You
cannot
reply to topics in this forum