This is my first year with potatoes. The SFG 2nd ed refers to using the vertical method (p. 236), but seems to go counter to hilling. I dug down 5" to plant, then have been adding dirt, now up to 12" above the rest of the bed. The dirt/compost is not staying nicely stacked around the hill. Should I surround with chicken wire? something else? stop hilling?




Posts

: 138


Join date

: 2013-05-01


Age

: 60


Location

: Timonium, MD



I have the 2006 version of the All New Square Foot Gardening book. In that book, Mel says to build open bottomed boxes to place on top of your 6" beds for extra depth for root crops like carrots and potatoes. I think he calls them high rises, or perhaps top hats. Anyway, that's what would hold the extra material in as you fill in the potatoes to keep them covered as they grow.

Certified SFG Instructor




Posts

: 1413


Join date

: 2011-05-11


Location

: Vancouver, WA



I don't use boxes. I just dig down really deep to mix in my compost and vermiculite with the soil. (It's a round robin -- dig a six in deep plot, refill with layers of compost and vermiculite and dirt from the the next plot. I've used some of the excess dirt this year and last to reduce the slope in the garden.)

So the potatoes started 5" below grade and now have a 12" above grade hill. That's 17". Do I stop piling on more dirt or find a way to contain it? Should I go higher, if so, how many more inches/feet above grade?

I've been reading about potato towers and then saw Mel's reference to verticals for potatoes. Am I over thinking the humble potato? These came about due to sprouting in a bag from food store -- the original 2013 SFG plan didn't even call for these guys to be here, so I have no winter research behind what I'm doing on the fly.

M



Posts

: 138


Join date

: 2013-05-01


Age

: 60


Location

: Timonium, MD



Oh I've researched plenty and don't know that I ever found a definite answer on it. I think 18" comes up a lot. I've read continue hilling until the plant flowers. But I've also read that it's pretty common for them not to flower! If you can't hill anymore without the dirt sliding down, then I'd say you're done. The point of hilling is just to keep the potatoes from being exposed to the sun as they grow, and they grow above the seed potato so can end up showing otherwise.

Certified SFG Instructor




Posts

: 1413


Join date

: 2011-05-11


Location

: Vancouver, WA



Us old row gardeners never used anything like top hats.  We just planted in a shallow trench and "hilled" up over the potatoes by hoeing the dirt between the rows onto the potato plant as it grew.  When the space between the rows became too deep or we just got tired of hilling, we stopped.  If we were real ambitious, we continued to cover the hills with straw as the plants grew.
 
There are some type of potatoes (late varieties) that keep on producing tubers if you continue to hill or use something like a potato tower.  But other varieties will not continue to produce tubers up the stalk.
 
So, stop "hilling" whenever.  I planted my potatoes in a 10" deep bed.  I dug out all except 4" of dirt on the bottom, planted the potatoes, covered them with about 2" of soil, "hilled" them as they grew and stopped hilling them when the dirt reached the top of the 10" high bed.  One of our forum members did this and then added a 12" top hat over his whole bed and then filled that with pine needles.  I may have been able to get a bigger yield if I put on a top hat, but it was too much trouble.



Posts

: 3194


Join date

: 2011-11-20


Age

: 67


Location

: Brooks, Ga Zone 7B/8A



 to the forum WriterCPA
I am the one yolos was talking about adding the 12 in top hat over the whole bed. Since all my plants have not died back the verdict is still out on this method.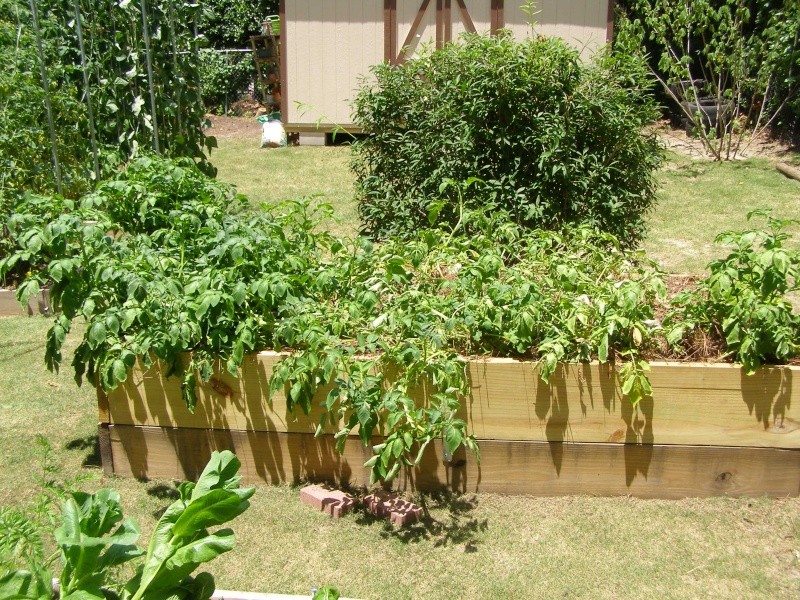 this shot was last month the dying off is worse looking than this now. But that is a good thing.
I have 4'x8'x12" beds, I dug out a little over half to plant then 'hilled' it all back as they grew. Then added a full bed frame to the bottom and 'hilled' with pine straw(needles)
I pulled back a corner the other day, this may cause a wet problem. The plant stalk I pulled only had a "BB" attached. With all the rain we are having the MM may be TOO wet. I am trying hard not to prejudge my chickens.




Posts

: 564


Join date

: 2012-03-04


Location

: Columbus, Ga



---
Permissions in this forum:
You
cannot
reply to topics in this forum