Latest topics
»
Bryan Greenbeard of Minnesota's 2017 Plans
by
Greenbeard
Today at 12:56 am
»
CANADIAN REGION: What are you doing in May 2017
by
Kelejan
Yesterday at 11:46 pm
»
N&C Midwest: May is here! 2017
by
CitizenKate
Yesterday at 11:19 pm
»
How's the Weather Where You're At?
by
Scorpio Rising
Yesterday at 8:38 pm
»
Saving cantaloupe from cucumber beetle?
by
camprn
Yesterday at 8:17 pm
»
Soaking seeds????? HELP
by
Yardslave
Yesterday at 6:30 pm
»
Third Year SFG in Canada
by
CapeCoddess
Yesterday at 5:39 pm
»
Texas Dream garden 2017
by
sanderson
Yesterday at 2:48 pm
»
Senseless Banter...
by
sanderson
Yesterday at 2:47 pm
»
New England May 2017
by
sanderson
Yesterday at 2:41 pm
»
TrolleyDriver's Compost Thermometer
by
trolleydriver
Yesterday at 2:29 pm
»
2017 SFG in Brooks, Ga
by
yolos
Yesterday at 2:20 pm
»
growing corn
by
Turan
Yesterday at 2:12 pm
»
Strawberry protection
by
donnainzone5
Yesterday at 1:24 pm
»
Using Eggshells for your garden
by
countrynaturals
Yesterday at 10:47 am
»
Hello from St Louis
by
bigdogrock
Yesterday at 9:33 am
»
Planting tomatoes, cucumbers and squash back to back on wire mesh trellis.
by
walshevak
Yesterday at 7:03 am
»
boxes on a slope?
by
AtlantaMarie
Yesterday at 6:24 am
»
Rolly Pollys
by
sanderson
Yesterday at 3:40 am
»
Amaranth
by
sanderson
Yesterday at 3:37 am
»
surprising results from soil test
by
dstack
5/27/2017, 9:52 pm
»
2017: First full year of SFGing in ND
by
Robbomb116
5/27/2017, 6:17 pm
»
Carrot Week 2017!
by
trolleydriver
5/27/2017, 4:06 pm
»
Hello from TN
by
sanderson
5/27/2017, 3:53 pm
»
Yard and garden Maintenance Gadgets
by
yolos
5/27/2017, 1:54 pm
»
Lil' Goners
by
Scorpio Rising
5/27/2017, 1:13 pm
»
Ground Cherries
by
countrynaturals
5/27/2017, 10:59 am
»
Excited to be a part of forum
by
Kelejan
5/27/2017, 12:37 am
»
Double summer squash flower
by
sanderson
5/26/2017, 8:45 pm
»
New in NY...Hi all
by
Scorpio Rising
5/26/2017, 7:44 pm
Hello,
I'm Scott and i'm a SFGaholic.
This is my second year at SFG and am looking forward to this season and many more. I love it! Even with the short growing season here in Coeur d' Alene I was still able to grow a great garden. Some friends and neighbors (who are also my friends) saw my garden last year and are now doing the SFG this year. It's so dang easy. Thanks Mel!
Here is a picture of last years garden. I have added a couple more squares this year. I'm hooked.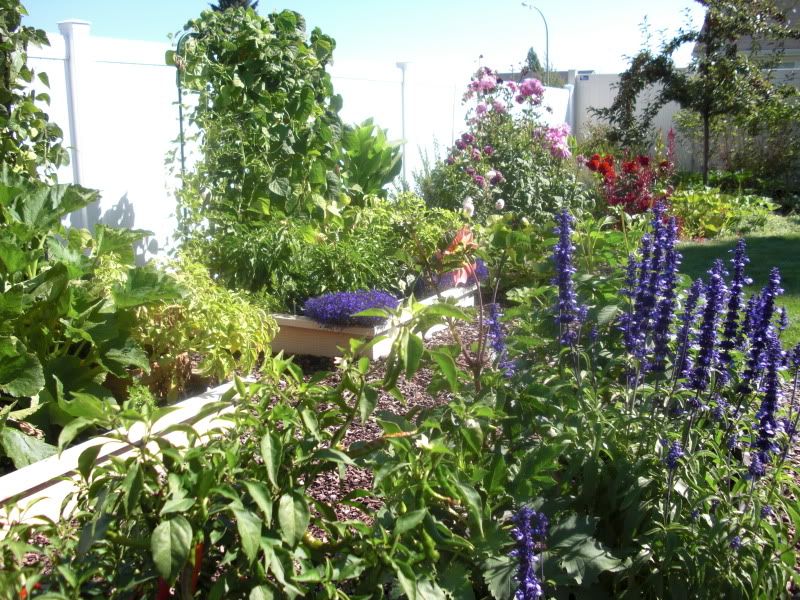 Howdy and welcome to the Forum. That is an abundant SFG if ever there was one! Thanks for posting the pic and good luck this year.

Certified SFG Instructor




Posts

: 778


Join date

: 2010-03-02


Location

: Frisco, Texas



Your garden is breathtaking!
I am new to Idaho, new to gardening and this year is my first try. I live in Post Falls and was wondering if you could tell me where you found your vermiculite? I hope in a couple years my yard looks as good as yours!

Jennie from Post Falls






Posts

: 2260


Join date

: 2010-04-25


Age

: 39


Location

: Post Falls Idaho and LOVING it



Hi Tim and Jennie. Thank you for the compliment Jennie. Welcome to Idaho and welcome to gardening. Last year was my first stab at the SFG method and it is very easy gardening compaired to watching my neighbor deal with weeds and soil problems. She is doing 2 boxes this year with more to come.

I found vermiculite at two places. Cenex co-op supply on Government way which is where I bought a couple bags before I found it a little cheaper at D & B Farm and Home store off Kathleen ave. 666-0506. It was $29.99 for 3.5 cubic feet. Last time I called a few weeks back they were out of the coarse material so you may want to call for availability.

Good luck with your garden! Enjoy our short but sweet summers here.

Scott
Wow! Nice job. Welcome back. For such a short season you sure do make the most out of it. Here's to another successful season for you (and all!).



Posts

: 4


Join date

: 2010-04-26



That is awesome for a first year! I hope mine does as good. I am guessing from everything in this forum that it will. Thanks for the picture!



Posts

: 53


Join date

: 2010-03-26


Age

: 37


Location

: South East Idaho (Zone 4a/4b)



Hi,

I'm a real newby to square foot gardening. This is my first year and I will admit I am fairly new to South Dakota as well. I had a traditional plot garden but due to my crazy schedual I ran out of time to maintain it.

So my new garden has a 4'x6' pond on the center, then a 4x4 box on each corner of the pond,next there is another 4x4 on a diamond to the lawn. This is all surrounded by rocks and then a 3' grass path on 3 sides and the lawn on the fourth, all that will eventually be bordered by multiple 2x4 boxes against a chain link fence.

My husband and daughter and son-in-law are helping me build boxes and collect rocks ect. it goes kind of slow because my husband and I both work full time and have a 9 and 7 yr old and I have my own side business. If any one has tips or help I am very grateful as I want to dry, can and freeze as well as eat. My husband is a diabetic and my 9 yr old has other food and nutrition issues. Doing the garden is my way to keeping us all in good health that is getting better. I hate most grocery store food. I like to taste my viatimns. So welcome to other newbees like me and help!



Posts

: 5


Join date

: 2010-05-01


Location

: south dakota



Hi puffmama it sounds like you will have a beautiful garden. A pond is something I have been thinking about but only small scale. Post some pictures when you can.

I'm no expert on this SFG thing, just one year under my belt but all I did was follow what Mel had in the book. I found 5 different types of compost and mixed it with the vermiculite and peat moss. Once that hard work was done the fun and easy part began. Planting and watching this garden grow. You will be amazed at how easy it is. I did hand water everyday in the warmer part of the summer but otherwise I spent more time harvesting then anything else with the SFG.

One other pointer, don't plant zucchini in the box. I had never grown it before and thought it might grow up the trellis but it more or less just took over the box. It got huge! You can see the leaves of it on the picture, middle left. This year I have a smaller box for just one zuc.

I also found this forum to be a fantastic source of help and information. Good luck and happy SFG'ing!
Last edited by Idahospud on 5/1/2010, 10:28 pm; edited 2 times in total
Beatiful garden. My main interest is growing flowers with a few vegetables such as beets, tomatoes etc.

Very inspirational - keep posting photos.

Linda



Posts

: 2


Join date

: 2010-05-01


Age

: 70


Location

: Toronto Canada



Hello I Nadav
I also want to now move into the garden
My question is how to invest in the garden every week so she will be reduced



Posts

: 1


Join date

: 2010-05-02


Location

: israel



---
Permissions in this forum:
You
cannot
reply to topics in this forum