This is my first time growing acorn squash.  I have plenty of summer squash and don't really need the acorns at this time and would like to have them for winter.  When are you supposed to harvest them and how do you store them?
Can you see the little acorn in the picture?  It is a medium small one.  I have smaller and bigger.  One of the softball sized ones is turning a darker green.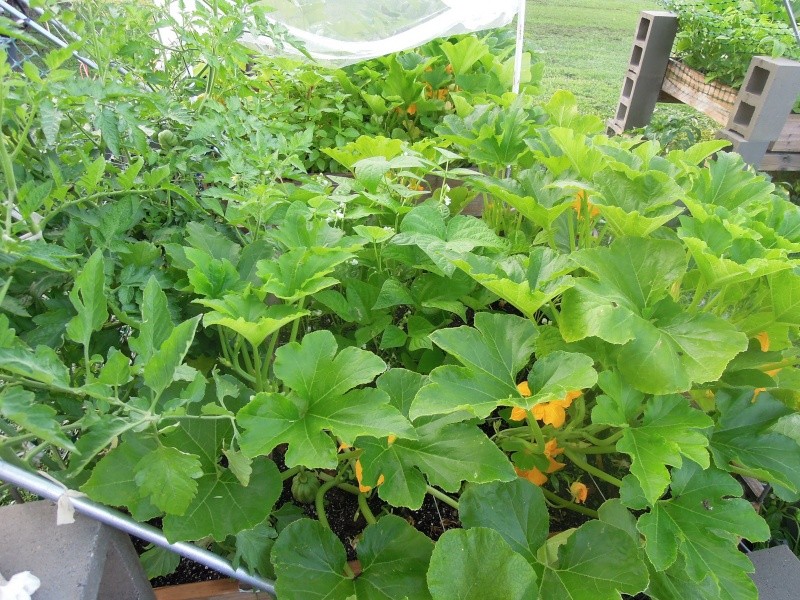 Kay
____________________________
A WEED IS A FLOWER GROWING IN THE WRONG PLACE
Elizabeth City, NC
Click for weather forecast

Certified SFG Instructor




Posts

: 4360


Join date

: 2010-10-17


Age

: 74


Location

: wilmington, nc zone 8



acorn squash I believe is a winter squash which means it can be kept for several months. The squash with the tough skins are winter squash and last for months, even if just kept on a counter top.
I keep mine in a cold room
As far as when to harvest, I have always harvested when I had to, since my winter squash have never been ready until the fall, so I will defer that part of the question. COOL that you got one so early, I have only one winter squash fruit so far, an australian butter squash.. But its got LOTS of growing left to do.



Posts

: 2804


Join date

: 2012-01-14


Age

: 61


Location

: british columbia zone 5a



This  link is from Bonnie plants site
Growing Squash
if you scroll down to harvest and storage it tells you to harvest when the tough skins resist being punctured by a fingernail. It takes winter squash longer to mature than summer squash, they aren't harvested til fall.
And this link has good info on how to cure and store winter squash.
Storing Winter Squash
Good luck!



Posts

: 199


Join date

: 2013-05-27


Age

: 50


Location

: Texas 9A



Thanks TxGramma for the link. My summer squash plants are all gone now, but we got many yellow crook neck and zucchini this year. I just read that I need to plant my winter squash now so it will be ready for the fall. I want to plant Acorn and Butternut squash and hopefully it will hold up to our LA Summer heat!



Posts

: 148


Join date

: 2010-07-18


Location

: Baton Rouge, LA, Zone 8b



---
Permissions in this forum:
You
cannot
reply to topics in this forum