Latest topics
»
1st Seed Catalog Arrived :)
by
Scorpio Rising
Today at 8:09 pm
»
What is this? Plant identification?
by
Scorpio Rising
Today at 8:08 pm
»
Too Many Red Wiggler Worms in Raised Beds??
by
brianj555
Today at 7:35 pm
»
SUGA 2017
by
SQWIB
Today at 4:55 pm
»
My first Attempt
by
21Actual
Today at 4:25 pm
»
Biochar?
by
SQWIB
Today at 3:24 pm
»
Senseless Banter...
by
sanderson
Today at 3:19 pm
»
Spring Fever Anyone?
by
sanderson
Today at 2:37 pm
»
CANADIAN REGION: What are you doing in January 2018
by
Kelejan
Today at 2:36 pm
»
Newspapers vs Weed Cloth
by
sanderson
Today at 2:30 pm
»
2018 - First Annual Seed Exchange Week - January 20-28 (Edited)
by
sanderson
Today at 2:23 pm
»
Is there ever enough compost?
by
Kelejan
Today at 1:15 pm
»
Areogardening
by
sanderson
Today at 2:38 am
»
January 2018 Avatar: Surprise Us
by
sanderson
Yesterday at 4:51 pm
»
My Shreveport Garden 2018
by
sanderson
Yesterday at 4:47 pm
»
Are vegetables hurt by too much light?
by
BeetlesPerSqFt
1/20/2018, 8:38 am
»
Seed Starting!!
by
brianj555
1/19/2018, 9:14 pm
»
How's the Weather Where You're At?
by
sanderson
1/19/2018, 2:56 pm
»
Weight Watchers Turkey, Bean and Vegetable Chili
by
hammock gal
1/19/2018, 8:43 am
»
Sow True Seeds
by
AtlantaMarie
1/19/2018, 8:00 am
»
Colored Mulch
by
No_Such_Reality
1/18/2018, 7:12 pm
»
Taking on 4 Season Gardening
by
Roseinarosecity
1/18/2018, 5:19 pm
»
Fourth Year SFG in Canada
by
trolleydriver
1/18/2018, 3:53 pm
»
Butternut squash, turkey Italian sausage, cannelini bean soup
by
yolos
1/17/2018, 9:25 pm
»
Happy Birthday!!
by
yolos
1/17/2018, 9:12 pm
»
N&C Midwest—January 2018!!!
by
Scorpio Rising
1/17/2018, 7:08 pm
»
What are you eating from your garden today?
by
Scorpio Rising
1/16/2018, 9:10 pm
»
Gophers
by
countrynaturals
1/16/2018, 12:32 pm
»
High heat tolerant tomatoes
by
walshevak
1/16/2018, 6:03 am
»
Mid-Atl - Jan 2018 - Brrrrrrrrrr! and Happy New Year
by
AtlantaMarie
1/15/2018, 6:43 am
I have some beautiful new beds that I'm close to getting soil in.  However, before that happens, I'd like to see if there are any pointers or last minute advice to help me avoid regret later on.  
Here are some details that might be helpful...
Beds are in full sun.  The general dimensions are 12' long x 3' wide x 1.5' tall.
I have cats.
I haven't really done much gardening...zero in raised beds.  I have kale and spinach and squash growing in my front yard where I ripped out some lawn.  Those plants seem to be doing pretty good without any soil amendments or fertilizer.  
I will be using Mel's mix, but I have access to lots of fill dirt that I plan on using--I will be covering that fill soil with probably two layers of weed cloth to prevent weeds.
I will use the weed cloth to line the beds up the side as I'd like to preserve the life a bit longer of the cedar planks.  
I have PVC pipes attached to the foot of the L-shape beds to make two smallish hoophouses...but I wonder if I'll regret not being able to cover the full length of the beds as I'd really like to grow through all seasons.  
I'm curious about anyone's thoughts or suggestions about these beds and my plans for them!
Thanks so much!!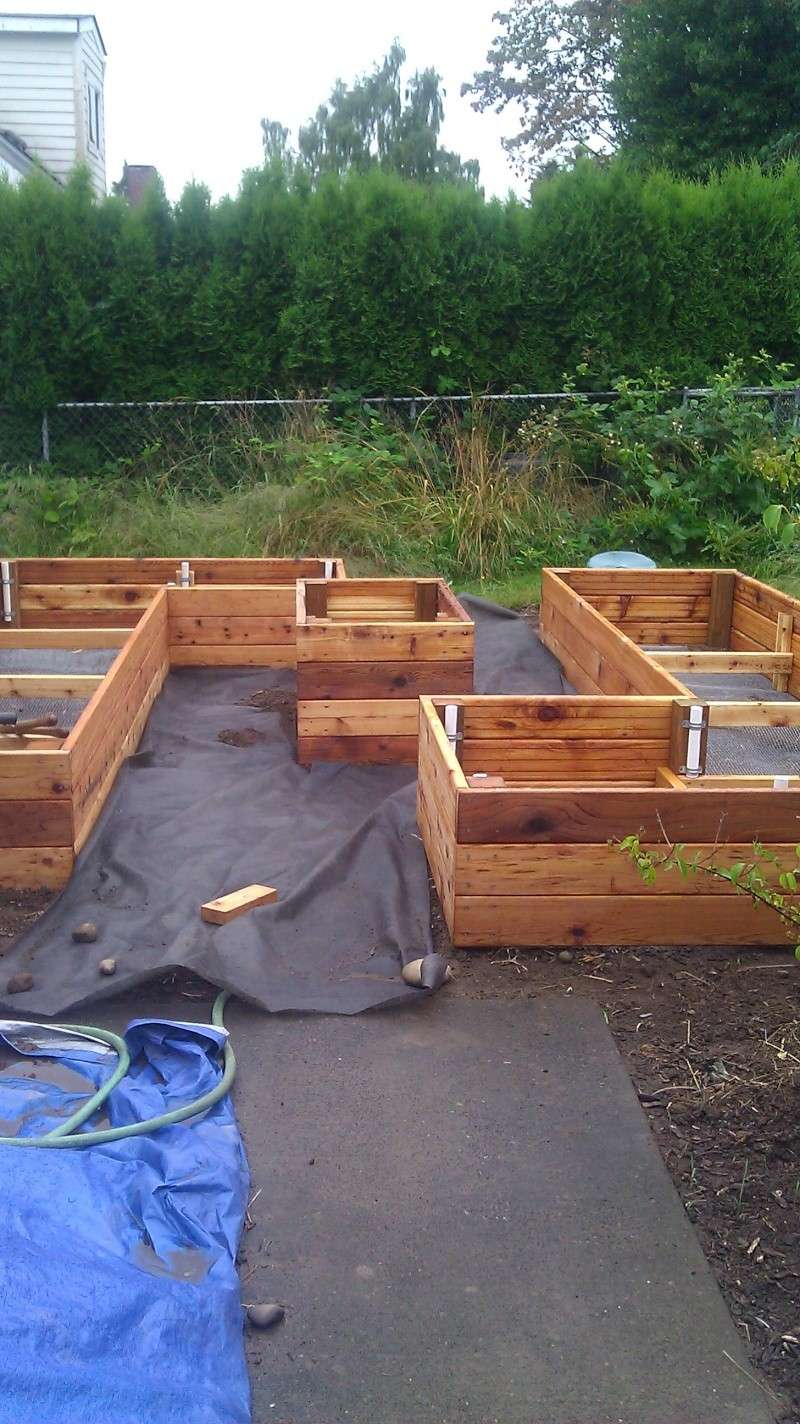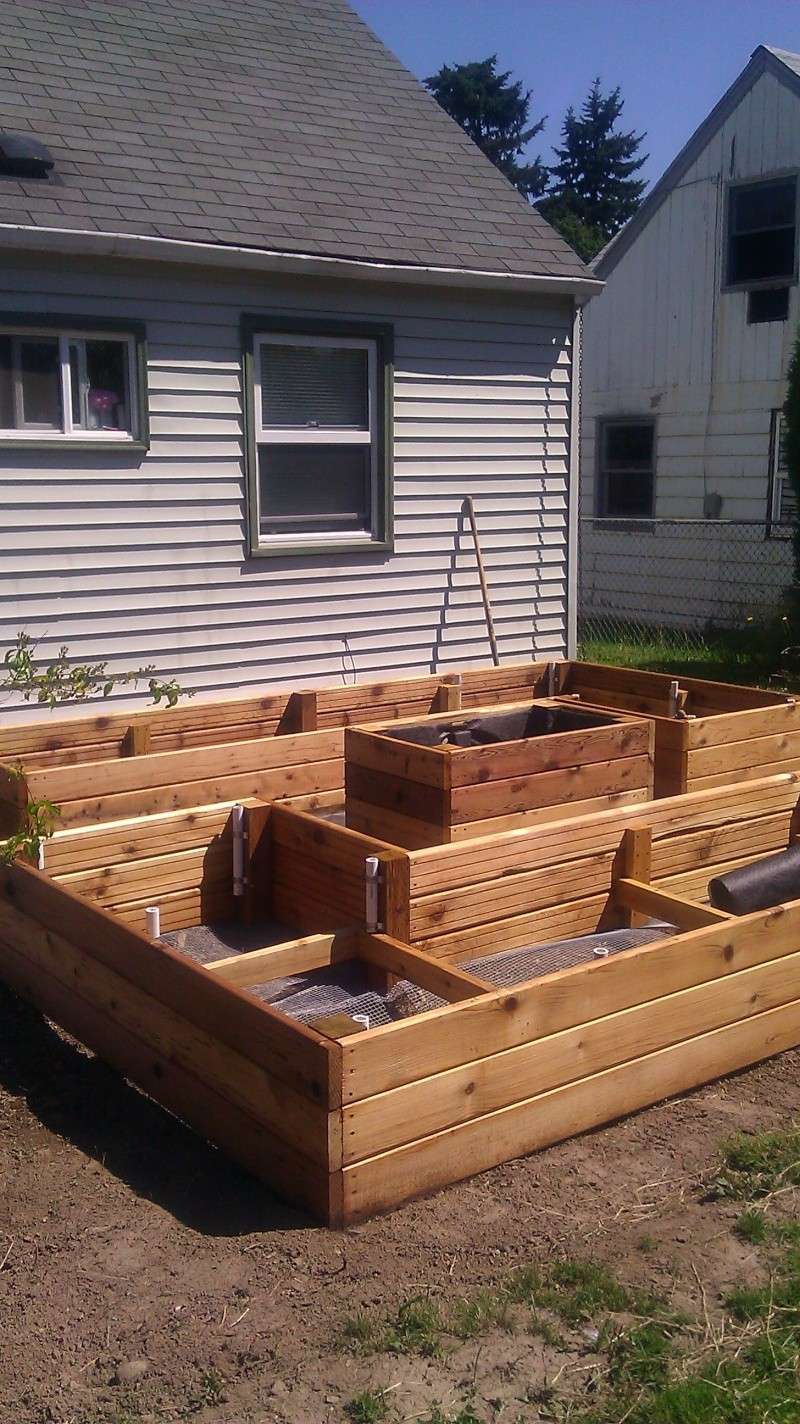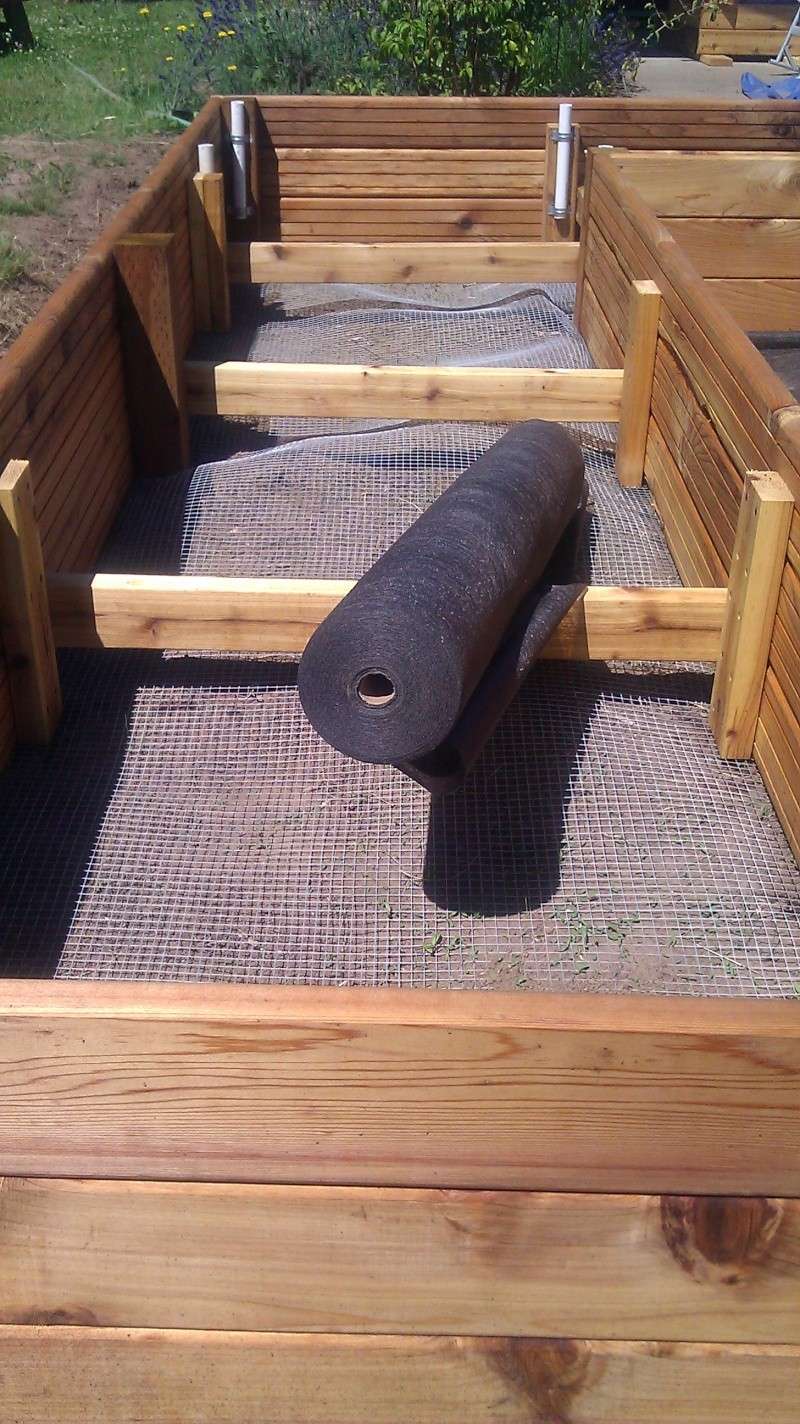 The beds are absolutely beautiful.

If I understand, the beds are high because of the cats? Or is by design? Anyway, mine are only 7 inches tall and my cat is good about not digging in them. She has her own "garden" of cat nip and grass. If you direct sow, you can lay bird screen over the beds until the seedlings are large enough to signal the cats that something is growing there. Regardless, the height should make gardening a delight.

You plan to fill the bottom with soil, with weed screen and Mel's Mix on top. Leave enough space above the fill for 7 inches of MM (it settles a bit) and at least 2 inches for mulch. Whether you add more pvc for hoops is your decision. You can always add square pvc cages to the top if you need them later. They are great for covering brassicas with tulle against the white butterfly green worm.

Are you going to grow anything that needs a trellis? If so, have you thought of where they will be placed? Again, absolutely beautiful with plenty of room to work around.

One last thing from this first year SFG-er. Do not skimp of making the compost part of the 3-part Mel's Mix. The roots will not be able to reach way out into the soil for all the nutrients like soil planting allows. The roots will stay in the nice MM so the compost part is critical or the plants will start out great and then stall.

I can't wait to see more photos are you progress.

Forum Moderator Certified SFG Teacher




Posts

: 15222


Join date

: 2013-04-21


Age

: 69


Location

: Fresno CA Zone 8-9



Thank you!  I wanted the beds tall for design and comfort.  I hadn't thought of trellises--I'll have to think about that some.  I did plan on using the taller middle box for yams.  

Just to clarify--you suggested 7 inches of MM and then another 2 of extra compost to go on top or was that to go under the MM?  I want to do this right and not regret trying out this different way of gardening.  Or having to redo stuff.

Thanks again for your help!
Wind, 
What a sweet comment!  
Thank you!
I've been wanting raised beds for years, mainly because of my large dogs--but now that they have both passed away, I didn't REALLY need to have my beds so tall.  However, I'm sure I'll have more dogs in my future!  And, honestly, I don't like bending over so much.  Heh heh heh...
I have put off the beds for too many years and was fortunate enough to have the funds AND two beautiful and kind souls willing and able to help make this dream come true.  It was a group effort really.  
I'm just kinda in that stage where I want to do the leg work before the soil goes in to make sure I have the flexibility to grow whatever I want in the future.  I've decided to add more hoops throughout the beds so that I can try out year round growing.  I'm taking a gardening class that spans the next 5 months that will support me with ideas and problem solving--I hope!  
Yay! I can't wait to be able to make more progress and share my journey with you!
Again, thank you.  
April
I really like the look of your beds, and that height will just become nicer to live with

Members here reminded me that you only need to cover soil so that weed seeds do not germinate.  You can partially fill your beds with as good of quality fill dirt, and wood chunks and stable muck as you can find.  Then cover with a couple layers of newspaper and then MM on top.  As long as your fill dirt is not harboring things like quake grass root bits you should be good.  The newspaper will rot eventually but you won't be stirring up the deep layers, just the top MM so you won't bring seed up.  Then as plants need to they can delve into the deeper layers.  It gives the plants a bigger reservoir to draw from.
Happy gardening!



Posts

: 2316


Join date

: 2012-03-29


Location

: Gallatin Valley, Montana, Intermountain zone 4



I'm feeling not too good about the soil that I have access to.  Root bits and obnoxious weeds all are mixed into it....I know where the soil came from.  But free is a hard price to pass up.  Ha!
Should I chance it and just use cardboard or newspaper anyway?  I don't want to be crying in the soil as I'm pulling out weeds in a year...
What kind of weeds and roots?  The kinds that sprout and grow the obnoxious kinds of perrennial weeds?  If so,,,,  PASS.   Especially if the soil itself is not good garden soil.   If it is, you can sieve it for root bits.  You have gone to a lot of effort for lovely outer frames of the beds, don't skimp on the soul of a garden~ the soil.
 
 I just made a bed with a soil that I tryed to pick all the root bits out but I know i missed some.  It is very good soil though and I hopefully won't mind going after every bit that sprouts and presents itself.  Or else I am going to be beating myself.


Having said all that I hope people from the PNW pipe up.  I am from a bit east of you in Montana.



Posts

: 2316


Join date

: 2012-03-29


Location

: Gallatin Valley, Montana, Intermountain zone 4



I, like Turan, think cardboard and 4-6 layers of newspaper between the soil and MM is good enuf.  If you don't disturb dormant weed seeds, they won't come to the surface.   That's what SFG is all about.  You can add 2-3" of new compost to the top of your beds each fall and never have to double-dig or till those beds.  When you transplant, you just dig a hole and add more compost where you want your plant.  You aren't disturbing dormant weed seeds this way so why put an impossible layer between soil and MM.  In time you'll want your roots to go deep, as in parsnips, long carrots and even tomatoes.  They will grow down thru newspaper and disintegrating cardboard.
The weed seeds dropped by passing birds and that you yourself spread inadvertantly on your beds aren't hard to master, though I find after rain, rain, rain, they are plentiful enough.



Posts

: 4700


Join date

: 2010-03-21


Age

: 75


Location

: Southwestern Maine Zone 5A



Dear April,  I lost your thread and someone re-directed me to it.  I'm a new gardener and I really am sold on SGF.  I have learned so much since March and I am comfortable giving you my take.

Regarding your fill, I would go ahead and use the weed screen.  That way, when you pull something out, you won't accidentally pull up any fill soil and introduce weed seeds or roots into your nice MM.  Using weed screen will also provide a max depth or definite marker down to which you will mix in one or 2 scoops of new rich compost every time you take out and put in new plants.  Also, you already have it.

This is how I would build up your beds:  Bottom 8-9 inches of fill dirt, One or two layers of weed screen, run up the sides if you want.    Then 7 inches of Mel's Mix.  When the seeds have sprouted or you have planted the little transplants, then you can add 2" of MULCH.  Mulch is not compost.  It is any non-nutritious topping to keep moisture from evaporating and the keep the soil cool during the summer.  Some use chopped straw (without any seeds), pine needles, wood bark, hand fulls of mylar ribbons, etc.  I use playground bark which looks like chips of pine wood.  It is light colored so it is easy to recognize against the dark MM and does NOT contain redwood to which some folks are very allergic.  The playground bark is popular with schools.

If you want to plant long root veggies like carrots or turnips, or plant potatoes, you can add "top hats" to those squares.  If you can't find info of "top hats,"  let us know.  I read that it is good to rotate veggies, not to plant the same thing in the same square each time.  So the top hats can be moved around as you replant.

The trellises may be a trial and error matter.  For the first year, you may want to use the 2' rebar and 5-10' tall electrical conduit method explained in All New SFG. You can move them as you learn the sun exposure, personal preference, and backyard view.  At some point you may want to go fancy and arch a cattle panel between or over a couple of boxes.  Some are absolutely beautiful!  The re-bar and electrical conduit are relatively inexpensive to start with.

I think I covered everything I wanted to say. Again, there's more than one way to do almost everything. The above comments are just what I would do. Well, I would use sand as a fill, because I don't have a free source of soil!

Again, the boxes are beautiful.

Forum Moderator Certified SFG Teacher




Posts

: 15222


Join date

: 2013-04-21


Age

: 69


Location

: Fresno CA Zone 8-9



Wow, good ideas, use this bed to plant some flowers, my children must be very happy.



Posts

: 2


Join date

: 2013-08-13


Location

: american



---
Permissions in this forum:
You
cannot
reply to topics in this forum