They're taking over the yard!! 

  And that's ok with me!  But my neighbors think I'm bananas for cutting the grass around the vines with scissors. 


We're really excited about them.  We have one that's the size of a volleyball, and a few babies!  One of which, I pollinated this morning.



Posts

: 131


Join date

: 2012-02-12


Age

: 44


Location

: Huntsville, AL



Hee hee. I never would have thought of pumpkins as good candidates for square foot gardening.

I reminds me of the time we thought bird house gourds would be a way to fill in a gap in our grape arbor.



Posts

: 445


Join date

: 2012-06-23


Location

: Coastal SC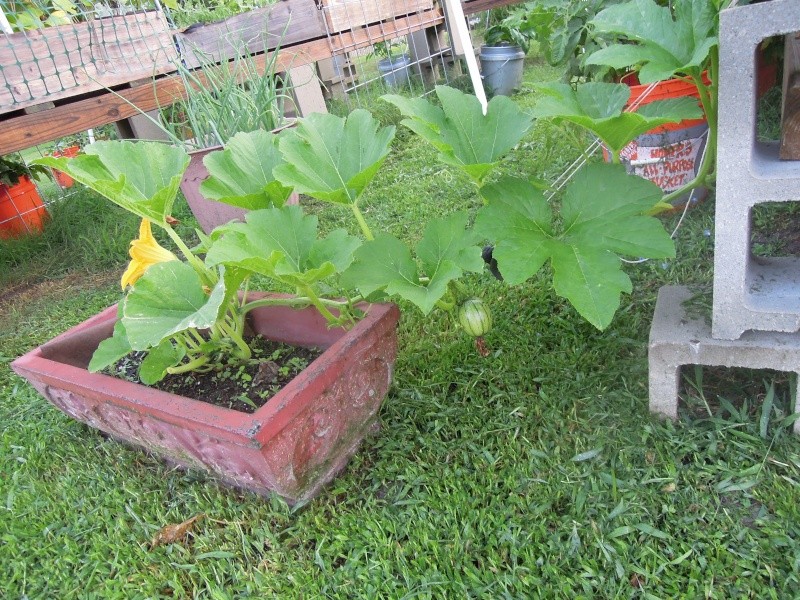 This one set fruit low on the vine so I just strung it to the side of a bed to keep the lawn guy from weedwhacking it.  Pics on 26 Jun.  Pumpkin is now big enough to rest on the ground.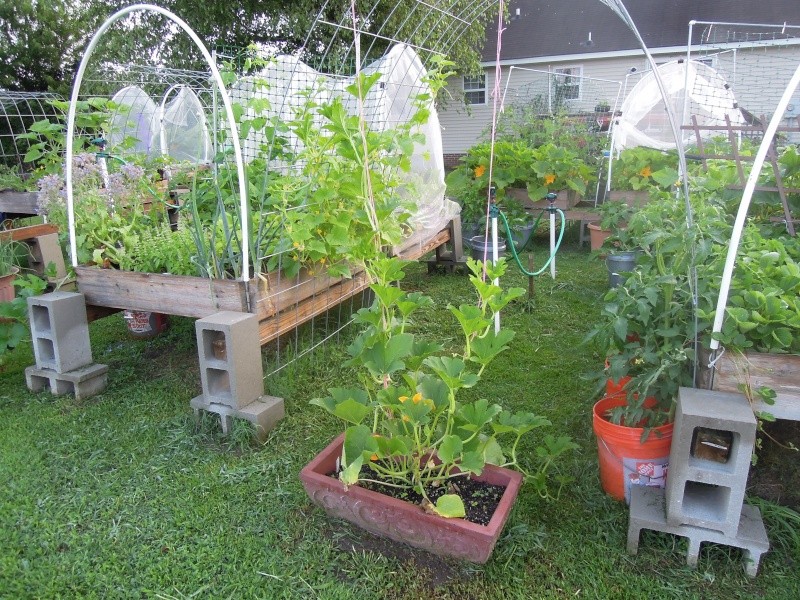 This vine had lots of blooms but didn't set fruit by the time I strung it to the top of a cattle panel.  Just checked on it yesterday and I've got 2 tiny pumpkins resting on the top.
KAY
____________________________
A WEED IS A FLOWER GROWING IN THE WRONG PLACE
Elizabeth City, NC
Click for weather forecast

Certified SFG Instructor




Posts

: 4339


Join date

: 2010-10-17


Age

: 74


Location

: wilmington, nc zone 8



Love the pumpkin vine pics everyone! We're trying mini pumpkins for the first time, but likely planted too late - we'll see. Now that we're having a heat wave, they've been growing quickly. They have a few leaves each now. *fingers crossed*

Certified SFG Instructor




Posts

: 1413


Join date

: 2011-05-11


Location

: Vancouver, WA



We love growing pumpkin at my house. Every year we have had 2 plants tops! This year my son convinced me/ pulled my leg and we have 5 plants:shock: . They are all dwarf variety so we shall see how it goes. Next year you all should try sending the vines up trellises. They are so cool!!!



Posts

: 590


Join date

: 2012-03-12


Age

: 31


Location

: Hampton, Georgia



Last year, our pumpkins were much less successful.  At the rate these are growing this year, I can't imagine how big a trellis would have to be!



Posts

: 131


Join date

: 2012-02-12


Age

: 44


Location

: Huntsville, AL



---
Permissions in this forum:
You
cannot
reply to topics in this forum