I harvested this at 9:30 AM and there is that much more on the vines that will be ready by tomorrow morning.  I can't believe how much I have gotten form such a small amount of space and this is my 1ST year with SFG.  That Zuke eluded detection and got a little on the XXL size, but my wife thinks she can make Zuke/Blueberry bread out of it.
Looks like we will be busy canning Salsa and Dilly Beans.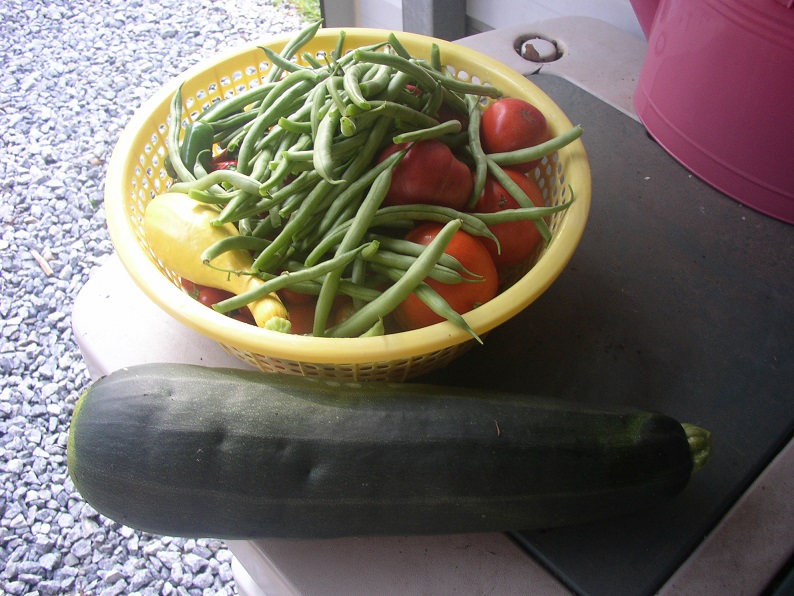 Beautiful, simply beautiful!
(Could you share your wife's Blueberry Zuke bread recipe, or a link, if it's here?)



Posts

: 210


Join date

: 2010-05-19


Location

: Central CT Zone 6a



Here is the one she uses and it comes out really good.

http://allrecipes.com/recipe/blueberry-zucchini-bread/
Congrats on your success! Ditto - please post your wife's recipe

My zuke plants must still be young. My first zuke failed at about 2 inches, turned yellow and died. The flower must not have taken even though I tried to manually pollinate. I have another zuke growing on that same plant. So far so good. There have been a couple of bees hanging around.
There was another post where a few of us were discussing struggles with our zukes. It now appears the roots systems on mine seem to have take and I'm getting a lot more flower shoots. The plants appear to be growing at a faster rate and the leaves are getting much bigger, so I should be getting some good zukes pretty soon....fingers crossed.



Posts

: 255


Join date

: 2013-05-22


Location

: So Cal: Zone 10a




Certified SFG Instructor




Posts

: 4778


Join date

: 2010-08-20


Age

: 60


Location

: Central Ohio zone 6a



Thanks!  All this is keeping me jumping


 CONGRAT'S

  on a wonderful harvest

thanks for the recipe too!....we are growing zuk for the first time this year and hubby is already turning his nose up and we haven't even tried a taste yet...but...I see flowers on the plant

happy gardening
rose



Posts

: 2424


Join date

: 2011-05-10


Location

: Western WA



@FamilyGardening

wrote:

 CONGRAT'S

  on a wonderful harvest

 

thanks for the recipe too!....we are growing zuk for the first time this year and hubby is already turning his nose up and we haven't even tried a taste yet...but...I see flowers on the plant

 

happy gardening

rose
Hi Rose,
Make him some of that zuke bread and he will become a believer REAL quick

---
Permissions in this forum:
You
cannot
reply to topics in this forum