Latest topics
»
leggy potatoes plants were started too early in the hous
by
sanderson
Today at 2:46 pm
»
CANADIAN REGION:What are you doing in October 2016
by
trolleydriver
Today at 12:30 pm
»
Mason bees
by
rajmahendra
Today at 5:43 am
»
Second Year SFG in Canada
by
sanderson
Today at 2:13 am
»
Thin Crust Pizza
by
No_Such_Reality
Yesterday at 11:34 pm
»
Our Newest Regional Hosts!
by
Scorpio Rising
Yesterday at 8:10 pm
»
N&C Midwest: October Happenings!
by
Scorpio Rising
Yesterday at 7:57 pm
»
Hello from central Massachusetts!
by
CapeCoddess
Yesterday at 3:43 pm
»
Microbes...you gotta see this one !!!
by
has55
Yesterday at 2:15 pm
»
November Planting in SoCal, time to keep working it and bragging rights time!
by
No_Such_Reality
Yesterday at 10:27 am
»
Winter Hobbies and Crafts
by
Scorpio Rising
10/18/2016, 7:48 pm
»
Cucumber plant visitor
by
Scorpio Rising
10/18/2016, 7:31 pm
»
Hello all
by
Scorpio Rising
10/18/2016, 7:16 pm
»
The Most Annoying Pest In The Yard
by
Scorpio Rising
10/18/2016, 6:45 pm
»
TrolleyDriver's Compost Thermometer
by
sanderson
10/18/2016, 4:32 pm
»
2016 SFG in Brooks, Ga
by
yolos
10/18/2016, 11:17 am
»
Tryst with my first DIY SFG in India
by
rajmahendra
10/18/2016, 7:50 am
»
mason bees-for 2015
by
has55
10/18/2016, 6:20 am
»
The Research Journey:Connecting the dots with Soil & Diverse Cover Crops
by
has55
10/18/2016, 12:06 am
»
Cinnamon Pickles
by
yolos
10/17/2016, 11:31 pm
»
who has chickens
by
Ginger Blue
10/17/2016, 9:16 pm
»
California's Drought
by
trolleydriver
10/17/2016, 12:38 pm
»
Lemon Grass
by
Mimi2
10/17/2016, 12:28 pm
»
Senseless Banter...
by
Kelejan
10/16/2016, 8:26 pm
»
MUSIC: Classical
by
Kelejan
10/16/2016, 8:25 pm
»
Northern California & Coastal Valleys - What are you doing this month?
by
Scorpio Rising
10/16/2016, 8:01 pm
»
New England October, 2016
by
CapeCoddess
10/16/2016, 5:16 pm
»
SFG -- what to do with your shovel
by
sfg4uKim
10/16/2016, 12:39 pm
»
NEW ENGLAND OCT 2016
by
AtlantaMarie
10/16/2016, 6:18 am
»
Any Strange and Wonderful Visitors? Photos please!
by
sanderson
10/15/2016, 9:36 pm
After seeing other peoples' galleries, I doubt this will impress anyone, but my little garden is doing so much better than the last couple of years that I thought I'd share my joy and post some pix.
SFG downhill on left, in-ground uphill on right, one of my two deputy assistant junior gardeners on far right.  The plan is, next year I'll put in another 4x4 box to replace the portion of the in-ground closest to the SFG, and the following year another. These pix are actually from about 2.5 weeks ago.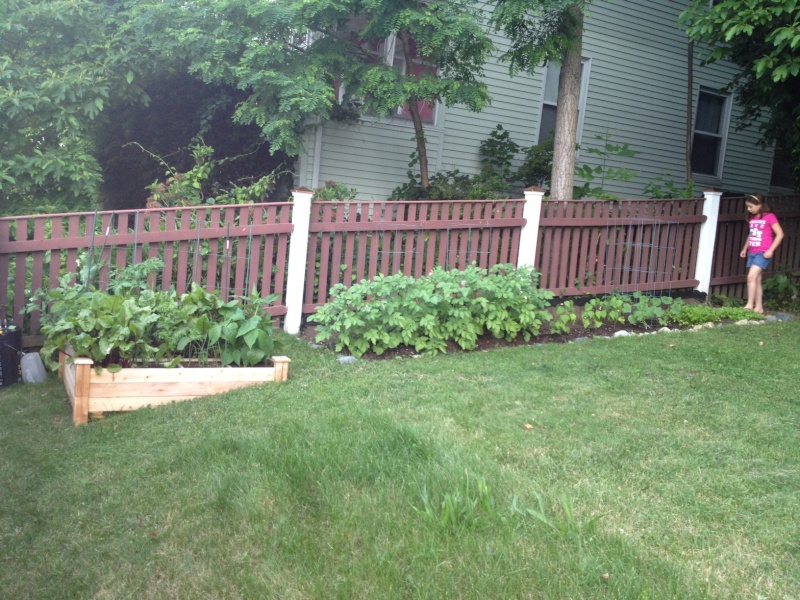 Closeup of SFG prior to first harvest.  Pretty much taken over by beets, so I harvested them to make room for the other plants (and a second planting of carrots).  The small tomato plants in back (direct sown outside in May (yes, I know that isn't how you're supposed to do it)) have suddenly gone insane since these pix were taken 2-3 weeks ago, today they're over 4 ft tall and I saw my first green tomatoes yesterday. Peas at back left, planted way too late, are hanging in there even with the heat, today about 1 ft taller than this photo and bearing pods. Beans at right have since doubled in size (taking over about 4 squares) and have some long pods as well.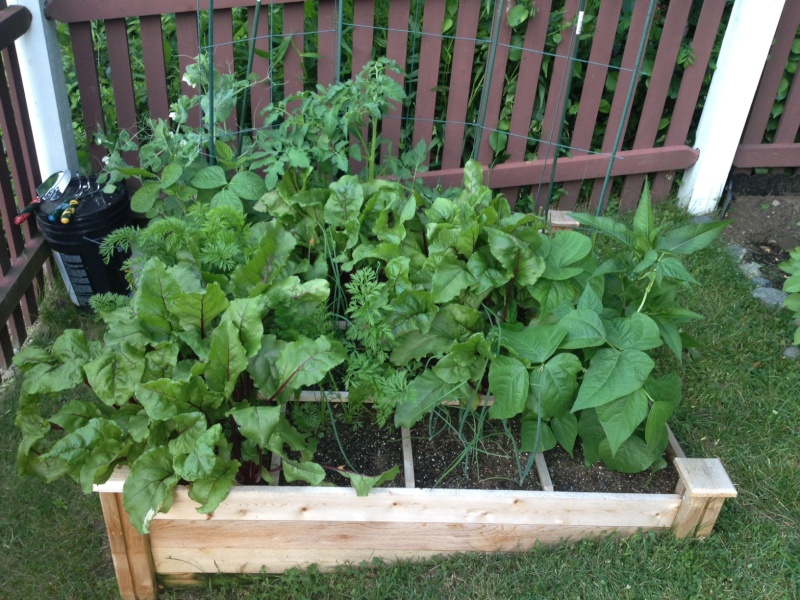 My first harvest of beets that has ever worked.  Previous years they were as big as my pinky.  This year they averaged 1.5" diameter. A little tougher than I expected, but tasted great.  We discovered that large mature beet leaves don't taste as good as small tender beet leaves, but it was worth a shot.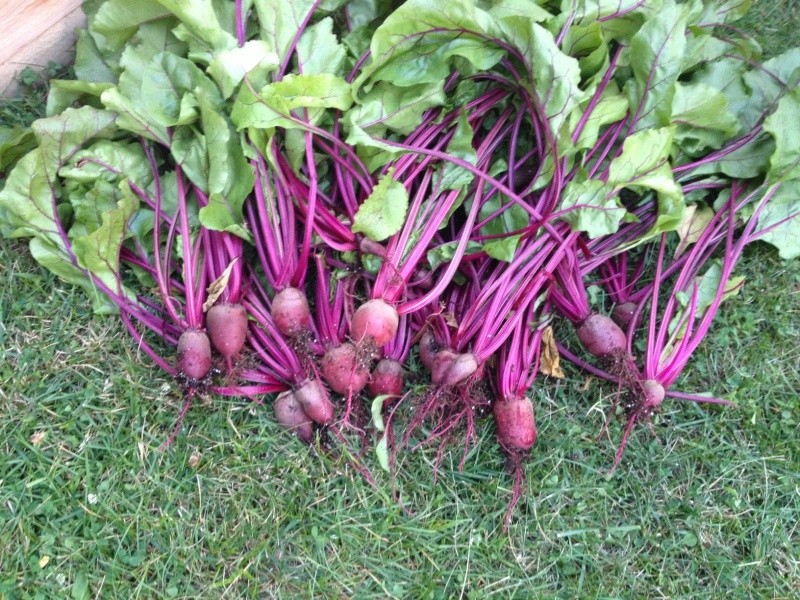 My SFG after beets were harvested; you can almost see the other plants heave a sigh of relief.  Replanted the empty squares with more carrots and beets, but left the 2 squares next to the beans empty because they wouldn't see any sun anyway.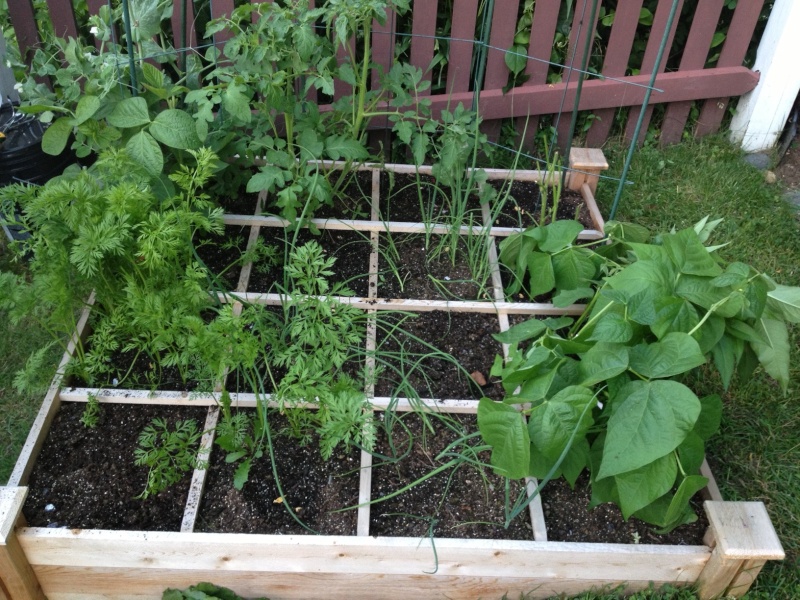 My poor soybeans, attacked by... something.  They looked like this 4 weeks ago, then amazed me by growing their leaves back, then a day before this picture was taken they were attacked by whatever it was, again.  This time it was for keeps, they haven't grown back again.  Exact same problem with other soybean plants in in-ground garden 12 ft away.  No other crop attacked like that, with leaves gone and stems cut well above the ground. Next year a critter fence.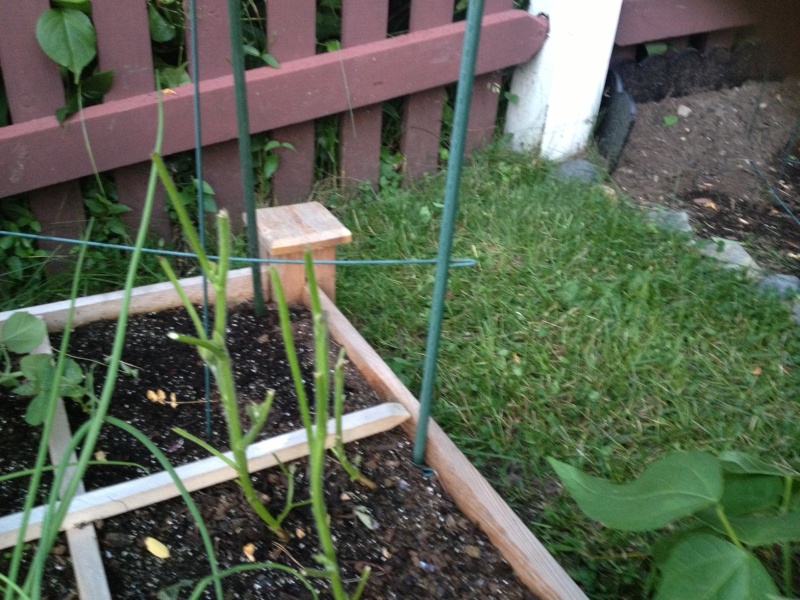 I know, it isn't SFG, but also very happy with my potato plants.  They grew another 6" or so in 2-3 weeks, and in the last week have just started to turn yellow. Hoping for a good crop this year when they've completely died back.
Note the difference between these bean plants (bottom of picture) and the SFG bean plants, and the tomatoes (back cage) and the SFG tomatoes.  Hard to believe they're the same crops planted on the same date.  Cukes have exploded in last 2 weeks as well, flowering now and attracting some bumble bees.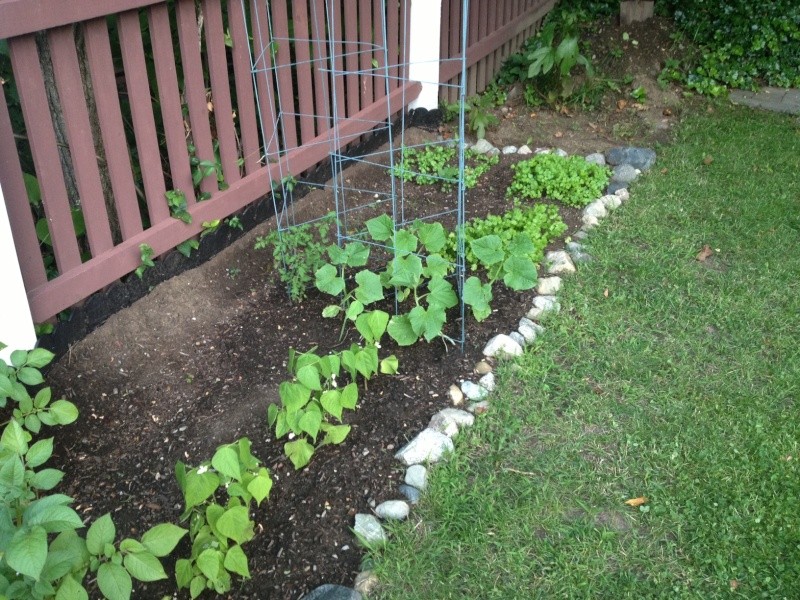 Thanks for looking.



Posts

: 15


Join date

: 2013-04-20


Location

: Boston (Mass) area, Zone 6A



It was a pleasure to look. Very lovely garden. Your in-ground looks nice, but it sounds like you are sold on SFG!

Forum Administrator




Posts

: 11859


Join date

: 2013-04-21


Age

: 67


Location

: Fresno CA Zone 8-9



Spectacular gardening! Thanks for sharing it with us.



Posts

: 804


Join date

: 2012-08-16


Location

: North GA Mountains Zone 7A



Very nice Chuck! You should be proud of your garden.



Posts

: 3851


Join date

: 2011-10-04



Very nice, and wonderfully disease and bug free!



Posts

: 3636


Join date

: 2013-07-05


Age

: 55


Location

: SW Oregon



Thanks for the compliments, everyone.  Here's what I mean about the tomato plant taking off: this is 3 weeks after my previous picture:
The tomatoes have pretty much taken over the (inadequate) 4 ft high trellis that was originally intended for the tomatoes, peas (now harvested) and cukes (eaten by a varmint).
Sanderson: Yep, I'm pretty much sold on SFG, especially after comparing the in-ground and SFG tomatoes and bean plants.  That's a tomato plant, planted the same way at the same time, behind the potatoes just past the fence post.  Less than half as high, and like 1/10th the volume.
Marc: Well, I actually had some kind of... something... that was attacking the leaves of my beet and bean and cucumber plants; for a while, additional leaves were turning grey almost daily.  So I started religiously going out every morning and picking off all leaves from all plants that showed any hint of it, whether that stripped 75% of the leaves from one plant or not, and it eventually stopped showing up on new leaves.  Dodged a bullet there, I think.



Posts

: 15


Join date

: 2013-04-20


Location

: Boston (Mass) area, Zone 6A



Ah, how nice! I've taken a lot of leaves off some of my tomato plants too. Hope I wind up with the same success you did!



Posts

: 3636


Join date

: 2013-07-05


Age

: 55


Location

: SW Oregon



---
Permissions in this forum:
You
cannot
reply to topics in this forum