Latest topics
»
Looking for a spreadsheet for planting times
by
aprilshomemade
Yesterday at 11:50 pm
»
Hello from Central AZ
by
Scorpio Rising
Yesterday at 10:38 pm
»
New SFG box-Humanitarian way
by
trolleydriver
Yesterday at 8:01 pm
»
Fourth Year SFG in Canada
by
trolleydriver
Yesterday at 7:55 pm
»
CANADIAN REGION: What are you doing in March 2018
by
trolleydriver
Yesterday at 7:28 pm
»
Hi from Richmond Virginia
by
AtlantaMarie
Yesterday at 7:18 pm
»
Shameless Self Promotion!
by
sanderson
Yesterday at 4:53 pm
»
Hello from Houston
by
trolleydriver
Yesterday at 4:46 pm
»
Coco coir... How often to replenish?
by
plantoid
Yesterday at 12:29 pm
»
California's Drought
by
sanderson
Yesterday at 3:01 am
»
First day of spring
by
Scorpio Rising
3/22/2018, 9:08 pm
»
SW Ohio (Cincinnati Area)
by
Scorpio Rising
3/22/2018, 9:06 pm
»
What are you eating from your garden today?
by
Scorpio Rising
3/22/2018, 9:02 pm
»
N&C Midwest—March and Spring is Here!
by
Scorpio Rising
3/22/2018, 6:23 pm
»
SUGA 2018
by
SQWIB
3/22/2018, 8:26 am
»
Happy Birthday!!
by
sanderson
3/21/2018, 2:09 pm
»
Do You Get The SFG Newsletter?
by
sfg4uKim
3/21/2018, 8:36 am
»
Garden Tower Project
by
sanderson
3/21/2018, 2:14 am
»
Any suggestions on the stump grinding sawdust plus soil?
by
sanderson
3/20/2018, 6:55 pm
»
How much time for gardening?
by
sanderson
3/20/2018, 6:42 pm
»
Sanderson's Urban SFG in Fresno, California
by
sanderson
3/20/2018, 4:03 pm
»
Northern California & Coastal Valleys - What are you doing this month?
by
trolleydriver
3/20/2018, 1:13 pm
»
New England Mar 2018
by
CapeCoddess
3/20/2018, 10:45 am
»
Trellis mod
by
SQWIB
3/19/2018, 8:39 am
»
How's the Weather Where You're At?
by
Scorpio Rising
3/18/2018, 6:38 pm
»
Powdery Mildew and SoCal Fall Planting
by
countrynaturals
3/18/2018, 12:34 pm
»
Boat Gardening
by
AtlantaMarie
3/18/2018, 6:51 am
»
How many green beans per square foot?
by
Scorpio Rising
3/17/2018, 9:27 pm
»
2018 SFG in Brooks, GA
by
yolos
3/17/2018, 8:34 pm
»
Comfrey
by
sanderson
3/17/2018, 8:21 pm

Not having gardened in decades, returning to it again via SFG...but I don't want to wait until Spring to start planting things.

I want to start now: mid July, current & continuing weather trend: hot (mid to high 80s) & very humid in Northeastern Mass (essex cty, zone 6a/b on the borderline).  The frost will most likely be later this year and I will be starting in containers this year so things can be moved around if I'm wrong about the frost or if I need to maximize more heat & sun exposure, etc.

What vegetables are good bets for planting, growing and not bolting too soon because of the heat which is expected to continue into August? 

Do I dare try a determinate tomato bush?



Posts

: 13


Join date

: 2013-07-12


Location

: Essex Cty, MA



Welcome to the board Mips.  Its nice to see another New Englander.  I don't think its ever too late to begin gardening.
As for fall crops you can start now in your containers. You can put in the cool crops; broccoli, cauliflower, cabbage, and rutabaga can be started from June onward.  Now its carrots, bush beans, peas, Swiss chard, turnip, and beets.  By the end of the month you can start sowing kale, leaf lettuce, and spinach and in mid August sow radishes.
How about a small patio tomato, like Totem or Tiny Tom and container cukes like Alibi.  You can bring the containers indoors out of the cold in late fall when a frost is imminent.  There are patio peppers, too, like Redskin and Mohawk.  How about an Opelia eggplant that's a container plant.  I got most of mine thru Pinetree Seeds.  They have a nice assortment.
Its best to start seeds for tomatoes and peppers indoors 8 weeks before transplanting them to their final homne outdoors so it might be a bit late for you on those this year unless you have good indoor lighting when late fall arrives.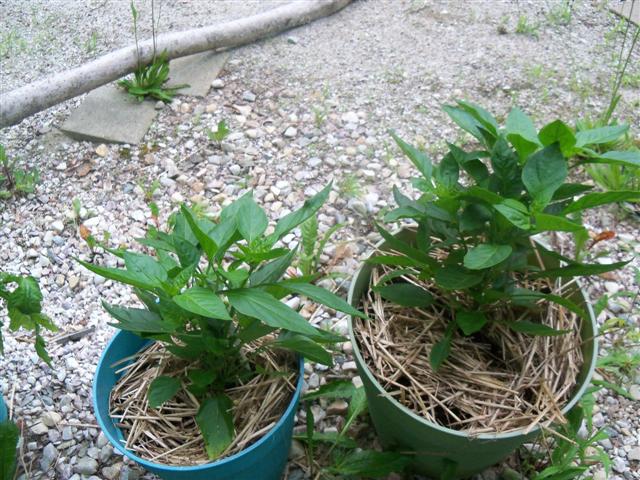 But to give you an idea of potted plants, here's my Redskin peppers above.  Of course mine were transplanted out in May, but if you can bring your pots inside when it gets colder, you can keep growing yours inside as long as you can provide enuf light.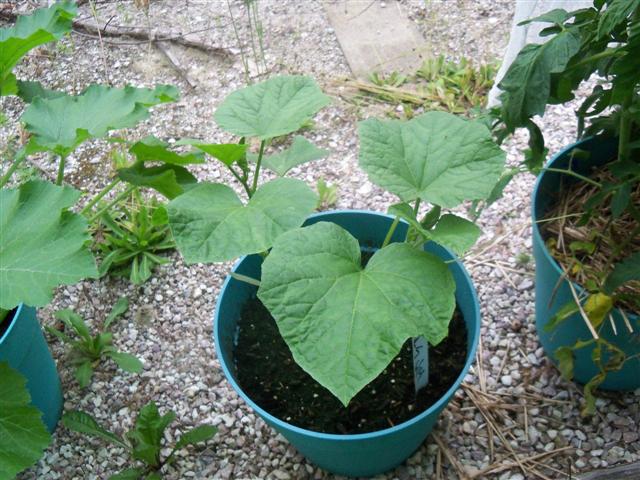 Above is my Alibi cuke in a pot.  Cukes germinate quickly so, unlike tomatoes and peppers, you can sow them outdoors directly in your pots.
Starting yours in pots gives you more leverage to start things and get them going strong before winter and bringing them indoors later.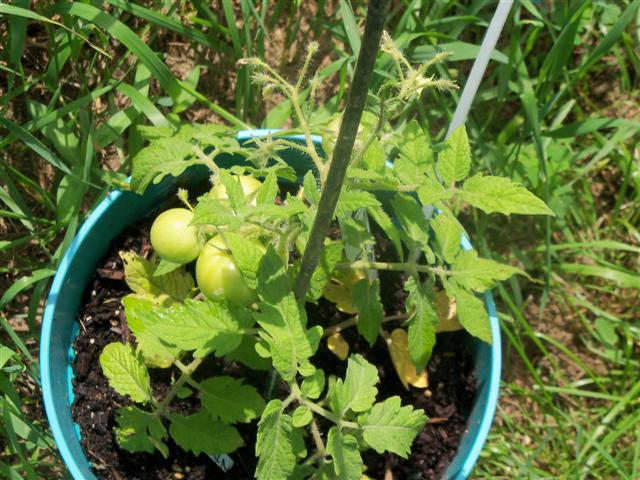 Above is one of my Totem tomatoes.  Nice fruits growing with a nice size, too.
My 2nd Totem has lots more baby tomatoes and lots of blossoms for many more.
So get your containers filled and do some seed sowing now. Good luck.



Posts

: 4708


Join date

: 2010-03-21


Age

: 75


Location

: Southwestern Maine Zone 5A



Welcome to the forum!!  Glad you decided to pick up gardening again!



Posts

: 2037


Join date

: 2012-03-21


Location

: Custer, SD



Thank  you!  I am thrilled to be back to gardening.  I loved Mel's first SFG book which I put into practice in my then apt with containers but life interupted and now I discover his newest book which didn't take long to reignite the enthusiasm by making things even simpler.  The difference is now I have more land to work with but I will still start small with containers.

I explored 3 fairly local nursery garden centers yesterday.  Even armed with notes on soils and such I was overwhelmed.  I cheated with buying a bushy tomato plant w tomatoes and the components to make the soil mix.  I transplanted it to a bigger pot with the mix.  Hopefully it will survive the transplant with minimal shock.

In the meantime, I am making another list for more soil stuffs, compost, fish emulsion, etc and a seed list.  It is good to hear that I didn't miss summer plantings, even with starting this late.  I will have quick maturing cukes and heat resistant lettuce in midweek...and did I read Eggplant, Peas and Beans correctly?  If I could get those in that would be a great bonus. 

Next week I will tackle the fall possibilities.   I have to be careful not to let my enthusiasm overrun my practical considerations...not that that happens much, ahem.



Posts

: 13


Join date

: 2013-07-12


Location

: Essex Cty, MA




---
Permissions in this forum:
You
cannot
reply to topics in this forum