I still have cucumbers coming in, but at a little slower rate, so I saved some over the course of a  few days until I got enough to make some refrigerator B&B pickles based on Rooster's suggestion in another thread.  This quart was made 2 days ago and we had some with our lunch today.
They were
OUTSTANDING
and should last us up to a month in the fridge.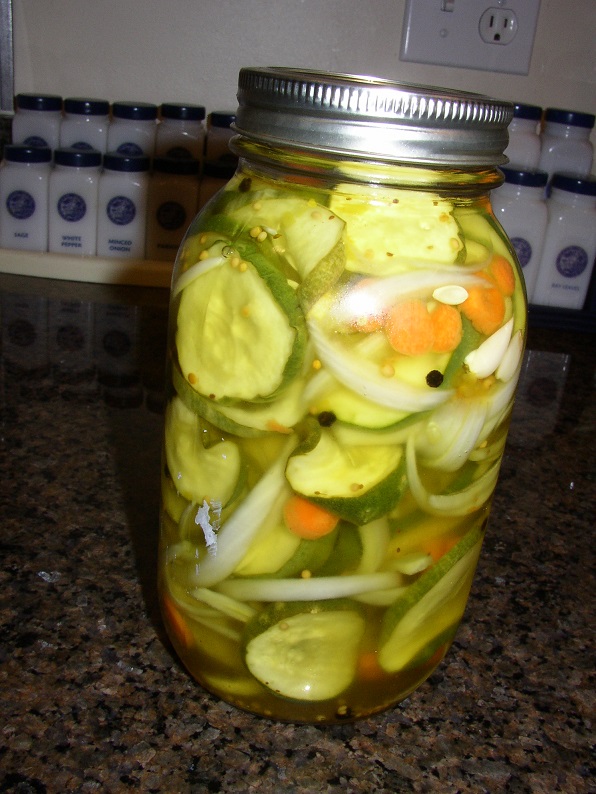 These do not need to be preserved ?
I should try this, my cuke tree is climbing like the beanstalk jack climbed.
Never have I had such huge cucumber plants, hope it's due to the newly made SFG with Mel's Mix.
Now all I need to do is win the battle with cuke beetles, I may have with using Neem oil

Can you provide a recipe for these pickles? they look soooo delicious... I can just about taste them

Certified SFG Instructor




Posts

: 1911


Join date

: 2013-02-16


Age

: 81


Location

: Indiana PA....zone 5



Hi Jimmy,

This was a recipe my wife's friend in Kansas sent us to try. Very easy and no canning required.

In a Dutch oven, combine 6 cups sugar, 6 cups white vinegar, 1/4 cup each mustard seed and celery seed, and 2 Tbsp. canning salt; bring to a boil. Pour over cut vegetables: 10 halved and quartered carrots, 3 sliced cucumbers, 3 cup-up sweet red peppers (1" pieces), 2 sliced onions and 8 cut-up green onions (2" pieces). Cover & refrigerate 48 hours before serving. Store in the refrigerator for up to 1 month. Yield: 7 pints.

OK, I cut everything in half. Made the 1/2 recipe of pickled solution then just added the veggies I wanted...carrots, cucumbers, celery, red peppers, etc. When the veggies got low, I just added more to the solution. Also used Kosher salt for the canning salt.

I adjusted it to my needs and tastes and it really came out well.

I too have had spectacular results with my SFG and Mel's mix for my first year and expect even better next year with my homemade compost.

Thanks Bnoles
I cant wait to try them, worked with a fellow for years, his (Italian) Mom made sweet sliced pickles that were to die for.
He gave many bottles away, however, he would never produce a recipe.
Such a shame, if I had something so delicious, I would want as many people to enjoy it..that could.
I went out today and wife picked a bunch and gave em to neighbors....cukes..
There goes my case...  many will enjoy them

Certified SFG Instructor




Posts

: 1911


Join date

: 2013-02-16


Age

: 81


Location

: Indiana PA....zone 5



____________________________
I am my gardens worst enemy.

Forum Administrator




Posts

: 4242


Join date

: 2011-10-04


Location

: Colorado Front Range



ok here is my wife's version of your recipe.
I could drink the solution it's sooooo good
In the fridge now cooling down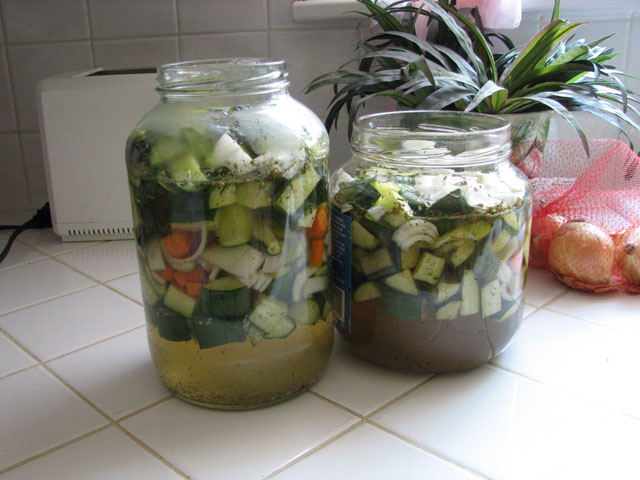 Certified SFG Instructor




Posts

: 1911


Join date

: 2013-02-16


Age

: 81


Location

: Indiana PA....zone 5



WOW! Jimmy, those look fantastic. I like the way she cut them up, you are going to enjoy those in a couple of days.



Posts

: 1628


Join date

: 2010-06-04


Age

: 62


Location

: Northern Utah



Okay, now you got me wanting to can some pickles asap.  Those look delicious!  I only have 2 cukes so far though, haha.



Posts

: 288


Join date

: 2013-02-22


Age

: 33


Location

: London, OH -Zone 5B/ 6A



I seethe with jealousy! Seethe!



Posts

: 3638


Join date

: 2013-07-05


Age

: 55


Location

: SW Oregon



---
Permissions in this forum:
You
cannot
reply to topics in this forum