It's the time of year again when I dread finding more summer squash ready to be harvested.  Why oh why do I plant more than one plant?!  
  I'm tired of eating it, and my friends are avoiding me-they don't want anymore of my squash either!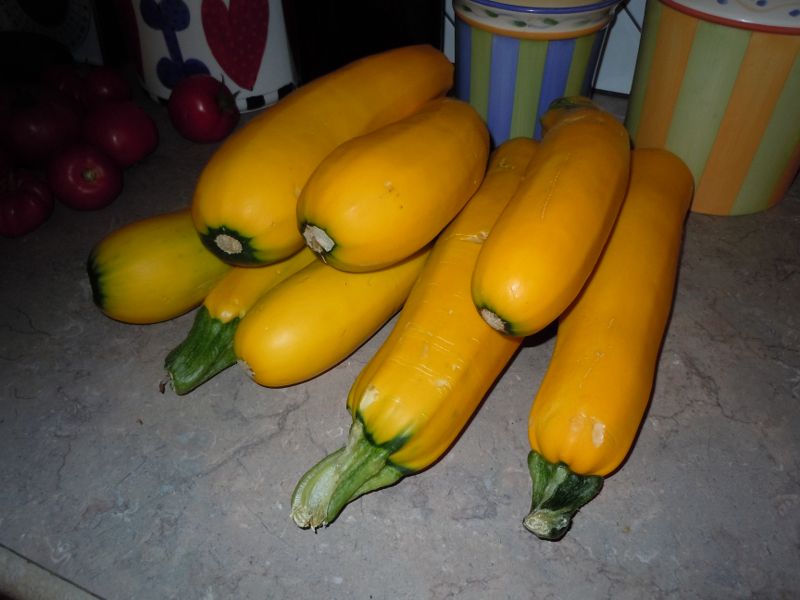 It's time to pull out my secret weapon.  
This recipe
 rejuvenates everyone's enthusiasm for fresh summer squash.  The recipe is for zucchini, but yellow squash works great too.  It's perfect for those squashes that are a little beyond their prime size.  Don't ask me why, but the squash gains some firmness when cooked this way, and they feel like apples in my mouth.  Nobody guesses this is squash pie, and not apple pie.
My wife made this pie.  She likes her 'apples' sliced; I prefer them in chunks.  Either way, it's a favorite.
We peeled the squash; I don't know why the edges are yellow.  When we use  zucchini in this recipe, the edges aren't green.



Posts

: 7392


Join date

: 2010-02-26


Age

: 65


Location

: yelm, wa, usa



OMG! What a fantastic idea! I would do this in a heart beat if I could only get a squash or 2. Wonder how it would be in "apple crisp"...?

CC



Posts

: 6588


Join date

: 2012-05-20


Age

: 62


Location

: elbow of the Cape, MA, Zone 6b/7a




 Love it.
I just made a faux apple crisp with one those humongous Zucchini that hide out until they are big enough to have their own zip code. The recipe is so good I couldn't convince my guests it wasn't apples. The way you peel, scoop out and slice the zucchini even makes it look like apples. Now I'll have to try it with a pie crust. I bought some more 
HUGE
zucchini at the farm stand today for $1 each, so I guess I'll be baking up a storm tomorrow. My zucchini plants are very unhappy this year so I had to resort to buying them.



Posts

: 433


Join date

: 2013-04-14


Location

: Western Massachusetts Zone 5b



WoW! Looks absolutely fantastic
 I may just have to give it whirl.

Forum Administrator




Posts

: 4316


Join date

: 2011-10-04


Location

: Colorado Front Range



Wish I had some squash.
I so love pie!
____________________________
43 years a gardener and going strong with SFG.
http://squarefoot.creatingforum.com/t3574-the-end-of-july-7-weeks-until-frost
There are certain pursuits which, if not wholly poetic and true, do at least suggest a nobler and finer relation to nature than we know. The keeping of bees, for instance. ~ Henry David Thoreau
http://squarefoot.creatingforum.com/t1306-other-gardening-books

Forum Moderator Certified SFG Teacher




Posts

: 14167


Join date

: 2010-03-06


Age

: 55


Location

: Keene, NH, USA ~ Zone 5a



this sounds like a GREAT idea! My squash plants look like they're being revived from the dead! Hubby just picked about 100 apples from our trees, and spent the afternoon peeling, slicing coring them. This recipe would be awesome to try with our squash and a LOT easier too! thanks!!



Posts

: 1887


Join date

: 2011-06-21


Age

: 37


Location

: california, zone 10a




---
Permissions in this forum:
You
cannot
reply to topics in this forum