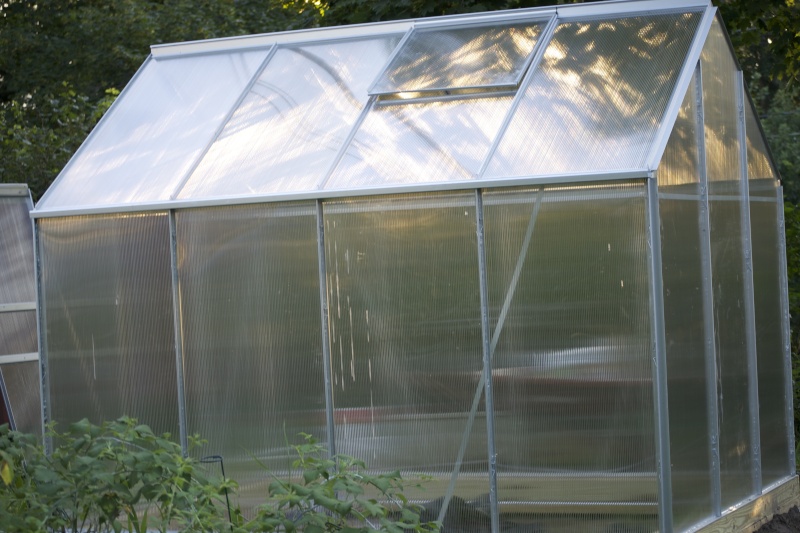 It's a cute, little, unheated, kit greenhouse. 6X8, panels have all been siliconed in, automatic window opener has been installed, sliding door has been converted to a door on hinges.
So here's my question - something I haven't read about anywhere on line during my research. How does one keep out the pests when the window is open? I can't see any easy way to install a screen, since the window opener would get in the way of the inside, and the open window would obviously get in the way on the outside.
Last year I had a massive infestation of flea beetles - pretty much decimated my potatoes and tomatoes. The only tomatoes we had were fried green ones.
This year, I did avoid a heavy population of them by putting things out late, due to the weather this year. 
But next year, I can only imagine how happy they would be to find my defenseless seedlings out there like sitting ducks.
Any suggestions?
WoW, nice greenhouse! I don't really have much to offer as far as pests, but it's great to see you here Martha.

____________________________
I am my gardens worst enemy.

Forum Administrator




Posts

: 4242


Join date

: 2011-10-04


Location

: Colorado Front Range



Get your gardening apprentice to make a box along the lines of a compost sifter.  Use window screen instead of hardware cloth.
Do you have a screen door too?  You'll get better air flow if you have an air inlet.
I wouldn't be able to keep the heat below 90° in my greenhouse without fans.  (Pollination and growth slows a lot above 95 or so.)  I have one fan that's always on during daylight hours to circulate air within the greenhouse, and one house gable fan with a thermostatic switch, on the end wall opposite the door, that turns on around 85°.
I've had trouble with aphids on my greenhouse peppers the last two years since I built mine.  I was watching for them this year, and they showed up on seedlings from a nursery.  Maybe just a coincidence, but I haven't had any other aphid issues yet this year.  Be aware that you can introduce bugs into your greenhouse in the soil.
(Maybe you'll have better luck
posting
pics of your bazillion tomatoes, than you did trying to email them!

  )



Posts

: 7392


Join date

: 2010-02-26


Age

: 64


Location

: yelm, wa, usa



Ah, my favorite wise ***!

I do want my guy to build me a screen door. I hope he doesn't run out of time before going back to college.
@martha

wrote:Ah, my favorite wise ***!
Admit it, it's what keeps you coming back!




Posts

: 7392


Join date

: 2010-02-26


Age

: 64


Location

: yelm, wa, usa



Welcome back, you have been missed.

Kay
____________________________
A WEED IS A FLOWER GROWING IN THE WRONG PLACE
Elizabeth City, NC
Click for weather forecast

Certified SFG Instructor




Posts

: 4349


Join date

: 2010-10-17


Age

: 74


Location

: wilmington, nc zone 8



Congratulations on your greenhouse Martha!



Posts

: 1628


Join date

: 2010-06-04


Age

: 62


Location

: Northern Utah



---
Permissions in this forum:
You
cannot
reply to topics in this forum