Just got it assembled and filled yesterday. I bought a bundle of laths, but I'm not sure if I'm going to use those or some type of string. The laths would definitely require more work to construct as they are only 4' in length and my box is 4'x8'. The box is made from untreated cedar wood. I used 1/4" mesh hardware cloth on the bottom and put weed barrier over top of that. We did our best to remove most of the grass (what a pain!). The dirt is an organic blend (basically Mel's Mix) from a local landscape supply company. We'll be planting in a couple weeks hopefully. Unfortunately we are off to a late start so we'll be purchasing the plants locally. Next year we'll be doing things from seeds.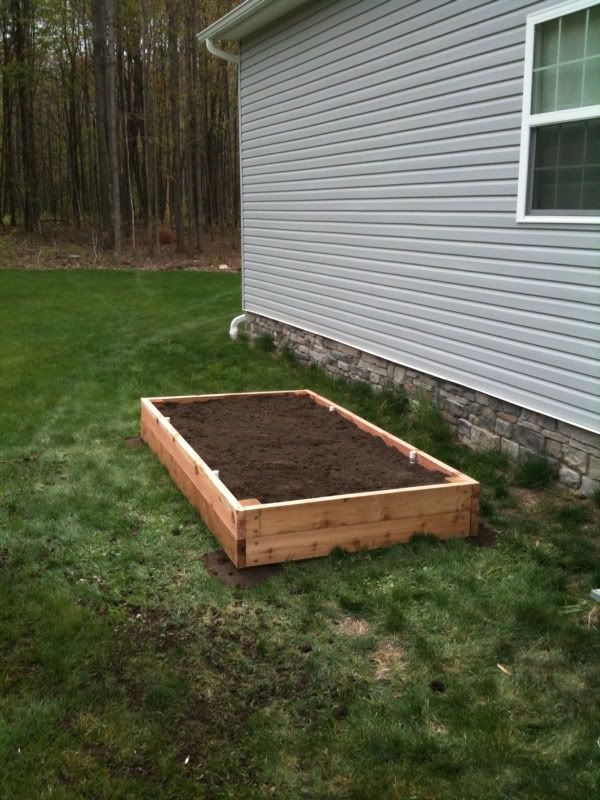 Posts

: 5


Join date

: 2010-04-23


Age

: 43


Location

: Concord Township, Ohio



dpmaki It looks really nice! Keep up the good work and you'll be glad you did!
Can't wait to see it when it's planted!


FOUNDER SFG forum 2009

certified SFG instructor




Posts

: 211


Join date

: 2010-02-26


Age

: 63


Location

: Illinois Z6



Great work on the SFG box! Love it. It looks so nice and brand new

You will really enjoy gardening the SFG way, it's a blast!


Enjoy your summer and don't forget to post more pics when you have it filled with greens!




Posts

: 248


Join date

: 2010-04-06


Age

: 46


Location

: Fort Wayne, IN - Zone 5B



I'd recommend just building two 4x4 lathe grids with screws and nuts. You won't regret it. I LOVE the ease, and it took me all of, oh, I dunno, 20 minutes to measure, mark, drill and assemble 3-4x4 grids with the lathe. The grids look GREAT, and fold for storage. All you'd have to do is lay them in on each end, and you'd only be missing the "middle" strip. You can easily just lay another lathe over it. I don't have mine screwed or bolted down. I don't see the point, and so far, there's no way I can see them blowing out with high winds.

Your bed looks fabulous by the way!



Posts

: 185


Join date

: 2010-04-17


Age

: 47


Location

: Wauwatosa, WI (zone 5a)



---
Permissions in this forum:
You
cannot
reply to topics in this forum