Someone in the forum was going to experiment with cutting broccoli crowns "early" to encourage multiple side shoots.  Is there a proper time (meaning size of crown) to prune broccoli  to maximize side shoots?  I allowed my crowns to get large, but my side shoots have been blasé at best.

Rather than plant broccoli for the fall, I'm cutting my spring plants back.  Also, I'm getting a second harvest of mini-cabbages, too, without replanting.



Posts

: 192


Join date

: 2011-05-09


Location

: Indianapolis=6a



I'm not the person you're thinking about, but I did try this in my garden. 
My variety is "Green Sprouting Calabrese" which is supposed to be known for just the thing you're posting about.  I started my seeds indoors, set the seedlings out at the "right" time in the Spring, and have at this writing harvested about 5 of the 8 "large" central heads (which varied in size from puny to 3" in diameter.  The 3 others haven't produced a central head at all. 
Of the 5 I harvested, two got pulled so that I could use the squares for something else.  That leaves 3 plants.  Of those, one has many side shoots with the largest showing a quarter-sized head on it.  I'm just going to leave them be and see what happens.  My suspicion is that to "encourage" the side-shoots, I'm going to have to remove the large "original" leaf that supports it. 
I don't know if I've helped with your particular question, but thought I'd share my experience.



Posts

: 807


Join date

: 2012-09-21


Age

: 51


Location

: Waaaay upstate, NH (zone 4)



I just break off the central head when it looks ready.  Some plants will have already strted side shoots.  I just keep breaking off the side shoots when the buds look ready.  If you leave them on they will bloom and slow down the production of more side shoots.  I am experimenting this year with lopping off the plants leaving a stump with maybe a couple leaves to see what happens this fall. I think I need to give them a good side dressing of an organic fertilizer mix (camilina meal in this case)



Posts

: 2204


Join date

: 2012-03-29


Location

: Gallatin Valley, Montana, Intermountain zone 4



@Turan

wrote:...when the buds look ready.  If you leave them on they will bloom and slow down the production of more side shoots....
Right on target Turan, but I cut 'em 'cause I'm afraid...
Last summer I took the leaves and cut stalks near the base, but production was low.
This year (see below) I'll try something else.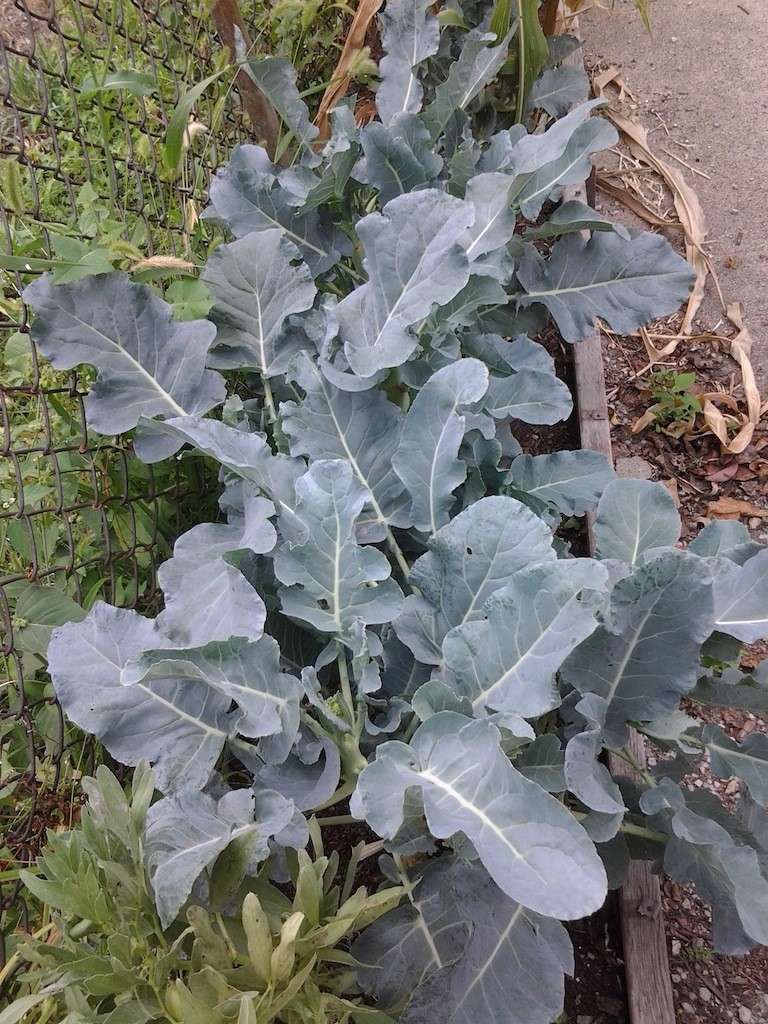 Any suggestions?



Posts

: 355


Join date

: 2011-12-12


Age

: 70


Location

: Chicago, South Shore, c. 100yds to Lake Michigan, Zone 6a



I guess I take the stalk as far as it is tender enough to snap in my hand. So I leave lots of lower leaves and let it branch. Where there is a leaf there is a dormant bud to grow a side shoot. So when you snap off the top those buds start growing.



Posts

: 2204


Join date

: 2012-03-29


Location

: Gallatin Valley, Montana, Intermountain zone 4



This shows the lower leaves that got decimated about four weeks ago . The plants survived because I gave then some of Monasato's best  caterpillar killer which allowed then to regenerate
This picture shows the old damaged stump of a  five inch area of head  that had just started to break into flower when the caterpillars struck ..they had a field day to say the least .. I cut it off and as you can see it healed up. The plant , being deprived of the chemicals that would allow it to produce seeds decided to make more flower heads a few hours after the damaged head was removed.
This floret was cut yesterday afternoon , Sunday 8 Sept 2013 , notice the other florets some are tight formed others are a wee bit leggy and open.
 Later to day I'll cut out the leggy ones as they are prone to suddenly burst into flower almost over a 12 hr period. The others that are tight formed tend to stay reasonably tight  but usually not quite as tight or as big as the first five inch head off the plant.
This is a slightly different angle that kind of shows some loose and some tight secondary florets. The loose ones will start to show minute yellow heads of flowers some time this afternoon or most certainly by afternoon tomorrow.
 Ideally those loose ones would have been harvested and eaten as soon as I saw them expanding but at the time we were choc a bloc with all sorts of other veg for a few days.
I try and cut the head about 1 to 1& 1/2 inches below the branch out arms of the floret . Though some times you can do as Turan says and cut back to just above the first leaf set on that stem.
 Don't forget you can also take one or two of the big lower leaves and use then like boiled buttered & peppered cabbage strips .
 My broccoli will survive a few days of continuous down to minus 8 oC  and then lose their leaves & the heads will go snotty when it thaws. 
Some do regenerate next year in early spring so long as you cut off the damages areas when the thaw occurs . I was eating last years over wintered broccoli & leaves  right into mid May this year so don't be in a hurry to pull lout the plants if your climes are similar to that of the UK .



Posts

: 3696


Join date

: 2011-11-09


Age

: 66



---
Permissions in this forum:
You
cannot
reply to topics in this forum