Page 5 of 5 •

1, 2, 3, 4, 5
donnainzone10 wrote:CC,

Just how gruesome was the winter of 2004?  And where did you hear this prediction?

Just curious; I've been thinking the same for months now.  
The meteorologists from our local New England news network had a fall special on TV the other night.  I caught the tail end where they all predicted a heavy winter here like '04.
I also saw another stations weather guy saying that the Farmers Almanac was predicting a harsh winter this year.  Don't know if this pertains to your area or not, but you could check on their website. 
CC



Posts

: 6191


Join date

: 2012-05-20


Age

: 61


Location

: elbow of the Cape, MA, Zone 6b/7a



@NHGardener

wrote: those butternut squash! You grew them in the rhodo bushes? What's that about?

Is a sucker tomato when you pick off the sucker and replant it? I hadn't heard of that.
My squash garden is in ground in front of a rhodi hedge.  Last year a spaghetti squash grew up the hedge of its own accord but I liked it.  So this year I trained them up the hedge.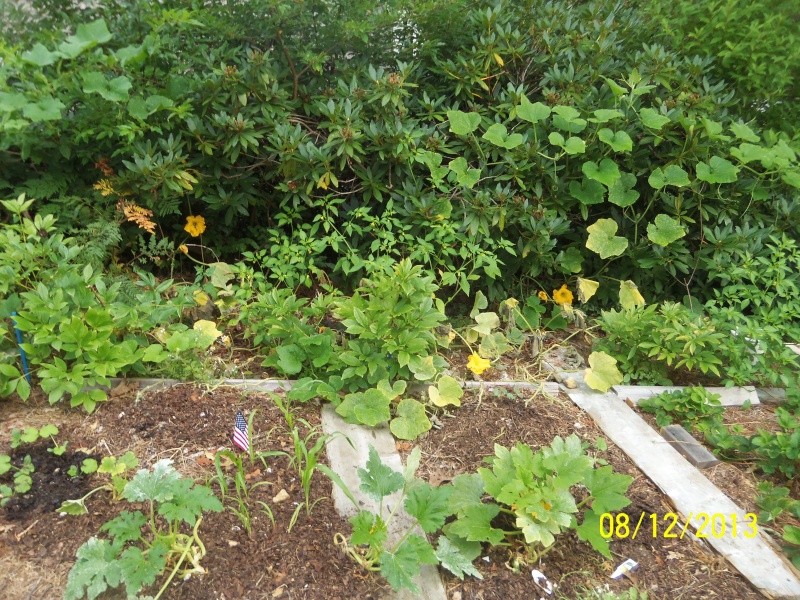 Yes, the sucker tomatoes are when I pull off a nice healthy looking sucker and, on a whim, stick it into the SFGs or perennial gardens where ever I can find a space.   The cherry toms don't work as well as the regular sized ones in that the fruits end up being half the size of their parents, whereas regular sized sucker fruits come true.
Thanks for the celery info.  I eat A LOT of it and so will try them next year.  Are they heat sensitive like the celery stumplings are?
CC



Posts

: 6191


Join date

: 2012-05-20


Age

: 61


Location

: elbow of the Cape, MA, Zone 6b/7a



Funny about the winter weather reports. I saw on TV that the winter will be harsh this year, EXCEPT in the north east and being in the north east, I'm hoping they're right.
I guess we'll just have to wait and see what happens.




Posts

: 4682


Join date

: 2010-03-21


Age

: 75


Location

: Southwestern Maine Zone 5A



I thought I'd check the beans still in the garden and was able to harvest some Nickel filets and some purple-podded beans today.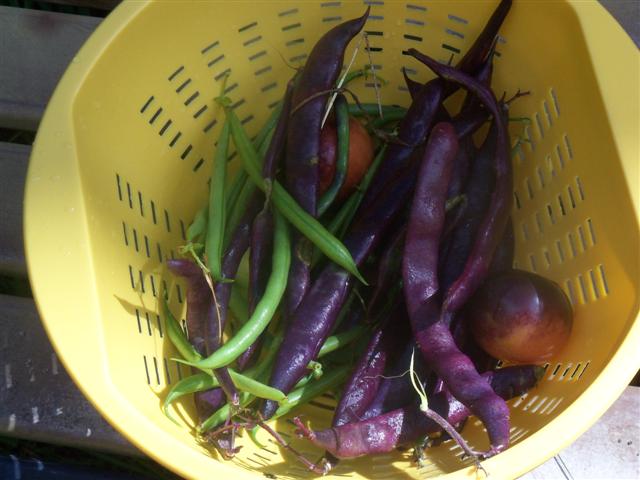 I'm waiting for the parsnips to get a touch of frost a couple of times before I harvest those.  So far, no frosty nites here this fall.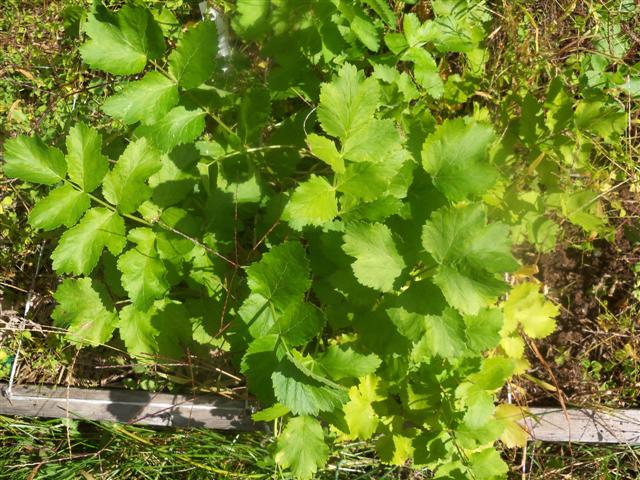 The tops are still nice and healthy.



Posts

: 4682


Join date

: 2010-03-21


Age

: 75


Location

: Southwestern Maine Zone 5A



Ooh. Pretty purple beans.

I wonder if planting the butternut in the hedge helps protects against the moth that lays the SVB caterpillars? I had a friend who always grew her squash in her compost pile - almost feral, and wow did it produce. I haven't found a good place for squash yet.

I haven't noticed any heat problems with my celery. But the thing I like about growing my own celery is that it's one of those veggies that are always high on the pesticides list. And it's supposed to be really nutritious. Started as seedlings with the tomatoes and peppers, then transplanted outside, I didn't do anything special to it, and it grew just fine. It was real tiny when I transplanted tho, I thought it would never get big. Someone I know started theirs with Miracle Gro and it was huge compared to mine (she gave me a couple plants), but as the summer wore on, I thinik mine surpassed hers in productivity.



Posts

: 2298


Join date

: 2011-02-25


Age

: 56


Location

: Southern New Hampshire



____________________________
41 years a gardener and going strong with SFG.
http://squarefoot.creatingforum.com/t3574-the-end-of-july-7-weeks-until-frost
There are certain pursuits which, if not wholly poetic and true, do at least suggest a nobler and finer relation to nature than we know. The keeping of bees, for instance. ~ Henry David Thoreau
http://squarefoot.creatingforum.com/t1306-other-gardening-books

Forum Moderator Certified SFG Teacher




Posts

: 14165


Join date

: 2010-03-06


Age

: 54


Location

: Keene, NH, USA ~ Zone 5a



Page 5 of 5 •

1, 2, 3, 4, 5
---
Permissions in this forum:
You
cannot
reply to topics in this forum