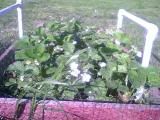 These are 2nd year plants in a 2'x2' bed made from reclaimed lumber. I started with 2 small plants last year. My how they've grown!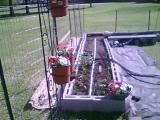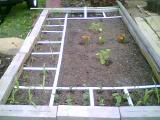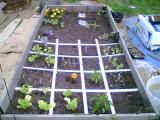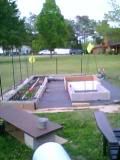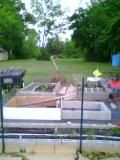 #1) This bed is a new addition this year. It is "L" shaped, 2' wide, 16' facing south and 12' facing west. Vining crops of tomatoes, cucumbers, peas and melons along the back, with flowers, onions, carrots, radishes, and herbs in the front.
#2) This is also a new 4'x8' cinder block bed made for the 3 Sister's. 2 Straight-neck summer squash surrounded by bush beans and corn.
#3) This is my first 4'x8' bed built last year out of reclaimed lumber. I have 2 bellpeppers, 1 broccoli, 1 red cabbage, romaine lettuce, onions, radishes and flowers in here for now. The back end of the bed has kind of been a holding bin until the others were built, so that is likely where my continuous crops will grow.
#4 & #5) My cell phone does not have a wide enough lens to capture the entire area. These show the addition we made this wknd of a 4'x4' lumber bed adjoining a 3'x3' cinder bed. These will house my bush tomatoes along with small crops of onions, carrots, radishes, flowers, etc.
We did not pull up grass, but rather laid down cardboard and weed fabric under the beds and walkways. I will be putting down either straw or mulch soon on the walkways and outer edges.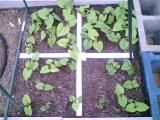 Pole beans planted on 4/8/10, they are Kentucky Blue and Kentucky Wonder and are tee-peed at the end of the new "L" bed.
SO MUCH WORK AND SO LITTLE TIME TO GET IT ALL DONE!!!



Posts

: 63


Join date

: 2010-03-21


Age

: 48


Location

: AR (Zone 7b)



Thank you! I love to see the pictures showing how other gardeners have built their raised beds.

It fascinates me how some of our gardens 'evolve' according to what we find to build with, use to plant in, or what we choose to grow. Works of edible art in progress!

Keep the pictures coming!



Posts

: 22


Join date

: 2010-03-05


Location

: Central Calif. San Joaquin Valley Zone 9



Mmmmm... strawberries. Those look fantastic. I did a funny experiment w/strawberries. I put some in the sq ft garden and some in the ground, it will be interesting to compare the results. I can probably guess how it's going to turn out. Nice work! Keep the inspiration coming!



Posts

: 8


Join date

: 2010-04-19


Location

: Maine, Zone 5



---
Permissions in this forum:
You
cannot
reply to topics in this forum