These small light green worms (hard to see in the picture are laying eggs in my squash blossoms. I am really struggling with way too much heavy rain right now. The squash blossoms are just melting off the vine. I can't decide whether it is because of this worm or because of the rain. I bought some heavy plastic and have covered the bed. I applied BT yesterday but found this one this morning. I hate to spray directly into the flowers. I have yet to get a single bloom to produce a fruit. I am very frustrated.
Any ideas?




Posts

: 62


Join date

: 2013-08-30


Age

: 48


Location

: Eskasoni, Nova Scotia, Canada



Shoot, I thought I knew how to do that and I am scrambling to find the directions on posting pictures. Help?
Yay! I figured it out. Here is the actual worm.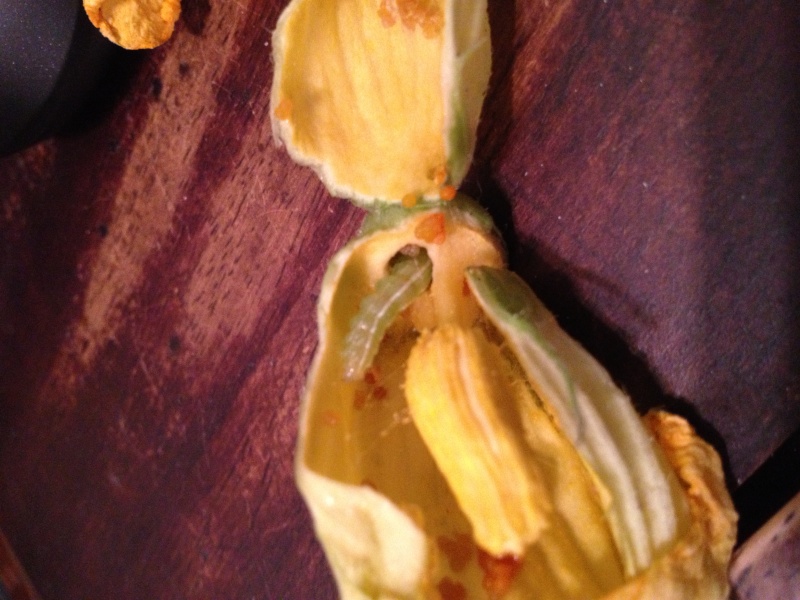 If I had to make a wild guess, I would say pickle worms.



Posts

: 804


Join date

: 2012-08-16


Location

: North GA Mountains Zone 7A



I know it's an old post, but in case someone else finds it looking to identify their similar pest problem:
It's not a pickleworm because it's got stripes instead of spots, but it might be the closely-related melonworm (Diaphania hyalinata):
    http://entomology.ifas.ufl.edu/creatures/veg/leaf/melonworm.htm

The speckled green fruitworm caterpillar also has a white stripe, and will feed on flowers/blossoms, but the more translucent look of the caterpillar in the photo makes me think it's a melonworm.

The orange balls aren't eggs, they are frass. (A.K.A. poop. The caterpillar turns into the melonworm moth; the adult moth lays eggs, the caterpillar does not.)



Posts

: 847


Join date

: 2016-04-11


Location

: Port Matilda, PA Zone 5b/6a



Yes!....not yet, but soon......



Posts

: 4477


Join date

: 2015-06-12


Age

: 55


Location

: Ada, Ohio



---
Permissions in this forum:
You
cannot
reply to topics in this forum