Page 3 of 3 •

1, 2, 3

 you think of everything Plantoid. ... thanks



Posts

: 2802


Join date

: 2012-01-14


Age

: 60


Location

: british columbia zone 5a



@GWN

wrote:

@plantoid

wrote: GWN do you have any adjustable air vents on the tumbler ?  It sounds a though it is too wet all the time.

Perhaps used less wet greenery  & open any vents you might have.

You know I think you may have a point there

I wonder if there was an opening at the bottom (or at least what is usually the bottom) to drain xs water out....  I wonder if I need to drill a few holes.

I will have to see if there is a place where rain water gets in

Thanks Plantoid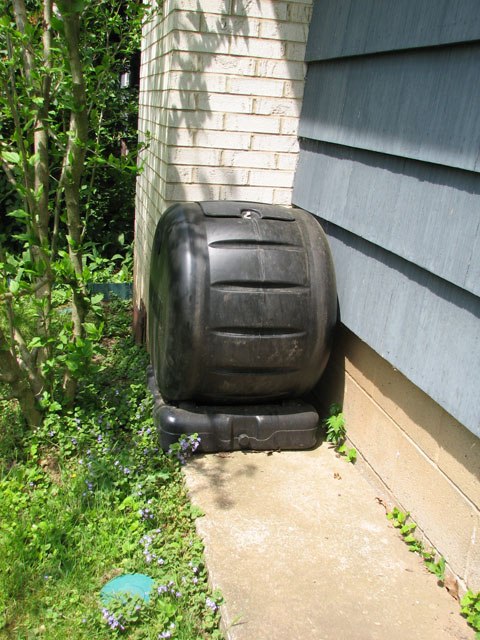 This tumbler is sitting upright, door at top and 5 holes on the bottom for drainage. The liquid will drain out regardless of where one wants it to go. It can be directed into the lower stand (tank) or just left to drain to the ground.
A cap is in place to be able to drain the leachette to use..
When temps go down to winter weather this tumbler isn't going to heat up, above freezing and the right ratio's it very well may.
I'm going to wait till temps get into the 40s and stay there, then I'll load it up full to the door, it will have lots of frozen and thawed kitchen scraps, so I am going to add lots of browns, the I will keep it tumbling every day..
It does have vents on both sides.
Last summer my batch became very anaerobic, I believe I had not enough brown material in it.
If this doesn't work I'll most likely get rid of it, I'lll tell some one how good it works, just the way I've been told.... 


Certified SFG Instructor




Posts

: 1911


Join date

: 2013-02-16


Age

: 81


Location

: Indiana PA....zone 5



Anyone who is disgusted, disappointed and wanting to do away with their tumbler I'll pay for shipping to send it to me.



Posts

: 9


Join date

: 2013-12-27


Location

: Oakland, Ca.



You can buy one at the store for the price of shipping Bob!  You should check out Rooster's homemade tumbler!!  Anyone remember the thread this is on?



Posts

: 2037


Join date

: 2012-03-21


Location

: Custer, SD



I've had good luck with compressed pine pellets used for horse bedding for my browns. I add about 1.5 cups of pellets per gallon of kitchen scraps. My tumbler has stayed in the 120's to 150's throughout the winter. It completely froze while I was away over Christmas. 

I put boiling water in mason jars, and put them in the tumbler overnight. After several days, this helped thaw and warm the tumbler back up.

Just remember to get the jars out before you start spinning the tumbler again! I had one disappear for a couple of weeks before coming back to the surface!

When I have had problems with compost balling up in the tumbler, I used a small hand rake to break things up, then dumped more pellets on top and gave it another good spin. Usually, there was a moist inner core that was attracting drier particles to it. 

I'm new to composting, but that's what I've learned so far from my tumbler!



Posts

: 13


Join date

: 2014-01-14


Location

: Zone 7b Northeast Arkansas



@Baysidebob

wrote:Anyone who is disgusted, disappointed and wanting to do away with their tumbler I'll pay for shipping to send it to me.
Bob does that offer stand for me ? I live in the UK adjacent to Europe  






Posts

: 3696


Join date

: 2011-11-09


Age

: 66



WOW roaminroad, that was a great post.  I have been unable to ever heat mine past about 50 degrees any time of the year, that is so encouraging. Perhaps I need to just try a big harder, and find something like those pellets.

Thanks



Posts

: 2802


Join date

: 2012-01-14


Age

: 60


Location

: british columbia zone 5a



Your ratio with those pine pellets was interesting; very low carbon. I haven't had much success, especially keeping any volume, in my open-air pile without keeping the carbon at a much higher ratio.



Posts

: 3638


Join date

: 2013-07-05


Age

: 55


Location

: SW Oregon



So a week or so ago, I did as planned and chippered everything to a uniform small size, and combined my three piles/batches.

We are hitting 60-70deg air temps during the day, down into 40s and occasionally high 30s at night.  It is very arid here.

Watered the batch, and within a few days I hit a sustained 80degF.  Saved up some uh, human(me)-sourced high-nitrogen liquid, and dosed the pile last night.  With that, the sun today, and a good turn this past weekend, we'll see where we are.  If temps are up but not high enough, I'll save some more "used water", and dose it again.

The things I do for gardening, I swear...



Posts

: 463


Join date

: 2013-02-26


Age

: 41


Location

: Las Vegas, NV



Page 3 of 3 •

1, 2, 3
---
Permissions in this forum:
You
cannot
reply to topics in this forum