My potatoes were grown in, gradually added, 12 inches of Mels Mix, adding another 6 inch frame as the plants grew.  I initially planted some Butterball potatoes that I had bought at the Farmers Market. They were very slow in coming up, so I planted some more store bought ones that had sprouted.  So I ended up with both types. I had about 9 plants.  My first harvest yield from one plant was 8 good size potatoes, with one of yellow the type which must have come from another plant.
We had a frost and freeze warning on the 24th of Oct, so I went out, with snow flakes falling, and harvested all of them.  I was disappointed because I only got 18 good potatoes, with a few smaller ones.  I found that 3 of the original planted potatoes had grown a beautiful plant, but never produced any new potatoes.  I found the original slice of potato, not deteriorated at all, with the plant still attached to it.  Is that strange?
Madge
My last potato harvest of 18 good size potatoes.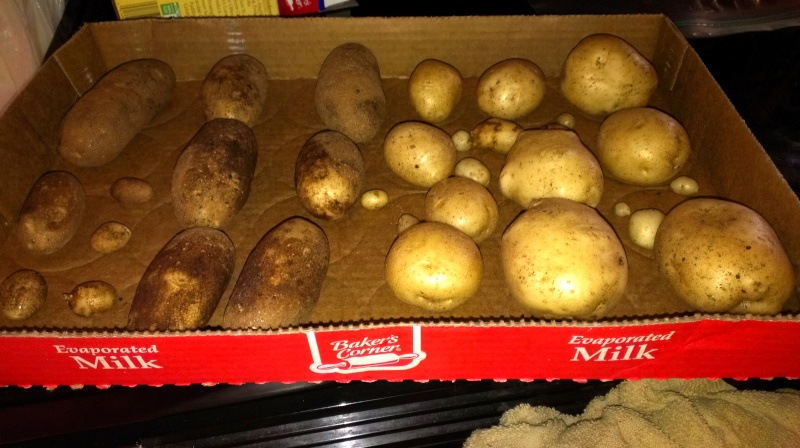 Original planted potato still intact, with beautiful plant, but no new potatoes.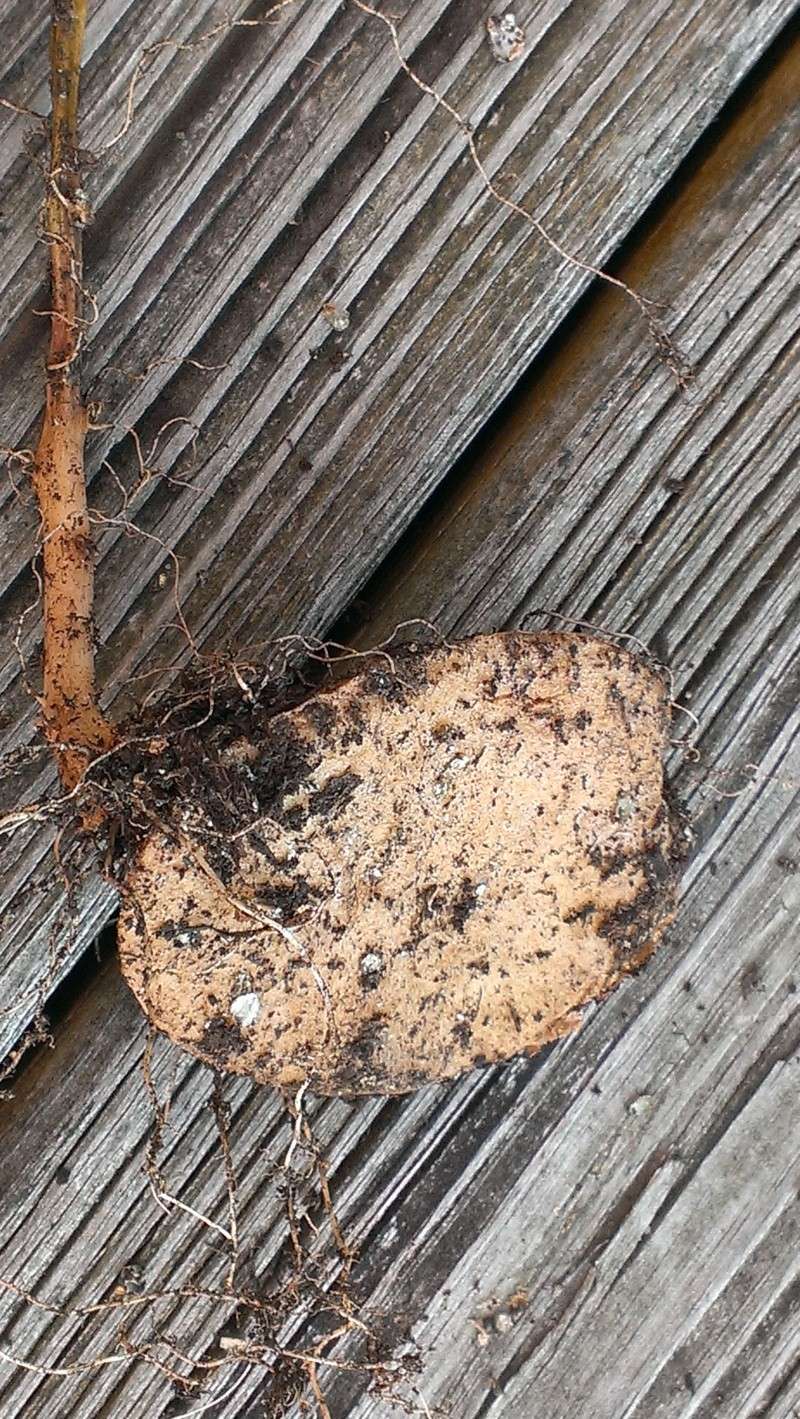 Posts

: 179


Join date

: 2013-04-25


Location

: Central Kentucky



Hmmm, that is odd. I have only grown potatoes for 2 years though so maybe someone with more experience will say it isn't. I planted about the same amount as you, some German Butterball from Territorial Seed and some russets I had sprouting in my cabinet. I got a few more potatoes than you but not much. I think the Butterballs just needed more time but I had to dig them up early because of the weather as well. Did you put a lot of good compost in when you planted them. I plant them on and bury them with straight compost (I read it somewhere) then after they start growing I continue to cover them with Mel's mix after that. Hope it helps!



Posts

: 2037


Join date

: 2012-03-21


Location

: Custer, SD



I planted a 4' x 6' bed full of two types of seed potatoes.  I did have some with the original seed potato attached, some were rotted and some looked the same as when originally planted.  I had a lot of potatoes but most were small and most had scab.  I read somewhere that adding compost can cause the scab but now I read Cheyenne starts with pure compost so now I am confused.  I did notice that in the beginning one variety seemed stunted and all seemed yellowed.  Then I added some organic fertilizer and then later some compost.  I did have a two to three or four volume of return.  It could be that the plant that only grew bushy needed more nutrients that produce root crops.  Someone who has more knowledge than me can give that information.



Posts

: 1628


Join date

: 2010-06-04


Age

: 62


Location

: Northern Utah



Mine did OK in WELL AGED homemade compost, no scap this year. I think my yeild would have been higher if I had watered more regularly and often.
https://plus.google.com/u/0/b/110461505173337535862/110461505173337535862/posts

http://extension.unh.edu/resources/files/resource000606_rep628.pdf

http://gardening.about.com/od/vegetables/p/Potatoes.htm
____________________________
41 years a gardener and going strong with SFG.
http://squarefoot.creatingforum.com/t3574-the-end-of-july-7-weeks-until-frost
There are certain pursuits which, if not wholly poetic and true, do at least suggest a nobler and finer relation to nature than we know. The keeping of bees, for instance. ~ Henry David Thoreau
http://squarefoot.creatingforum.com/t1306-other-gardening-books

Forum Moderator Certified SFG Teacher




Posts

: 14165


Join date

: 2010-03-06


Age

: 54


Location

: Keene, NH, USA ~ Zone 5a






Posts

: 1628


Join date

: 2010-06-04


Age

: 62


Location

: Northern Utah



Cheyanne, I believe that I planted them in Mel's mix then added compost, several times, with more Mel's Mix.

Triciasgarden, I guess that we will just have to try again next year.  I am happy also, with the ones that I got, and they really taste good.

camprn, thanks for those good articles.  Will try to read up more and learn from this year.



Posts

: 179


Join date

: 2013-04-25


Location

: Central Kentucky



---
Permissions in this forum:
You
cannot
reply to topics in this forum