Latest topics
»
Hello from Central AZ
by
AtlantaMarie
Today at 6:42 am
»
Hello from Houston
by
sanderson
Today at 4:16 am
»
Looking for a spreadsheet for planting times
by
aprilshomemade
Yesterday at 11:50 pm
»
New SFG box-Humanitarian way
by
trolleydriver
Yesterday at 8:01 pm
»
Fourth Year SFG in Canada
by
trolleydriver
Yesterday at 7:55 pm
»
CANADIAN REGION: What are you doing in March 2018
by
trolleydriver
Yesterday at 7:28 pm
»
Hi from Richmond Virginia
by
AtlantaMarie
Yesterday at 7:18 pm
»
Shameless Self Promotion!
by
sanderson
Yesterday at 4:53 pm
»
Coco coir... How often to replenish?
by
plantoid
Yesterday at 12:29 pm
»
California's Drought
by
sanderson
Yesterday at 3:01 am
»
First day of spring
by
Scorpio Rising
3/22/2018, 9:08 pm
»
SW Ohio (Cincinnati Area)
by
Scorpio Rising
3/22/2018, 9:06 pm
»
What are you eating from your garden today?
by
Scorpio Rising
3/22/2018, 9:02 pm
»
N&C Midwest—March and Spring is Here!
by
Scorpio Rising
3/22/2018, 6:23 pm
»
SUGA 2018
by
SQWIB
3/22/2018, 8:26 am
»
Happy Birthday!!
by
sanderson
3/21/2018, 2:09 pm
»
Do You Get The SFG Newsletter?
by
sfg4uKim
3/21/2018, 8:36 am
»
Garden Tower Project
by
sanderson
3/21/2018, 2:14 am
»
Any suggestions on the stump grinding sawdust plus soil?
by
sanderson
3/20/2018, 6:55 pm
»
How much time for gardening?
by
sanderson
3/20/2018, 6:42 pm
»
Sanderson's Urban SFG in Fresno, California
by
sanderson
3/20/2018, 4:03 pm
»
Northern California & Coastal Valleys - What are you doing this month?
by
trolleydriver
3/20/2018, 1:13 pm
»
New England Mar 2018
by
CapeCoddess
3/20/2018, 10:45 am
»
Trellis mod
by
SQWIB
3/19/2018, 8:39 am
»
How's the Weather Where You're At?
by
Scorpio Rising
3/18/2018, 6:38 pm
»
Powdery Mildew and SoCal Fall Planting
by
countrynaturals
3/18/2018, 12:34 pm
»
Boat Gardening
by
AtlantaMarie
3/18/2018, 6:51 am
»
How many green beans per square foot?
by
Scorpio Rising
3/17/2018, 9:27 pm
»
2018 SFG in Brooks, GA
by
yolos
3/17/2018, 8:34 pm
»
Comfrey
by
sanderson
3/17/2018, 8:21 pm

I planted spinach starting in July. It failed to germinate. I kept planting. It started to germinate. So I planted more, in a relatively shady place, in August. Then some more in September and October. What have I got? One planting has thin leaves that look like grass blades, maybe three inches long, two or three per plant. Another later planting has two tiny leaves, anywhere from a quarter inch to an inch long. I'm not impressed.

I planted lettuce, pretty much the same pattern. Some grew well starting from August, though. I got a few bitter plants that leaped for the sky which I finally pulled out because they never shook their unpleasant taste, and perhaps a dozen survivors that found their happiness at an inch high and stayed there.

Most of the lettuce is uncovered, but a single pot of lettuce is covered and finally giving a real leaf or two. All the spinach is uncovered.

Should I expect anything better, or is this as good as it gets? It's hard to believe there will be anything worth harvesting through the winter, covers or no covers, at this rate.

P.S.: My kale, covered or uncovered, also thinks half an inch to an inch is delightful. If only more often such were an easy sell.




Posts

: 3638


Join date

: 2013-07-05


Age

: 56


Location

: SW Oregon



Well Marc, sounds like you need some nitrogen. I don't know how your compost is, but lettuce, spinach, and kale all take nitrogen like candy. Something liquid would be good, worm or compost tea, any organic fertilizer mixed in some water well, so you could pour it on/near plants,(so as not to disturb plants by digging) . Any heat in air will prevent these from germinating. Winter salads are great!
Jo




Posts

: 1558


Join date

: 2011-05-04


Age

: 64


Location

: Cottageville SC 8b



Autumn plants do not grow is vigorously or as big. Maybe you need to beef up your compost but most likely what you see is what you're going to get at this point. All of my late season spinach is also quite small.
____________________________
41 years a gardener and going strong with SFG.
http://squarefoot.creatingforum.com/t3574-the-end-of-july-7-weeks-until-frost
There are certain pursuits which, if not wholly poetic and true, do at least suggest a nobler and finer relation to nature than we know. The keeping of bees, for instance. ~ Henry David Thoreau
http://squarefoot.creatingforum.com/t1306-other-gardening-books

Forum Moderator Certified SFG Teacher




Posts

: 14167


Join date

: 2010-03-06


Age

: 55


Location

: Keene, NH, USA ~ Zone 5a



I've found that the best way for me to get the greens to grow in autumn/winter is to start them indoors or plant them direct when needed in order to be full grown by fall.  Also, I use a lot of diluted urine to add the nitrogen that is needed to keep them going.  Seems to work.
Buttercrunch in a 5 gal bucket of MM started inside in 6 packs: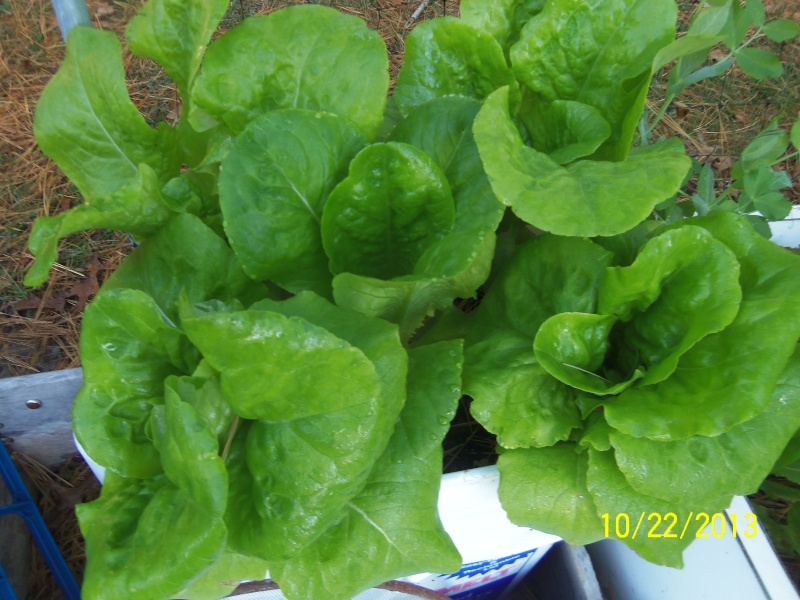 I have more buttercrunch and romaine scattered around the SFGs from this method.
Below are plants from seeds probably started in August, then I used a row cover for shade once sprouted.
6 sqs clockwise from top left -beets, Black Simpson lettuce, pak choi, spinach, carrots, collards: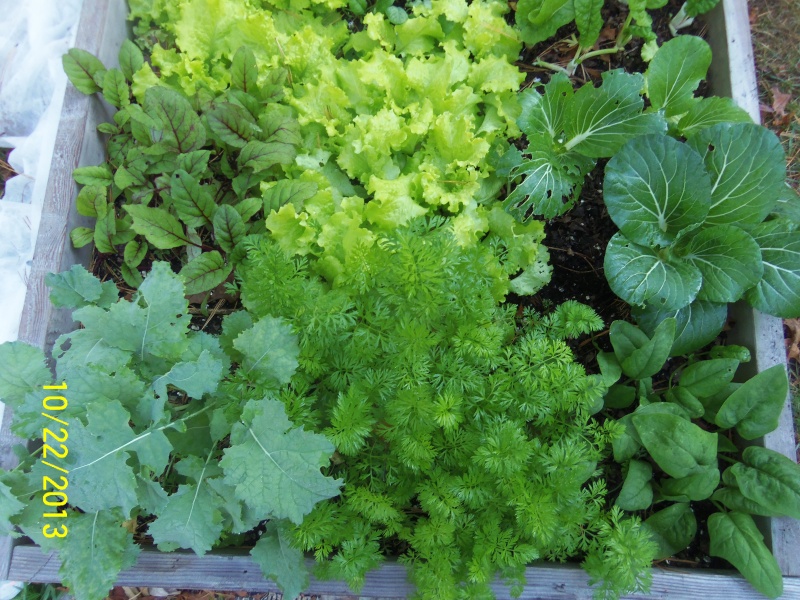 I find that kale needs to be full grown by fall for me.  These 2 sqs of dwarf kale (the smallest plants in the photo) were direct seeded in Sept & are only medium sized, but I don't mind since I have another box full of matured dwarf kale: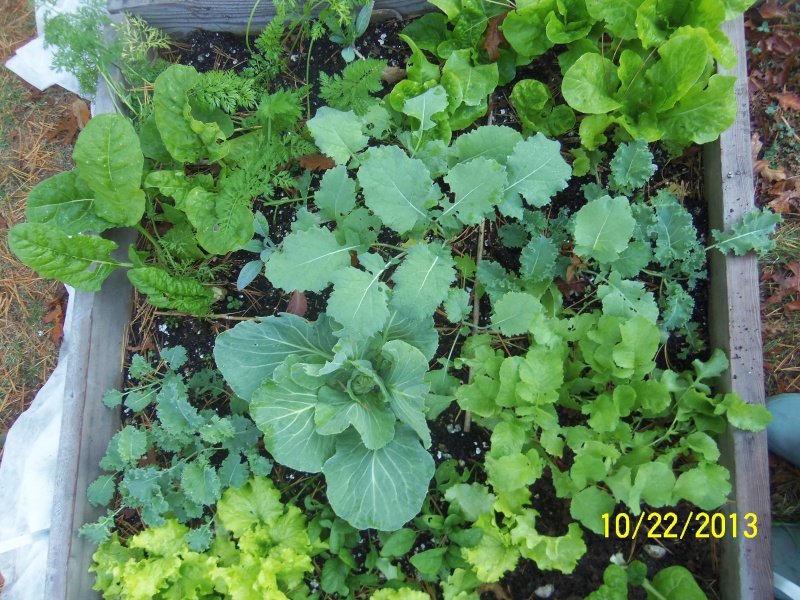 Mature dwarf kale, front box, & collards, next box, that have been harvested many times all spring, summer & fall: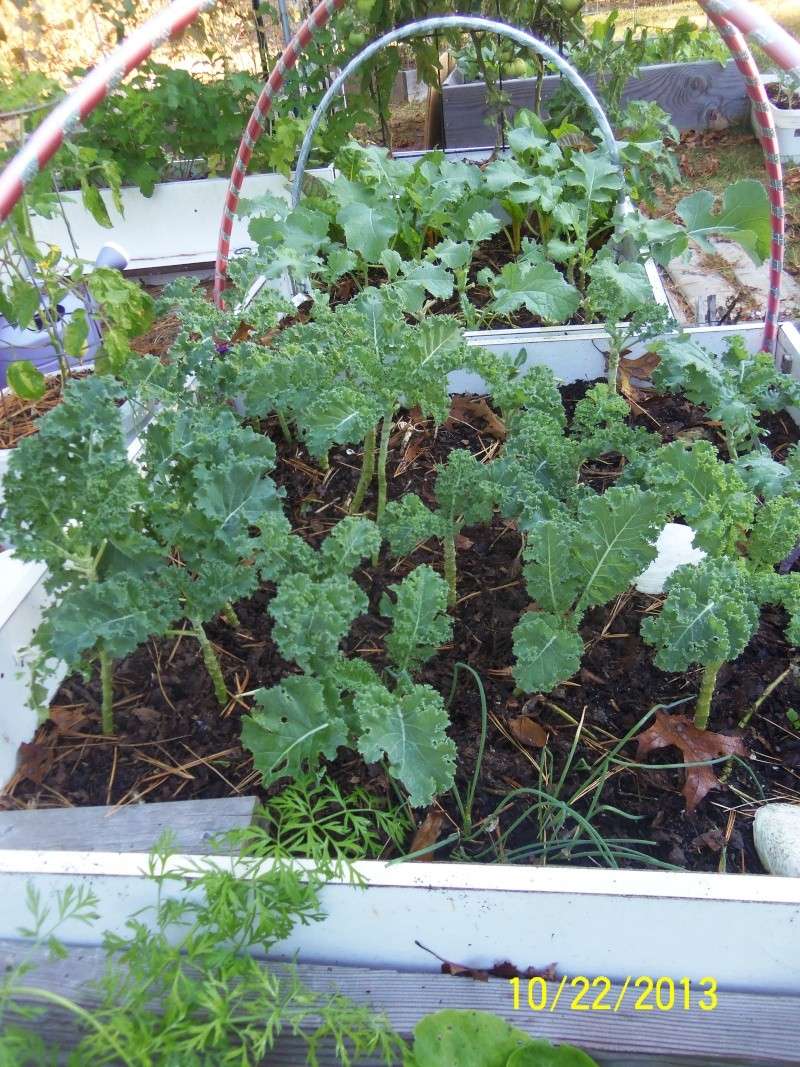 We'll be harvesting them again today.
The row cover came off once the weather stayed in or below 70 and goes back on during the nights when the temps drop to 37 or below.  Once we hit freezing I'll start using the plastic.
Of course every area is different.  You'll get to know the timing of your area soon.

CC



Posts

: 6559


Join date

: 2012-05-20


Age

: 62


Location

: elbow of the Cape, MA, Zone 6b/7a




---
Permissions in this forum:
You
cannot
reply to topics in this forum