I guess all of you are looking toward seed starting time. I will not be back from Philippines until late March, so a lot of my spring garden will be starts. But I left some beds ready to go so it should be a rapid planting period.

Keep posting and let us know.

Kay
____________________________
A WEED IS A FLOWER GROWING IN THE WRONG PLACE
Elizabeth City, NC
Click for weather forecast

Certified SFG Instructor




Posts

: 4354


Join date

: 2010-10-17


Age

: 74


Location

: wilmington, nc zone 8



I'm itching to start some seed, but I'll have to wait a while. I think I started seed in Jan. last yr. and I had peppers and toms blooming in red solo cups! My last frost should be mid March.
I had a bad yr. in 2013. Disease, bugs, too much rain and too hot. I've been growing mostly heirloom veggies except for my corn,Silver Queen, which is a hybrid. (it did great!) Ive ordered some new seed, some hybrids, some for size, color, and just cause it's new.Here is a pic of 1 that I've ordered from Burpee!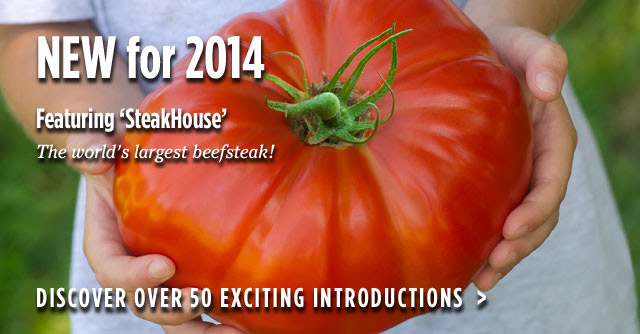 I've also ordered:
Porcelain Doll pumpkin--pink flesh!
El Gordo Cantalope- supposed to be very large
Tomato, Baby Boomer-a cherry with bumper crops, for in pots on the porch.
I've also ordered 3 Bam Basil, which is plants. It is not supposed to bolt, for it does not bloom. I guess I'll have to take cuttings and winter over? But, if I get some huge toms will have to have plenty of basil. I love the smell in my garden, but bolting in the intense heat has been a problem.
I'll be looking for other interesting veggies to try!
Jo



Posts

: 1532


Join date

: 2011-05-04


Age

: 63


Location

: Cottageville SC 8b



I saw that tomato yesterday while surfing Burpee's site because they sell plants as well as seeds. I'll think about it.

Kay
____________________________
A WEED IS A FLOWER GROWING IN THE WRONG PLACE
Elizabeth City, NC
Click for weather forecast

Certified SFG Instructor




Posts

: 4354


Join date

: 2010-10-17


Age

: 74


Location

: wilmington, nc zone 8



I will be starting onion and tomato seeds this weekend.



Posts

: 11


Join date

: 2014-02-11


Location

: Jonesboro, GA



I planted a few tomato plants last week. I planted 6 of Baby Boomer, all are up with 2nd set of leaves. I also planted 6 of the large Steakhouse, but only 2 came up. They look sort of weak. Will try a few more later on. On first try, not very good germination rate.
We are in for another ice storm tonight but may have 60's later in the week.
Jo



Posts

: 1532


Join date

: 2011-05-04


Age

: 63


Location

: Cottageville SC 8b



I'm ready to start seeds this weekend if possible it looks like the weather is going to be nice and I am itching to get started the beds look good except for no plants:(



Posts

: 26


Join date

: 2013-02-23


Age

: 55


Location

: North Augusta, S.C.



---
Permissions in this forum:
You
cannot
reply to topics in this forum