We are going to add some more garden space for tomatoes.  I have six of the 4'x4' boxes with Mels Mix, but want to grow more tomatoes for canning.  With our situation with the clay soil, I want to try the straw bales again.  I had two of them last season and felt they did fairly well considering the season we had.

Here is the thing I am trying to figure out.  What type of tomatoes should I plant in these straw bales.  I was thinking smaller plants, with the plants being higher off the ground, like maybe determinate types.  But I read where they said determinate have less sugar and nutrient content.  So maybe I should stick with the indeterminate?  These get taller, so may cause a problem being taller and keeping them up off the ground.  I did think maybe the posts with the twine woven in and out around the plants might be a solution.

So, any advise or opinions on what to plant for canning, and planting in the straw bales would be appreciated.  Also any reports as to how you felt the straw bales worked for you.  I still like the sfg method, so I am not jumping ship.  I just need more space for the tomatoes.



Posts

: 96


Join date

: 2011-12-25


Age

: 71


Location

: Iowa - zone 5b



I understand some folks have used MM inside the straw bales with success.  As to the height problem with indeterminate tomatoes,  I use a cantilevered version of the regular SFG book trellis using the entire 10ft length of EMT with my tabletops.  A cattle panel arched between two bale beds also works.  
Here is a picture showing both types trellises in action.  Tomatoes are on the second from left and cukes on the far right.  Watermelons, cantaloupe and tomatoes shared the cattle panel in the middle.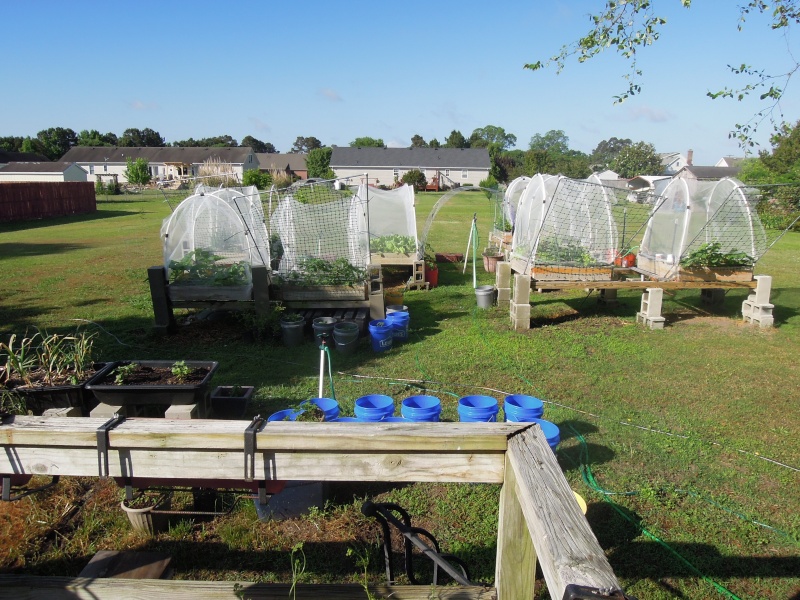 Kay
____________________________
A WEED IS A FLOWER GROWING IN THE WRONG PLACE
Elizabeth City, NC
Click for weather forecast

Certified SFG Instructor




Posts

: 4349


Join date

: 2010-10-17


Age

: 74


Location

: wilmington, nc zone 8






Posts

: 1910


Join date

: 2012-12-07


Location

: Central Calif Mtns.



---
Permissions in this forum:
You
cannot
reply to topics in this forum