Latest topics
»
Third Year SFG in Canada
by
trolleydriver
Today at 9:21 am
»
It's Kefir Time
by
hammock gal
Today at 8:58 am
»
Does the SFG concept work for perennials?
by
Judy McConnell
Today at 8:30 am
»
Questions on vegetable plants that require vertical support
by
AtlantaMarie
Today at 8:10 am
»
What won't you grow next year or are still trying to grow??
by
BeetlesPerSqFt
Today at 7:06 am
»
Baby Food
by
sanderson
Today at 4:56 am
»
Mary Mary quite contrary, how does your garlic grow?
by
sanderson
Today at 4:39 am
»
Pepper argument who's right
by
sanderson
Today at 4:04 am
»
What to Grow through Very Hot Summers
by
countrynaturals
Today at 1:24 am
»
Gardening in Central Pennsylvania, 3rd year SFG
by
BeetlesPerSqFt
Yesterday at 9:27 pm
»
CANADIAN REGION: What are you doing in JUNE 2017
by
Mimi2
Yesterday at 9:17 pm
»
Terrace Garden in Ontario, Canada
by
Fiz
Yesterday at 7:49 pm
»
who has chickens
by
llama momma
Yesterday at 6:59 pm
»
N & C Midwest--It is JUNE!!!! Garden Time!
by
llama momma
Yesterday at 6:43 pm
»
TrolleyDriver's Compost Thermometer
by
trolleydriver
Yesterday at 6:25 pm
»
Watering
by
GloriaG
Yesterday at 2:30 pm
»
Today's Harvest
by
countrynaturals
Yesterday at 12:22 pm
»
New England June 2017
by
hammock gal
Yesterday at 9:12 am
»
Question About Strawberries
by
AtlantaMarie
Yesterday at 7:37 am
»
2017: First full year of SFGing in ND
by
countrynaturals
6/24/2017, 10:15 pm
»
A First Time SFG in Canada
by
Kelejan
6/24/2017, 9:34 pm
»
What are you eating from your garden today?
by
Fiz
6/24/2017, 9:04 pm
»
Love My Dust Buster
by
sanderson
6/24/2017, 3:51 pm
»
Butterfly Junction
by
countrynaturals
6/24/2017, 3:45 pm
»
2017 corn pictures
by
sanderson
6/24/2017, 3:03 pm
»
Kombucha
by
CapeCoddess
6/24/2017, 2:36 pm
»
has55's R & D Journey
by
has55
6/24/2017, 1:40 pm
»
Texas Dream garden 2017
by
Kelejan
6/24/2017, 12:50 am
»
How's the Weather Where You're At?
by
RC3291
6/24/2017, 12:06 am
»
A really, really Frugal Gardener
by
countrynaturals
6/23/2017, 11:59 pm
Dear fellow SFGers,

I'm new to gardening, have a couple of lovely 4x8 plots going with some early veggies: radishes, spinach, lettuce, beets, carrots, etc. We're quite near the MA coast in urban Somerville, MA. The weather report forecasts temps as low as about 37 tonight. So, my beginner's question: Is that low enough to produce frost, or does frost start only at 32 degrees? Or is that a freeze? Should I scurry out and get something (row covers?) to cover my plants? They're doing quite well so far, I'd hate to lose them. And if I get row covers, do I need to use supports so that the covers don't touch the plants? Advice from more experienced gardeners would be much appreciated.



Posts

: 8


Join date

: 2010-03-04


Location

: Somerville, MA



Hi Creddy, Welcome to the Forums!
I get nervous when the forcast predicts temps in the mid 30s. You never know what the wind or nighttime might do in your own little micro-climate yard. For me, I throw a cover over when I hear that. I'm not sure at what temp frost happens or freeze but I'm novice enough to be cautious.
Others with more early-planting experiences will give you more help. I'll learn too as this is a very good question. Should the cover touch plants or not?... mine don't but let's see what others say.
Claire


Certified SFG Instructor




Posts

: 765


Join date

: 2010-03-05


Age

: 77


Location

: Cleveland Heights, Ohio (5b)



This is my first year with vegetables, so I can't speak for covers touching them or not. However, if I ever cover my roses, I do put sheets directly on the rose bush. I don't think they have ever been harmed. And I suppose I better cover them tonite - one was just put in the ground Saturday!




Posts

: 595


Join date

: 2010-03-16


Location

: Cincinnati, Ohio (6a)



Hello, Creddy - welcome!
The items you have planted can definitely take a little frost (depending on what the"ect." is!

) so I wouldn't worry about covering things.



Posts

: 2188


Join date

: 2010-03-03


Age

: 60


Location

: Acton, Massachusetts Zone 5b/6a



Being rather new to this myself (I only began last May), I had my share of running around with old blankets and towels to cover my crops against fall frosts.
When the weatherman says mid 30s, I worry. My yard might be a bit windier or in the path for a cold blast, so I get out the covers.
This year I bought heavy Agribon AG-19 row cover. Its wonderful. I keep it rolled up beside the little plot I need to cover and when they say nites in the mid to lower 30s, I'm out there pulling them over my plants. I hole down the sides with bricks or large stones or a wooden stake lying on its side.
So far so good. It protects down to 28 degrees. The row cover lays right on the plants themselves and no harm done so far this year.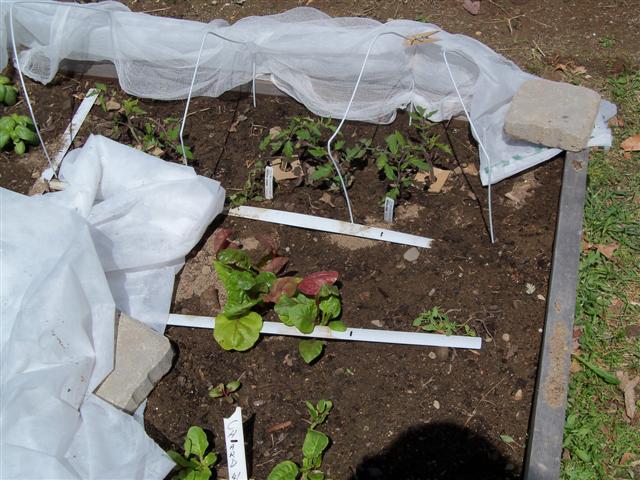 Here's the row cover behind my Oregon Spring tomatoes newly planted and my Swiss chard, ready to cover again tonite if necessary.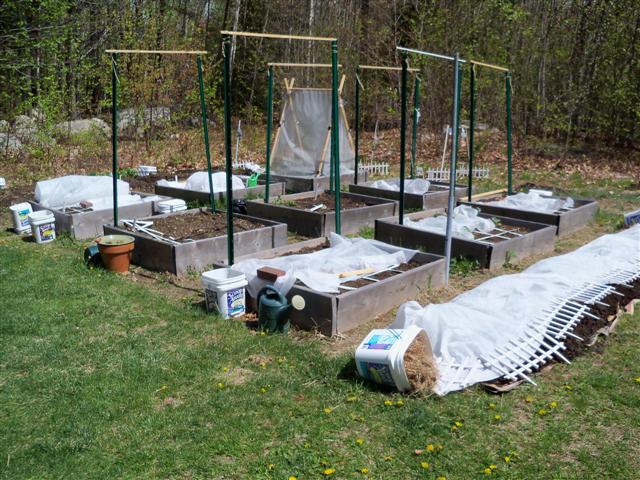 Here are my beds with covers on the plants already growing. I'm in Maine so we have plenty of cold nites. So far its been working and its easier than having blankets and towels get damp and needing drying before using them another nite.
No damage done to my plants either. The best thing is I'm getting an earlier start than anyone in the area, including our community garden.
Last edited by boffer on 4/30/2010, 10:38 am; edited 2 times in total (Reason for editing : spelling)



Posts

: 4674


Join date

: 2010-03-21


Age

: 75


Location

: Southwestern Maine Zone 5A



Creddy, how have you fared the past few days?

The only thing I lost were my beans, but I knew I was pushing my luck planting them this early, so I only planted a few.



Posts

: 2188


Join date

: 2010-03-03


Age

: 60


Location

: Acton, Massachusetts Zone 5b/6a



---
Permissions in this forum:
You
cannot
reply to topics in this forum